Staff scheduling in the healthcare industry needs an upgrade or an overhaul to fix the broken system.
If you're still using spreadsheets for employee scheduling, it's time for something better.
Much better.
Healthcare staff scheduling software offers a superior, more automated system, enabling you to ditch the spreadsheets. As a result, you'll save time, money, and the sacred sanity of managers and staff.
With your healthcare staff's well-being constantly on the line, your scheduling software selection best be on point.
So, how do you know which healthcare scheduling software best suits your facility's needs?
Rest easy — we've researched for you and compiled a list of the top 11 healthcare scheduling solutions to elevate your scheduling process. Unlike other lists, we've decided to stick to staff scheduling software that specializes in healthcare.
To help in your decision-making, we'll address:
What is Healthcare Staff Scheduling Software?
Healthcare staff scheduling software is software used to create, manage, and organize the schedules of healthcare staff, such as nurses, doctors, and other medical personnel.
It also helps automate the creation of schedules while considering employee availability.
The Business Case For Staff Scheduling Software In Healthcare
There's a dire need for effective employee scheduling in the healthcare industry.
Many RN managers still use an Excel spreadsheet to create employee schedules. But, unfortunately, that's a time-consuming, tedious process that lacks efficiency and isn't particularly manager or employee friendly.
Scheduling software makes staff scheduling more manageable, efficient, and user-friendly.
It promotes organization in teams and departments. It also ensures that regular department operations run smoothly, which can be a tricky business in the healthcare industry.
If you need help building a business case for implementing scheduling software in your healthcare facility, cite the benefits below to make a strong argument:
1. Optimized staffing
Scheduling software better equips you for last-minute schedule changes. For example, rather than working your way down a call list to find a replacement, you can notify your entire team of an open shift with 1 notification.
A willing employee can accept the shift from their mobile device and head to work. You'll have filled a schedule gap to ensure optimal staffing and quality patient care in a single swoop.
2. Increased employee engagement
Scheduling software allows employees to be more involved in their schedules. They can set their availability and swap shifts while on the go.
You'll have higher employee engagement when your staff has more say in their schedule.
What does that mean for your healthcare facility?
Better patient care.

85% of engaged employees display a genuinely caring attitude toward patients, compared to only 38% of disengaged employees.
3. Increased employee retention
In the healthcare industry, the struggle is real regarding employee retention. You must do all you can to make your staff want to stay at your healthcare facility.
Healthcare scheduling software allows employees to be involved in creating their work schedules.
Employees that feel valued through flexible scheduling stay at their current job longer.

Happy employees are 87% more likely to continue working for a company and stay twice as long at their jobs as their unhappy counterparts.
4. Decreased labor costs
When you implement scheduling software, you'll be able to keep a closer eye on excessive overtime, which can decrease your overall labor costs.
According to the Bureau of Labor Statistics, the average American worker clocks around 4 hours of overtime per workweek — that can take a bite out of your bottom line.
We've hit the high points of WHY to use scheduling software. Now, let's talk about WHICH solutions are best suited for the healthcare industry.
Top 11 Scheduling Software For Healthcare
Staff scheduling software for healthcare provides an efficient and cost-effective way to manage staff schedules, slash labor costs, and optimize resource utilization.
You can automate creating, managing, and tracking staff schedules, making it easier to ensure your staff is properly utilized and that they have adequate time off to rest.
When it comes to selecting the best solution for your healthcare facility, research is a key component.
To help with your research step, we've compiled a list of our picks for staff scheduling software geared toward the healthcare industry.
MakeShift was recognized as a Leader in Employee Scheduling Software and for the Highest Adoption Rate in G2's Winter 2023 Grid® Reports.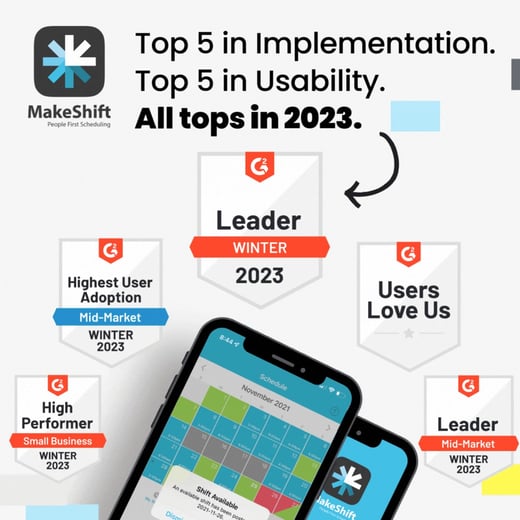 MakeShift was developed specifically to fix scheduling in the healthcare industry and began with a nurse and her frustrating experience with scheduling.
She was constantly scheduled when she wasn't available and could never access her schedule on her phone while on the go. As a result, she couldn't easily swap shifts with other nurses or see available shifts that she preferred.
Scheduling was manual, error-prone, inefficient, and painful.
MakeShift was built on a people-first approach — we streamline scheduling, making it more straightforward for managers and employees. We're proud to say that using MakeShift results in a 50% reduction in time to build a schedule and an 83% reduction in time to fill shifts.
Available Shift Access — Your employees can readily view available shifts when they want to pick up an extra shift.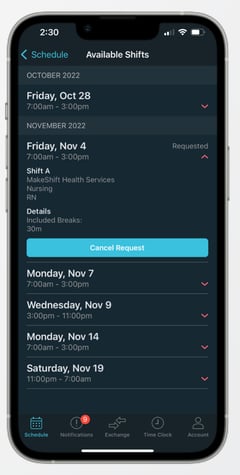 Rotation-Based Scheduling — Easily create a rotating shift schedule to evenly distribute the workload.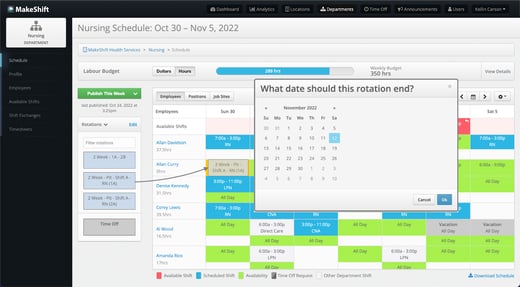 Employee Shift Exchanges — Your staff can easily swap shifts, and you can approve those requests on the go.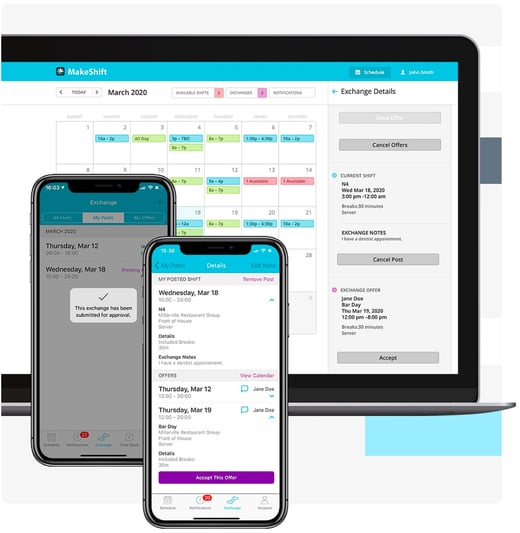 Time Off / Leave Management — Managing and approving time off requests is a breeze on mobile or the web.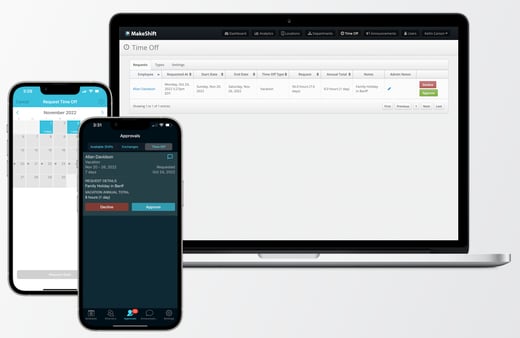 Overtime alerts — Fatigue management rules and alerts help prevent employee burnout.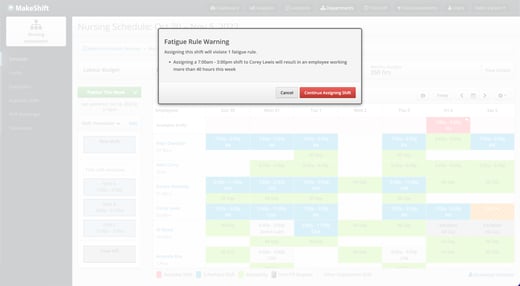 Team communication app — Send all-staff announcements and receive push notifications when an employee clocks in right on your phone.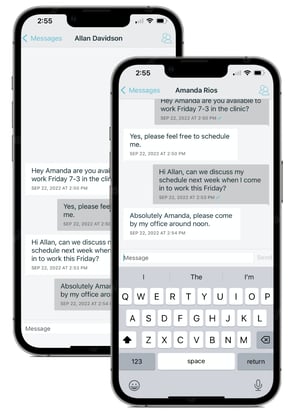 Payroll integration — MakeShift integrates with leading HR and payroll systems like SAP® SuccessFactors® and ADP to offer an intuitive scheduling solution that automatically syncs schedules and timesheets.

Mobile app for staff and managers — Our app provides on-the-go flexibility when accessing and managing the schedule.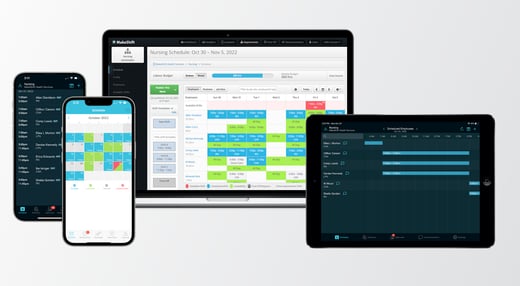 Skills-based scheduling — Ensure that you have the most highly skilled employees in the right place at the right time.
Pricing: From $2.75 / user/month
Customer Review:
"The most impactful part of makeshift for our hospital is that employees can see their schedule and request without calling the staffing office or contacting the unit. they are able to switch shifts and request trades in the app. we are also able to send announcements and individual messages if need be." — Stacey S.
Rotageek was designed by healthcare professionals, for healthcare professionals. This cloud-based, digital scheduling tool creates optimized rotas for healthcare organizations, and forecasts labor to match demand using AI technology.
Features:
Employee scheduling
Time & Attendance
Labor forecasting
Budgeting/forecasting
Employee management
Performance metrics
Mobile app
Skills tracking
Pricing: Contact Rotageek for a quote
Customer Review:
"Makes rotas easy! Having employees see exactly when and where they are working is so useful. I love the fact that employees can request leave quickly and easily." — Laura F.
QGenda delivers a comprehensive Provider Operations Platform built for healthcare to centrally manage your workforce and optimize your capacity to deliver care. Get centralized, real-time access to up-to-date, accurate call schedules for all departments.
Features:
Automated Scheduling
Absence Management
Mobile App
Resource Management
Employee Work Status
Time Tracking
Mass Notifications
Pricing: Per Feature — Contact QGenda for a quote
Customer Review:
"Qgenda is easy to understand, we are all informed about any changes right away, and most importantly, we know where everybody should be and how many Attendings, CRNAs, ARNPs, etc., can work each day." — Andrea G.
Enterprise Workforce Management Software developed specifically for healthcare. Simplify scheduling with a robust, easy-to-use guided navigation system.
Shiftwizard makes healthcare staff scheduling and communication easy, so staff can focus on caring for their patients.
Features:
Shift scheduling
Workforce optimization
Mass messaging
Time & attendance integrations
Self-Service capabilities
Mobile app
Pricing: Contact Shiftwizard for a quote
Customer Review:
"[I like] the user Interface, the ease of finding the solutions, the technical team is very cooperative." — User in health & wellness
OnShift is a cloud-based workforce management software for long-term care and senior living.
They're focused on redefining the employee experience while offering managers actionable data and insights throughout the entire employee journey — from one unified software platform.
Features:
Time & Attendance
Mobile App
Staff scheduling & management
Messaging
Resource Management
Schedule Distribution
Pricing: Contact OnShift for a quote
Customer Review:
"I like the layout and the interface, which is very eye-catching and user-friendly. I see the interns and residents at the hospital use this all the time to schedule accurate shifts and easily change shifts between members. There is an iPhone app as well that makes it very convenient to access when not at the hospital and need to check who is on schedule at that moment." — Christina B.
EasyShifts offers 24/7 365 staff scheduling. This online scheduling solution provides a simple workflow for creating and managing work schedules.
The system includes features to create and edit schedules, mobile access for schedule viewing, an employee notification system, tracking overtime requests, and assistance filling last-minute call-ins.
Features:
Shift scheduling
Time tracking
Schedule Template
EasyShifts App Calendar
Mobile app
See staff availability
Shift swapping
Pricing: $2.99/user/month
Customer Review:
"EasyShifts has greatly streamlined our scheduling process and has been a time saver thus allowing staff to spend more time with the residents. It has allowed staff to have more autonomy in requesting swaps, putting shifts up for grabs and picking shifts without having to use a paper and pen!" — Dawn K.
NurseGrid is a healthcare staff scheduling solution that targets short-staffing (healthcare's most prominent issue), empowers nurses to take control of their schedule, and helps healthcare facilities communicate shift changes in real time.
Features:
Float Pool Management
Messaging/Shift Dispatching
Overtime Calculation
Shift Scheduling
Shift Swapping
Vacation/Leave Tracking
NurseGrid mobile app
Pricing: Contact NurseGrid for a quote
Customer Review:
"I love that we are able to have our schedules at the tip of our fingers. We can add/edit, swap and pick extra shifts all from the app. We can also talk to other colleagues!" — User in Hospital & Health Care
SmartLinx optimizes workforce management by connecting real-time data and processes across multiple facilities so you can visualize staffing and expenses and make smarter decisions.
Designed specifically for skilled nursing and senior care, SmartLinx streamlines operations, closes scheduling gaps, reduces overtime, and ensures compliance.
Features:
Shift scheduling
Time & Attendance
Payroll integration
Workplace Analytics
Skills based scheduling
Mobile app
Pricing: Contact Smartlinx for a quote
Customer Review:
"We went from paper scheduling to cloud based. Employees appreciate seeing their schedules 4 weeks in advance. It was fairly easy to learn how to use. In depth training provided. Very customizable to our needs. CMS payroll based journal reporting very helpful." — Stephen F.
Designed specifically for healthcare, this cloud-based solution for timekeeping and scheduling provides deeper insights and actionable data to help make more proactive staffing decisions.
Features:
Employee scheduling
Employee management
Mobile app
Shift swapping & open-shift management
Schedule based analytics
Pricing: Contact symplr Workforce for a quote
Customer Review:
"The software is both user-friendly and has an excellent app or on the go access. The data management, employee information and license review works well and reduces administrative time." — Jody J.
UKG Workforce Central™ (formerly Kronos Workforce Central) is a suite of workforce management solutions for time and attendance, absence management, scheduling, and more.
Designed to meet the scheduling needs of physicians, hospitalists, residents, advanced practice nurses, and clinical staff.
Features:
Shift scheduling
Time tracking
Mobile app
Payroll integration
Compliance
Employee self-service scheduling management
Shift swap management
Pricing: Contact UKG for a quote
Customer Review:
"[UKG] Dimensions has given our employees the ability to own their data! Employees are able to access their time cards, schedules, and paystubs from anywhere using their mobile devices, and this frees up managers to be able to focus on management duties!" — Jeri H.
Healthcare facilities can use this cloud-based tool to create law-compliant and demand-based schedules, automate the scheduling process, manage conflicts, generate reports, and more.
Features:
Employee scheduling
Online Time Clock
Automated Scheduling
Mobile Access
Vacation/Leave Tracking
Request, track, and manage time off requests and vacation time
Shift Swapping
Messaging
Pricing: Contact TCPHumanity for a quote
Customer Review:
"Scheduling is super quick and easy. It calculates the number of weekly hours for the employees, and you can view schedules by position/location with unique colors, which is very helpful. Having an app is very handy, so anyone can see their schedules at any time." — User in Hospital & Healthcare
Healthcare Scheduling Software Evaluation Checklist
Now that you've got the goods on the top healthcare scheduling software, let's address how to evaluate each to find the best solution for your organization.
First, identify your biggest pain points — 4 common problems in healthcare staff scheduling are:
Manually creating & managing schedules
Inefficient shift swapping, last-minute shift coverage, & approval system
Limited accessibility of schedules and updates
Disconnected employee communications
Not all scheduling software is created equal — remember, scheduling software is supposed to make life easier and more efficient.
Use this checklist when choosing your healthcare staff scheduling software: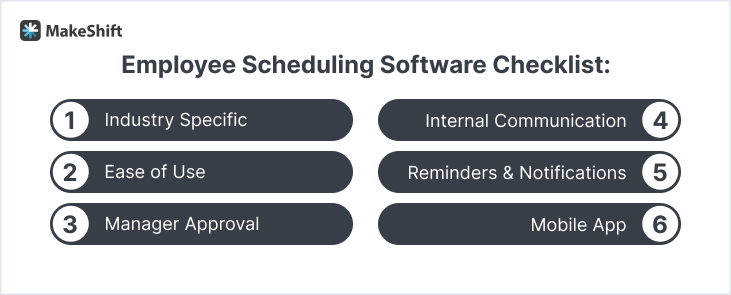 ✓Industry Specific — Software developed with healthcare in mind will most likely best suit your needs.
✓ Ease of Use — Your software should be user-friendly and not overly complicated to learn.
✓ Manager Approval — To streamline the scheduling process, simple, on-the-go manager approval is a must-have feature.
✓ Internal Communication — Internal communication allows your team to trade shifts and see which shifts are available easily.
✓ Reminders & Notifications — Push notifications to your entire team will revolutionize your staff communication method.
✓ Mobile App — Everyone keeps their phone in their pocket. A mobile app means you & your nursing home staff can manage schedules on-the-fly.
✶ Bonus Feature
✓ Geofence clocking in & photo punch in
Healthcare Scheduling Software Is a Must
You already know healthcare scheduling needs a fix. Managers struggle to manage schedules, and employees feel left out of the loop in their work life.
Adopting scheduling software for your healthcare facility is a wise move toward happier employees, more efficient scheduling, and quality patient care.
Here's to smoother scheduling in 2023 for you and your staff.
Ready to Make the Shift?