Employee availability is a critical component of successful staff scheduling — for both you and your employees.
Incorporating employee availability into your scheduling process ensures you've got the right people in the right place at the right time.
Without considering your staff's availability to work, it's tough to ensure shifts are adequately staffed, customer service levels are up to par, and operational costs are managed.
It can also heap a heavy burden on your employees when you don't ask for their input on their work schedule.
An unbalanced work schedule can impact your staff's mental and physical health, passion for their job, and whether they stay or go.
The Great Resignation is real — 43% of employees are likely to consider changing jobs in 2023.
So, if you want to hang on to your employees, incorporating employee availability into your scheduling process is a step in the right direction.
If you're looking for an employee availability form template, check this one out.
However, keep reading if you'd like to know how to ditch the form and streamline your entire scheduling process.
We'll cover:
3 Problems That Result From Not Incorporating Employee Availability
If you're not incorporating employee availability into your scheduling process, your staff engagement & retention may be in jeopardy.
Below are 3 risks of ignoring your staff's personal schedule.
1. Increased Employee Stress
When employees don't feel they have a say in their work schedules, that can add to feeling stressed about their work environment.
Prolonged stress can heavily impact your employees' mental health. If you're picking up high-stress vibes from your staff, it could be from:

Lack of Flexibility — In a Skynova study, over 36% of surveyed employees valued their flexible schedule over PTO, and almost half said having a flexible schedule is more important than their salary.
The Appearance of Unfair Scheduling Practices — Employees may feel they're not given the respect they deserve or are being treated unfairly.
You need to recognize and address factors causing higher staff stress levels before it impacts their performance and overall well-being.
2. Disengaged Employees
Employee engagement is a critical factor in job satisfaction and retention. Studies have shown that companies with highly engaged employees have a 31% lower turnover rate and increased employee loyalty.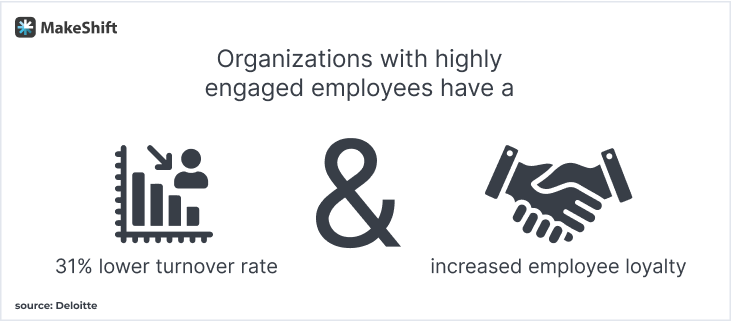 If you're noticing your employees are disengaged, it could result from:
Burnout — Excessive overtime and heavy workloads take a toll on your employees.
Poor Communication — If your team communication is lacking, it'll impact your employees' passion for tackling their work.
3. Tanked Staff Productivity
You need your employees to be productive at work. Period. It's good for them and for you.
If you've noticed that overall employee productivity has plummeted, you might want to take a look for:
High Amounts of Excessive Overtime — Are your employees regularly logging unwanted overtime to handle a heavy workload?
Scheduling Practices — How do you handle staff scheduling? Are your employees able to set their availability when creating their work schedules?
Many of these problems can result from haphazard staff scheduling and not including employee availability in your scheduling process.
If you don't address the root of these problems, you'll most likely lose talent to workplaces that offer more intuitive scheduling.
3 Advantages Of Using Employee Availability In Scheduling
You level up your staff scheduling by encouraging your team to post their availability and creating schedules using that info.
When your team feels like they have a voice when it comes to their work schedule, your company culture will benefit in several ways — we'll mention our top 3:
1. Increased Employee Ownership
When employees have more say in their work schedule, they feel (& take on) more ownership at work.
Empowered employees elevate your entire operation — they'll go above and beyond to gain loyal customers and achieve growth.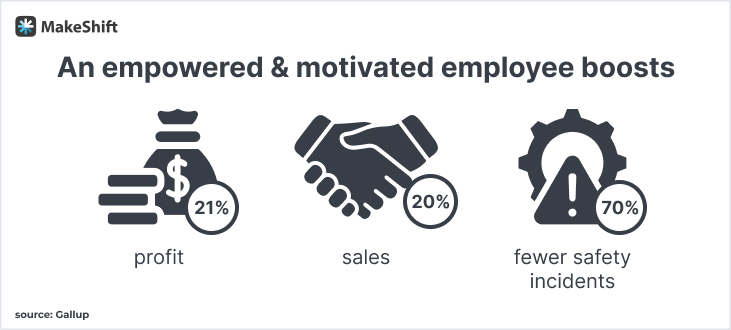 Gallup estimates that an empowered and motivated employee boosts profit by 21%, sales by 20%, and has 70% fewer safety incidents.
Utilize technology to make setting availability easy for employees and quickly accessible for you. Staff scheduling software can allow your employees to set their availability right from their phones.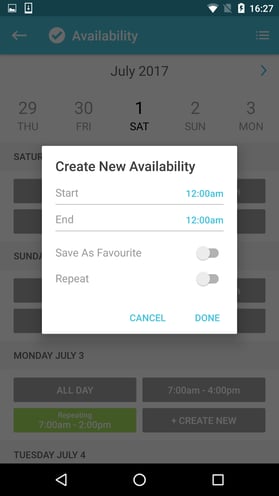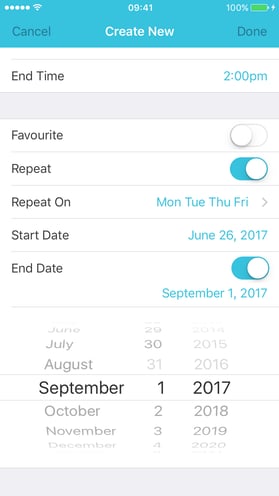 2. Improved Accuracy In Scheduling
It's much easier to create a schedule when you have access to employee availability.
You'll spend less time reworking the schedule because you've got the info you need the first time around.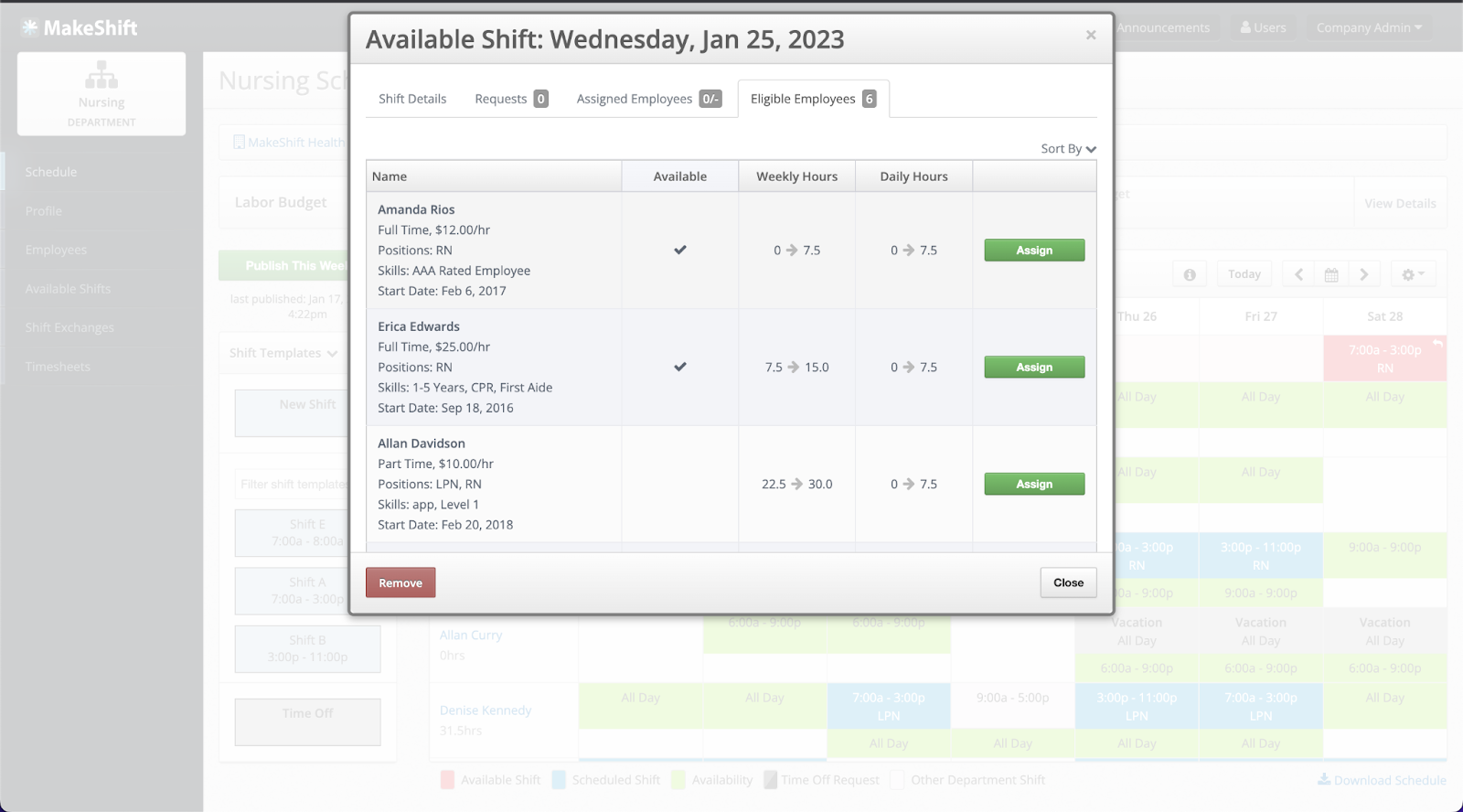 Using staff scheduling software like MakeShift can make schedule creation and management less daunting and time-consuming than a manual process.
3. Enhanced Communication Between Managers & Employees
When you make staff scheduling more interactive, it opens the line of communication between you and your employees.

Effective communication boosts employee retention by 4.5 times compared to businesses lacking effective workplace communication.
Streamline your team's communication by using technology to make communication easier.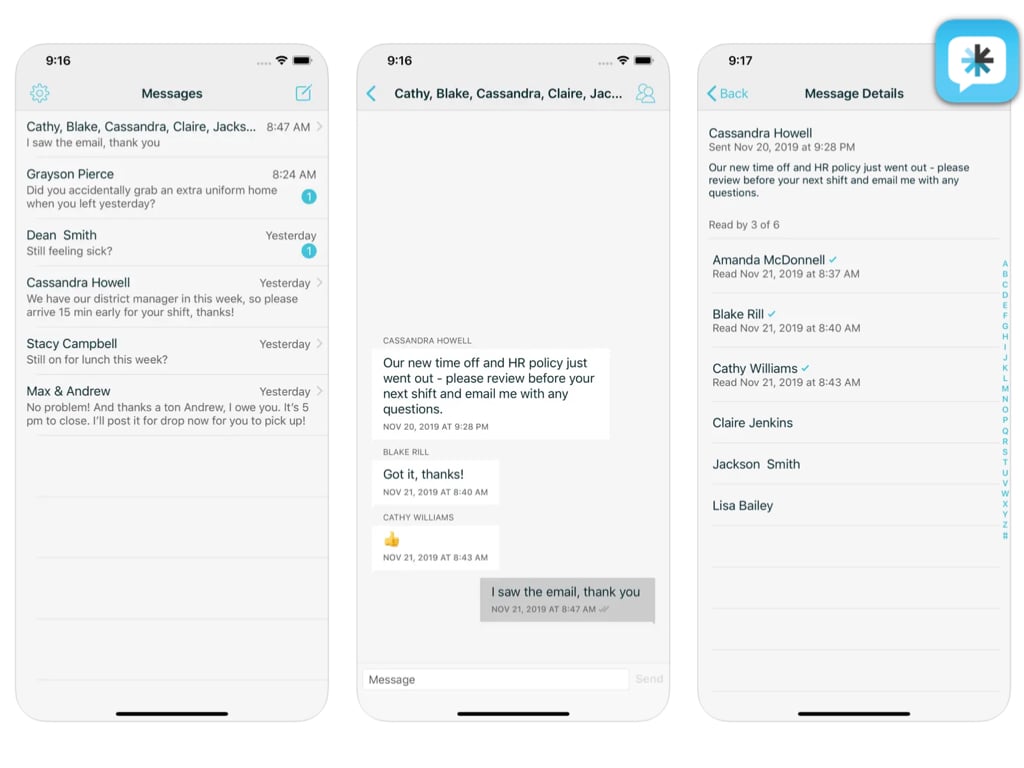 8 People-First Tips to Better Manage Employee Availability
When you take a people-first approach to employee management, your staff morale and retention will increase. Why? People appreciate being valued.
These 8 ideas will get the ball rolling in managing employee availability with a human touch:
1. Ditch paper and manual processes
Using paper employee availability forms can cause a plethora of problems for your business, including:
Inefficiency

Lack of accuracy

Limited oversight

Poor communication
Swap manual processes and paper forms for an upgrade with innovative staff scheduling software designed to streamline your workflows and eliminate cumbersome manual tasks that bog down your staff.
2. Encourage Flexible Shift Availability
Consider offering flexible scheduling options, like hybrid schedules and flexible start and end shift times to allow employees to balance work and personal life.
This can help improve employee satisfaction and retention.
Scheduling flexibility can help you cover last-minute schedule gaps because satisfied employees are more apt to jump in and help.
Flexible schedules also reduce absenteeism by involving employees in their work schedule creation.
3. Set Clear Expectations With Staff
Make sure your employees know what's expected of them regarding availability.
This might include providing advance notice of schedule changes, being available for specific shifts or events, or being able to work on short notice if needed.
Clearly communicating these expectations can help ensure that your employees are prepared and don't feel caught off guard.
4. Create A Shift Swap Policy
It's essential to offer shift swaps because life happens, and unexpected events can cause employees to miss a shift. To manage this effectively, you need to create a shift swap policy.
After you've created your policy, encourage employees to trade shifts when necessary.
MakeShift makes shift swapping easy. An employee can post an available shift, another can offer to trade, and you can quickly approve it while on the go.
5. Ensure Scheduling Managers Abide By Employees' Availability
If your employees post their availability and your scheduling manager regularly ignores it, things are going to get heated.
As long as employees are sticking to the availability guidelines, you need to do everything in your power to honor their posted availability.
If you need an employee to work a shift they haven't included in their availability, have a face-to-face conversation before putting them in that slot.
6. Incentivize Hard-To-Fill Shifts
Some shifts are tough to fill. For example, it's rare to find an employee who loves regularly working the graveyard shift or coming in at 4 am to get ready to open.
So, you may need to sweeten the pot to incentivize working those shifts no one wants.
We've got a few suggestions to jumpstart your brainstorming:
Offer snacks and refreshments that the other shifts don't get (healthy options packed full of protein & energy).

Offer extra PTO accrual for those who work the hard-to-fill slots.

If your budget allows, offer a cash or gift bonus for a set # of the less desirable shifts worked in a 3-month period.

Write a handwritten thank you note to show your appreciation.
7. Improve Team Communication
Technology can make it simple to encourage team communication — most people have a smartphone that has become their 5th appendage.
Why not use it to your advantage to open the lines of communication?
Beware, using multiple methods of messaging apps and social media dm's can create chaos and hinder more than help communication.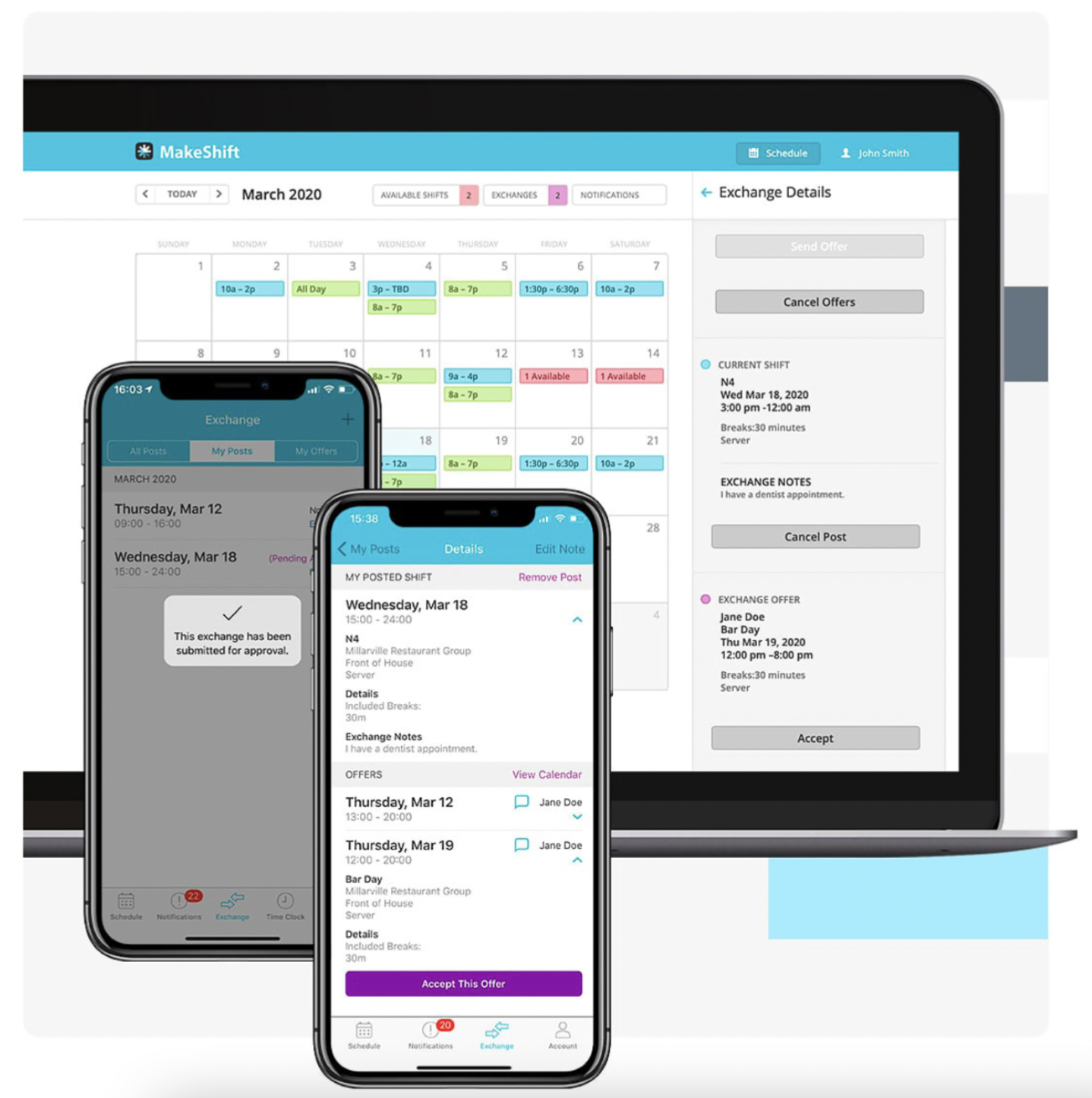 Offering a streamlined scheduling solution where all team members can post their availability, trade shifts, and receive push notifications can create cohesiveness within your team.
8. Use Cloud-Based Scheduling Software To Track Employee Availability
Incorporate innovative tech to modernize your scheduling process and give your staff the tools to encourage their involvement.
Cloud-based scheduling offers numerous benefits:
Employees can edit availability on the go

— Mobile apps offer scheduling access right in their pocket.

Increases employee flexibility

— They can manage their schedules from their phones.

Everyone has access

— They can check out their schedule on their phone or laptop.

Team communication

— Push notifications, shift swapping, and setting availability can all be done in the cloud.

Increases efficiency for managers

— You can see employee availability, approve shift swapping, and manage schedules on the go as well.
People-First Software Goes Beyond Scheduling & Brings People Together
MakeShift Scheduling goes beyond scheduling — it enhances workforce optimization by streamlining scheduling and encouraging communication.
Employees can easily set and manage their availability.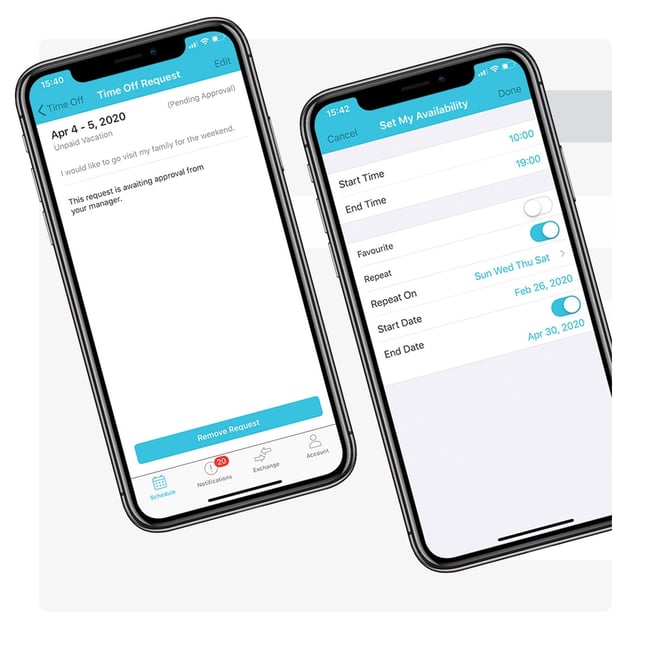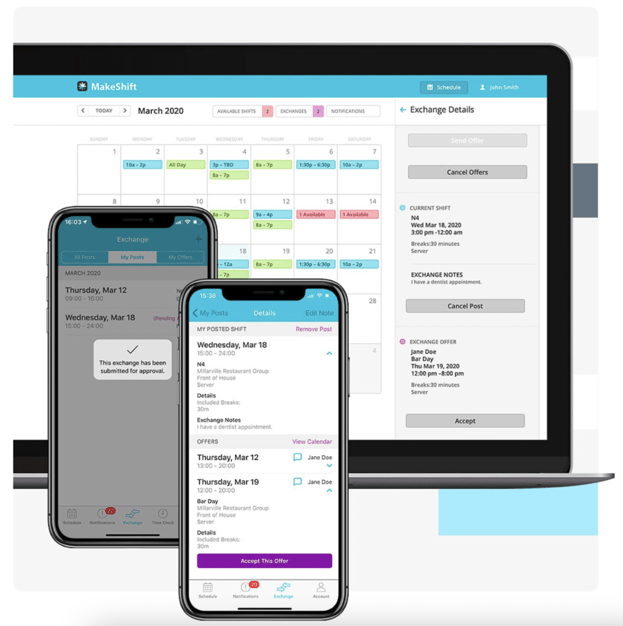 Team Communication is next level.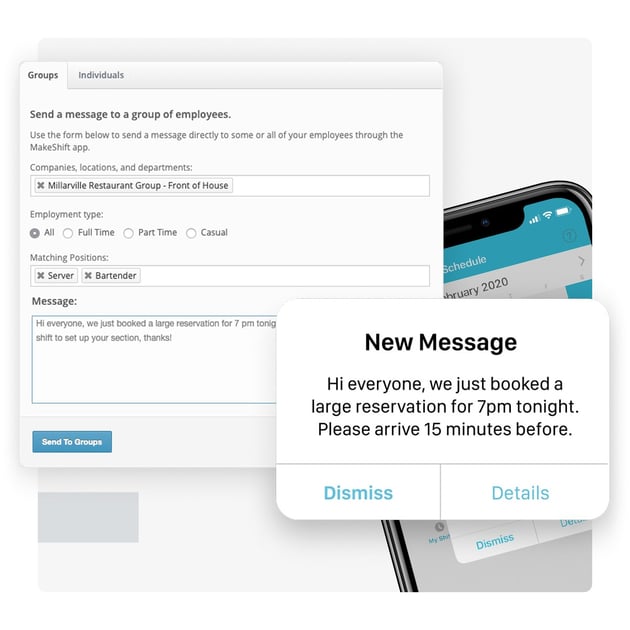 Employee Availability Empowers Your Employees
Incorporating employee availability into your staff scheduling impacts your employees' satisfaction, productivity, and your operation.
It empowers your employees, reduces absenteeism, and makes scheduling management easier.
Adopting scheduling software streamlines the entire scheduling process and allows employees to set their availability while on the go.
Your staff will thank you for a straightforward process that lets their voice be heard and fits easily into their lives.
Our MakeShift experts can show you how to elevate your scheduling process and effectively manage employee availability.
Ready to Make the Shift?