You want to run your nursing home with integrity, excellence, and the highest quality of care.
The author, Tia Walker, said, "To care for those who once cared for us is one of the highest honors."
Of course, you want your nursing home staff and patients to feel respected and valued — meanwhile, you also have a facility to manage.
It can be quite a juggling act to prioritize people and patients while running an efficient operation.
But it can be done, and it can be done well.
Incorporating staff scheduling software into your current techstack optimizes you and your employee's time and will revolutionize your scheduling system.
Today, we'll cover 5 scheduling software options for your nursing home, along with a checklist to help in choosing the best one for you.
Nursing Home Staff Scheduling Software & HPPD Regulations
Nursing home administrators have a full plate. It can be tough to keep track of everything from managing staff to residents to finances while making sure to meet government regulations.
That's where nursing home employee scheduling software comes to the rescue.
Staff scheduling software can help not only with creating and managing your employee scheduling but also help keep tabs on meeting HPPD (Hours Per Patient Day) government regulations.
Government regulations in some states mandate HPPD nurse-to-patient ratios and require hospitals, clinics, acute care facilities, long-term care, and nursing home facilities to document, by means of staffing reports, that they're meeting or at least trying to meet the ratios.
The Centers for Medicare & Medicaid Services (CMS) recently enhanced its Nursing Home Compare public reporting site to include a set of quality ratings for each nursing home that participates in Medicare or Medicaid.
The CMS 5 Star quality rating is composed of scores in 3 areas:
Health Inspection

Staffing

Quality measures
Maintaining high ratings in the CMS 5 Star quality rating system is a key factor to the success of your long-term care facility.
With "Staffing" being 1 of the 3 categories affecting your nursing home's CMS rating, upgrading your employee scheduling system to prioritize staff scheduling is a wise decision.
Staff scheduling software will streamline your scheduling process and increase oversight — you know what they say about 2 birds with 1 stone.
There are a plethora of scheduling software options available today, so let's address how to select the right software for your nursing home.
How To Choose The Right Employee Scheduling Software
Not all scheduling software is created equal. Staff scheduling software is supposed to make life easier and more efficient.
We've created a checklist to ensure you choose the software that'll enhance your processes: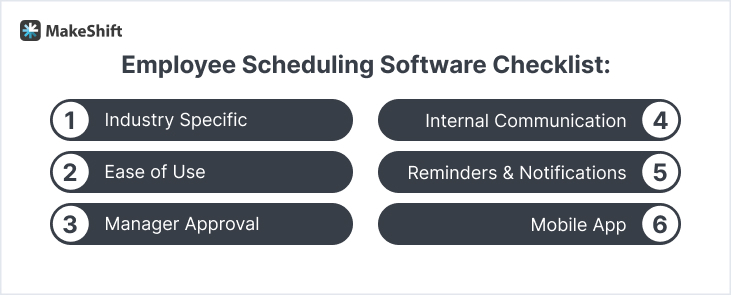 ✓ Industry Specific — Software developed with healthcare in mind will most likely best suit your needs.
✓ Ease of Use — Your software should be user-friendly and not overly complicated to learn.
✓ Manager Approval — To streamline the scheduling process, simple, on-the-go manager approval is a must.
✓ Internal Communication — Internal communication allows your team to easily trade shifts and see which shifts are available.
✓ Reminders & Notifications — Push notifications to your entire team will revolutionize your staff communication method.
✓ Mobile App — Everyone keeps their phone in their pocket. A mobile app means you & your nursing home staff can manage schedules on-the-fly.
5 Nursing Home Staff Scheduling Software
We've put together a review of 5 staff scheduling software for your nursing home. As you read through the list, applying the above checklist will help decipher which software best matches your facility's needs.
1. MakeShift
MakeShift was created to fix the broken scheduling process in the healthcare industry The idea began with a nurse and her frustrating experience with scheduling.
She was regularly scheduled when she wasn't available.
She couldn't access her schedule on her phone while on the go, so easily swapping shifts with other nurses or seeing available shifts that worked better for her life wasn't an option.
MakeShift streamlines staff scheduling by allowing real-time schedule management right within the app. It transforms scheduling into an interactive "conversation" that empowers both managers and employees.
Features: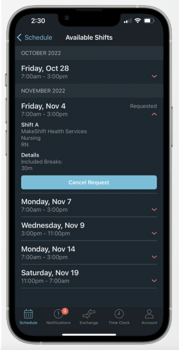 Rotation-Based Scheduling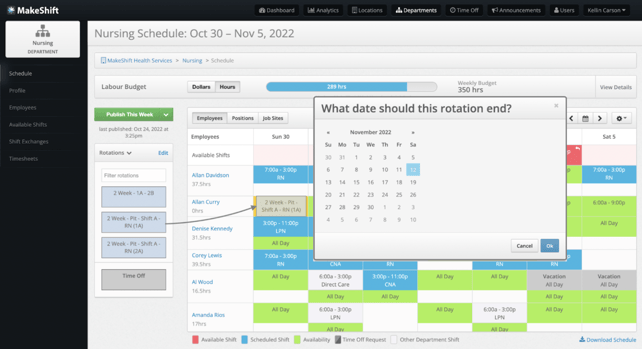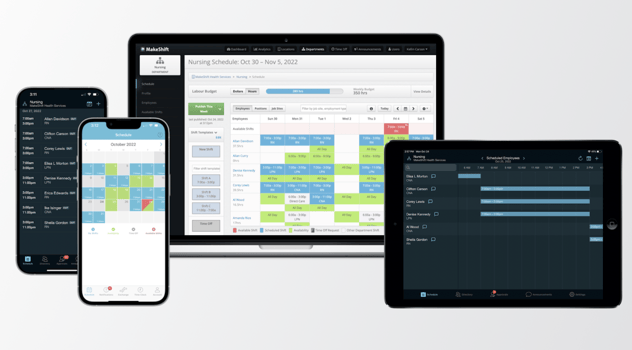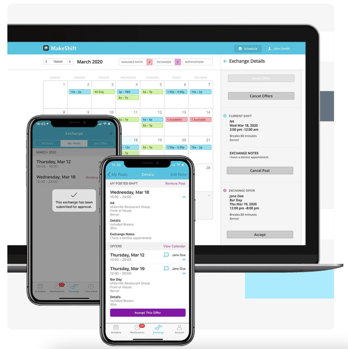 Time Off / Leave Management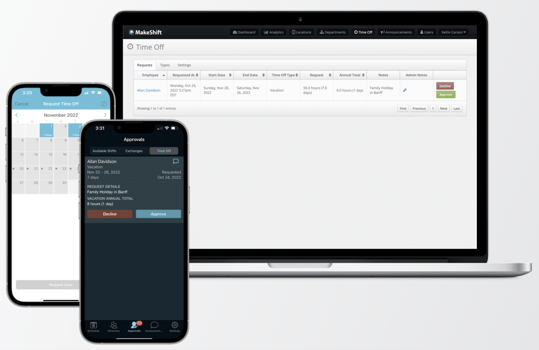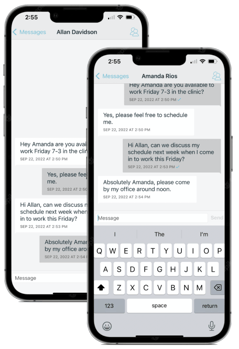 Cloud-based
Mobile App for Staff and Managers
Pricing:
Starts at $2.75 / user / month
Capterra Customer Review:
"User-friendly and easy to learn for all users including both schedulers and employees. Easy to see which staff is available on any given day. Being able to integrate with our existing payroll & time and attendance system was a bonus." — Jenny C.
2. Connecteam
Connecteam is a workforce management app that allows managers to put their business processes on autopilot and focus on business growth while also freeing up employees to be more flexible.
You can plan shifts and manage schedule changes easily.
Features:
Employee Shift Scheduling
Employee Communication
Employee Time Clock
Checklists & Forms
Employee Task Management
Employee Training
Pricing:
Starting at $29 / month for the 1st 30 user
Capterra Customer Review:
"It has a wide variety of features that have allowed us to move our payroll and HR to a virtual platform. Clocking in and out and tracking employee hours and location is a great feature." — Angela M.
3. Hubstaff
Hubstaff allows you to streamline scheduling, shift management, and time off requests with the desktop or mobile app. Managers get shift reminders and alerts for late, missed, or abandoned shifts.
Features:
Shift scheduling
Time tracking
Timesheet approval
Track & manage time off requests
See staff availability
Create recurring schedules
Pricing:
Starting at $5.83 / user / month
Capterra Customer Review:
"As a company with lots of employees working remotely for us, we need strong software to monitor employees' performance and act according to the efficiency analysis. Its best feature is idle time management which helps you know if some employee is sitting idle." — Ashish A.
4. When I Work
When I Work provides an easy way for businesses to schedule, track time and attendance, and communicate with their hourly employees. You can keep track of time off, employee availability, and manage shift swaps with ease.
Features:
Shift Scheduling
Time & Attendance Tracking
Absence & Leave Management
Self-Service Capabilities
Mobile Shift Scheduling
Team Communication
Pricing:
Starting at $2.50 / user / month
Capterra Customer Review:
"It's visual and simple. It schedules down to 15-minute increments. It makes a very dynamic schedule like ours, easy to manage and understand." Nicola M.
5. ScheduleAnywhere
ScheduleAnywhere is a hybrid employee scheduling platform that helps manage employee scheduling routines and activities easily and efficiently. The solution can either be deployed on-site or hosted in the cloud.
Features:
Alerts/Notifications
Automated Scheduling
Availability Management
Calendar Management
Calendar Sync
Employee Scheduling
Facility Scheduling
Multi-Location
Real-time Scheduling
Real-time Updates
Reminders
Reporting & Statistics
3rd Party Integrations
Pricing:
Starting at $25 / month (up to 10 employees)
Capterra Customer Review:
"I like that everything is located in one place. It is relatively easy to add and delete employees from the schedule. I like that I am able to pull up my screen and see an entire 6 week schedule at a glance. It's great to be able to add in all the different types of shifts." Lori B.
4 Benefits of Using Nursing Home Staff Scheduling Software
There are numerous benefits to implementing staff scheduling software in your nursing home facility.
We've whittled down the list to what we consider the greatest hits.
1. Enhances Staff Engagement
Staff scheduling software enhances employee engagement. When your staff has more of a voice in their work schedule, morale goes up, and so does engagement.
Employee engagement directly impacts job satisfaction and staff retention in healthcare.
Studies have shown that organizations with highly engaged employees have a 31% lower turnover rate and increased employee loyalty.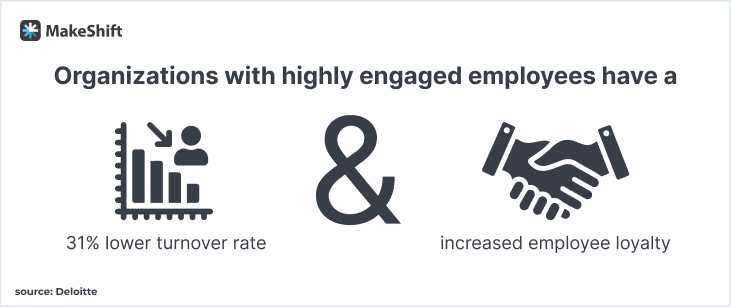 Engaged staff are more likely to feel personally invested in your nursing home and take a stake in the operation.
2. Managing Excessive Overtime
Excessive overtime isn't good for your staff's well-being or your budget's bottom line.
Utilizing staff scheduling software allows for more oversight on your part, so you're in the loop on who's working overtime regularly.
3. Going Paperless
When you choose to become part of the 90% of healthcare organizations using cloud-based software scheduling, you'll be able to reduce paper usage significantly.
Going paperless in your nursing home operation cuts costs and time while helping your facility become more eco-friendly.
4. Coordinating Better Patient Care
We know top-notch patient care is of utmost importance in your nursing home. And adequate staffing plays a leading role in providing quality care.
According to an AMN study, 85% of healthcare facilities are currently experiencing a staff shortage.
We understand that makes it difficult to get schedules filled to ensure quality care for your patients.
Streamlining your scheduling system with software will boost efficiency when creating staff schedules to make sure your patients receive great care.
Nursing Home Scheduling Software Will Lighten Your Load
There are so many moving pieces to managing a successful nursing home facility.
It's a hefty burden to shoulder the responsibility of caring for your staff and your patients while also running the operation.
The right nursing home scheduling software will lighten your load when it comes to creating and managing your staff schedule.
Choose wisely.
Ready to Make the Shift?