Employee scheduling can be daunting, tedious, and time-consuming.
It's easy to see how overtime can become problematic when managing scheduling, shift swaps, callouts, absenteeism, and time off requests.
The overtime can accumulate before you know it.
Excessive overtime can wear out your employees and whittle away your bottom line.
You've got to figure out how to reduce excessive overtime to take care of your employees.
Taking a people-first approach to your overtime scheduling can reduce fatigue and burnout, aid employee retention, and help staff feel valued.
And addressing all of the above will make a positive impact on your bottom line.
Today, we'll address how to stop excessive overtime scheduling for good by covering:
Reducing Overtime Scheduling Is Essential
Overtime is a serious concern for businesses, and getting it under control should be a top priority.
You already know overtime affects your business' budget — it also severely affects your employees' lives.
Specific industries struggle more than others with excessive overtime scheduling & fatigue:
Healthcare (a top concern) — Healthcare workers regularly work long hours, double shifts, night shifts, and extensive overtime to keep up with patients and their facility's demands. On top of that, staff shortages are widespread, and overtime fatigue among healthcare workers is prevalent.
Recreation — Think about national parks and outdoor recreation. A rafting, hiking, hunting, or mountain biking guide works long hours on any guided trip. Most guides work 12 or more hours daily, especially on extended 3 or 4-day trips.
Retail — Retail employees often put in overtime during busy periods and holiday seasons. Retail managers might not want to or be able to hire enough temporary staff to fill the schedule. In addition, stores may stay open longer to accommodate late-night shoppers.
Food & Beverage — Restaurant staff often work overtime when a huge dinner crowd stays late. Labor shortages have hit this industry hard, leaving existing staff to pick up the slack on schedule gaps.
Hospitality — A certain level of unpredictability is unavoidable in the hospitality and event industry. Hotels are open 24/7, and many events don't have a set end time. This results in staff commonly staying late or working double shifts to finish the work. As a result, these employees regularly end up with excessive overtime.
The struggle of excessive overtime and fatigue mainly results from industries needing:
24/7 coverage

Workload fluctuations

Staff variations

Labor shortage
These are all significant industry problems that aren't going away anytime soon. So, you must find a way to manage your overtime scheduling and protect your employees from fatigue and burnout.
4 Negative Effects of Excessive Overtime
Excessive overtime results in negative impact and hefty consequences. Depending on your business perspective, your mind may jump to your business's bottom line when you think of overtime.
And that's an undeniably big one.
However, overtime, burnout, and fatigue are weighing down many U.S. workers and seriously affecting their lives.
Below we've listed 4 of the top adverse effects of excessive overtime:
1. Affects Employee Morale
Excess overtime can lead to staff burnout which leads to low employee morale — they can feel overworked and undervalued.
It's tough to continue to work where you feel unimportant and physically exhausted.
A high amount of forced overtime means employees can't plan their lives outside work, leading to poor morale.
This could contribute to even higher employee turnover. Unexpected overtime can add stress that'll ultimately drive your employees away.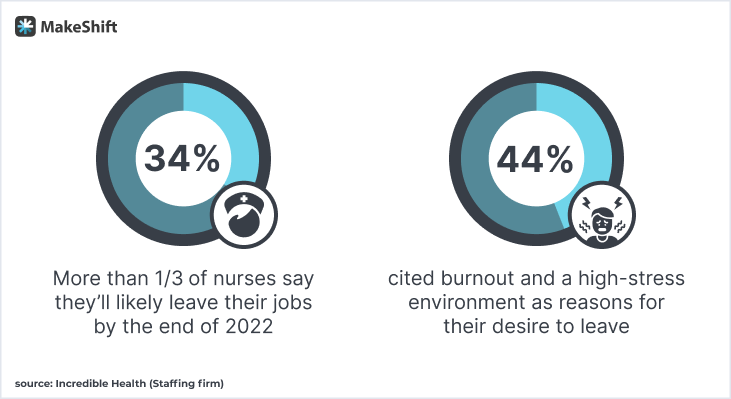 More than 1/3 (34%) of nurses say they'll likely leave their jobs by the end of 2022. Additionally, 44% cited burnout and a high-stress environment as reasons for their desire to leave.
2. Increased Health Problems
Excessive overtime isn't good for our health and can negatively affect your employees' lives.
Spending more time at work and worrying about work increases stress levels. Unfortunately, it also puts you at a higher risk of depression, anxiety, and other mental health issues.
Health problems known to be related to working excessive overtime include:
Higher blood pressure

Increased mental health issues

Increase in total and lost workday injury rates

Lower-back injury in jobs with a lot of manual lifting

Lower birth weight or gestational age in women

Heavy alcohol consumption among men

Higher suicide rates
A Canadian study found that workers who increased their weekly work hours from 40 or less to over 40 hours a week experienced increased tobacco and alcohol consumption.
The study also cited an unhealthy weight increase in men and an increase in depression among women.
3. Increased Safety Risk
Excessive overtime puts your staff's safety in jeopardy. Long work hours have been linked to increased risks in:
Safety awareness

Impaired performance and lowered attention

An increase in errors in medical facilities

A 3 fold increase in accident rates after 16 hours of work
These safety problems are most likely due to worker fatigue, which could be the cumulative effect of multiple days of long hours.
The fact is — it's dangerous for your staff to work long hours.
Circadian data from shift work operations shows that businesses with more fatigue-related problems are also likely to have higher overtime rates.
And that affects safety.
4. It Affects Your Bottom Line
According to the Bureau of Labor Statistics, the average American worker puts in around 4 hours of overtime per workweek.
That's roughly 208 hours per year. To put it into perspective, an employee earning $21 per hour of overtime comes to $6,552 per employee – per year!
With just 10 employees, that's $65,520 in overtime expenses.
Yikes.
Bottom line, not having a solid overtime policy, procedures, and tools to control it, will cost you dearly when you're paying employees 1.5 times their hourly rate.
9 Ways to Stop Excessive Overtime Scheduling
When it comes to overtime, the struggle is real, and the impact is evident. Limiting excessive overtime is a top priority for the sake of your employees and your business.
We've put together a list of 9 ways to get a handle on overtime.
1. Give Employees More Control of Their Schedule
When employees have more say in their schedule, it reduces absenteeism which cuts down on unplanned overtime.

Organizations in which employees have more control in their work environment, including creating their schedules, have 45% less turnover. This means fewer schedule gaps requiring you to pay overtime because you're short on staff.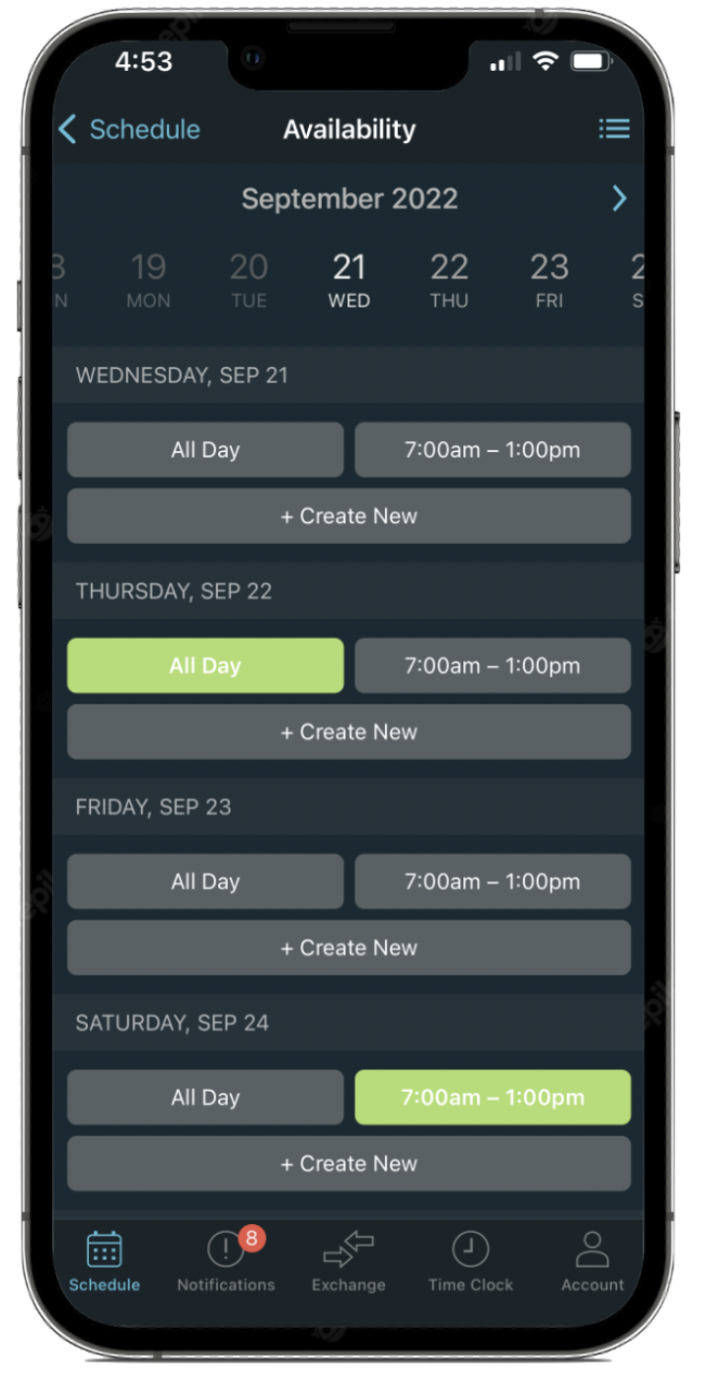 With staff scheduling software, employees can set their preferred availability, request time off, and swap shifts when they need it most.
2. Get an Accurate Picture of Your Employees' Overtime
When you know better, you can do better.
Without an accurate picture of your employees' overtime, you'll continue to scramble to fill schedule gaps, and your staff will be in danger of burnout.
Scheduling software enables you to gain a birds-eye view of scheduling:
Do specific shifts rack up more overtime?
Do you spend more on overtime during certain times of the year?
You can collect and utilize pertinent data to anticipate staffing needs, reducing unexpected overtime.
3. Encourage Staff Communication
Often, employees feel that communication is lacking between them and management.
This has a huge impact on their morale and overall staff retention.
If communicating with management is difficult and slow, employees can't touch base about shift needs and many other work-related issues.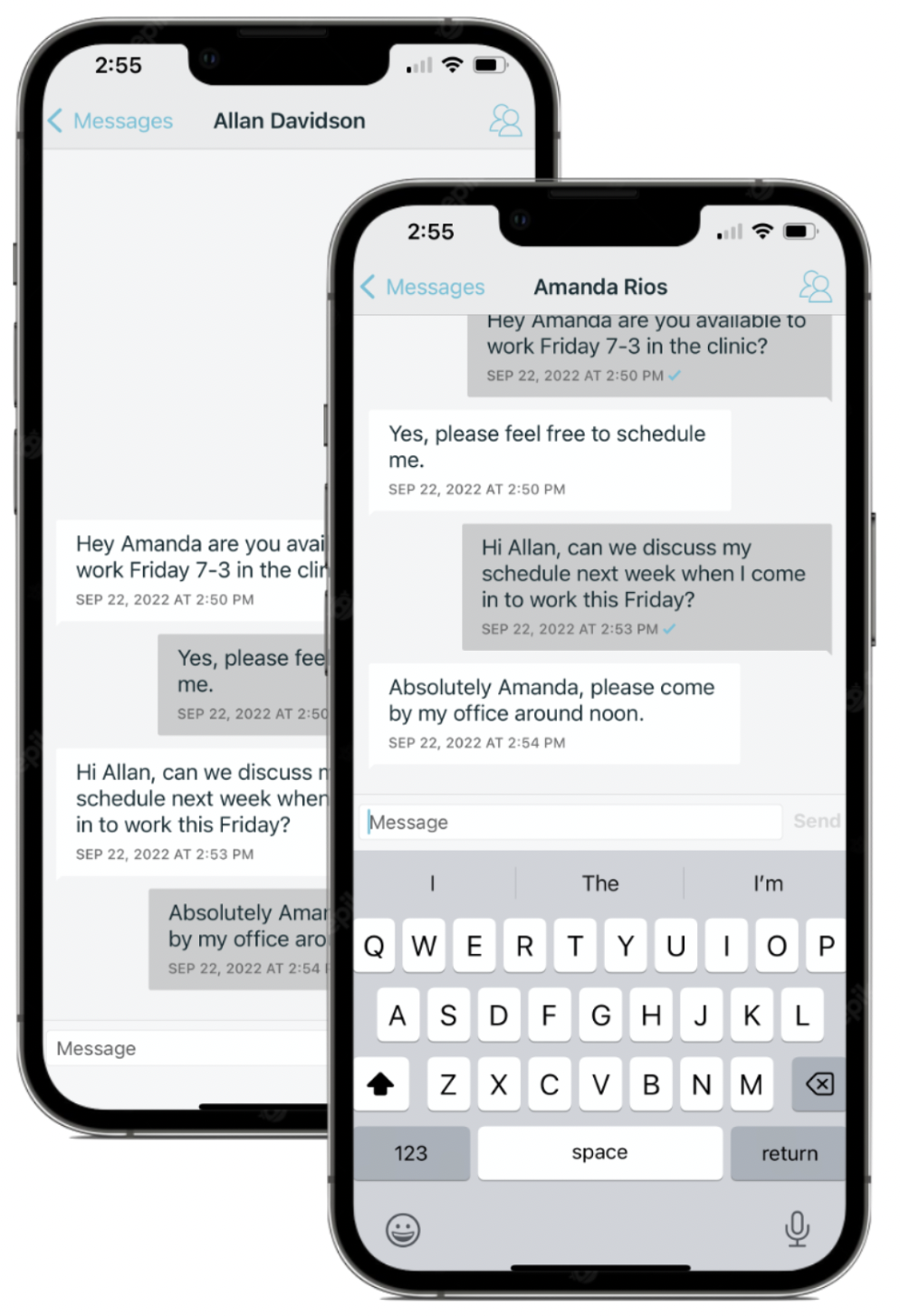 Encouraging internal communication by integrating tools to make communication easier will help reduce excessive overtime in the long run.
With scheduling software, your staff can easily communicate with each other to swap shifts which can reduce callouts and absenteeism.
4. Adopt a More Flexible Schedule
Make work-life balance a priority for your staff. Offer options like job sharing and shift swapping to make up for absenteeism.
Ask your staff what a flexible schedule would look like to them to get tangible feedback on changes to make.
5. Cross-Train Employees
Ask your employees if they'd be interested in training for additional roles so you can fill staff vacancies more easily.
For employees under 40 hours, this can be a great way to get them additional hours.
However, be sure to consider your employees' feelings and current workload before scheduling them to be cross-trained.
You don't want the cross-training to end up causing burnout or fatigue.
6. Create an Overtime Scheduling Policy
It's important to create an overtime scheduling policy and clearly share it with your staff. Areas to consider in your policy:
Set an OT limit.

Decide how to manage OT distribution among staff.

Consider how policy abuse will be addressed.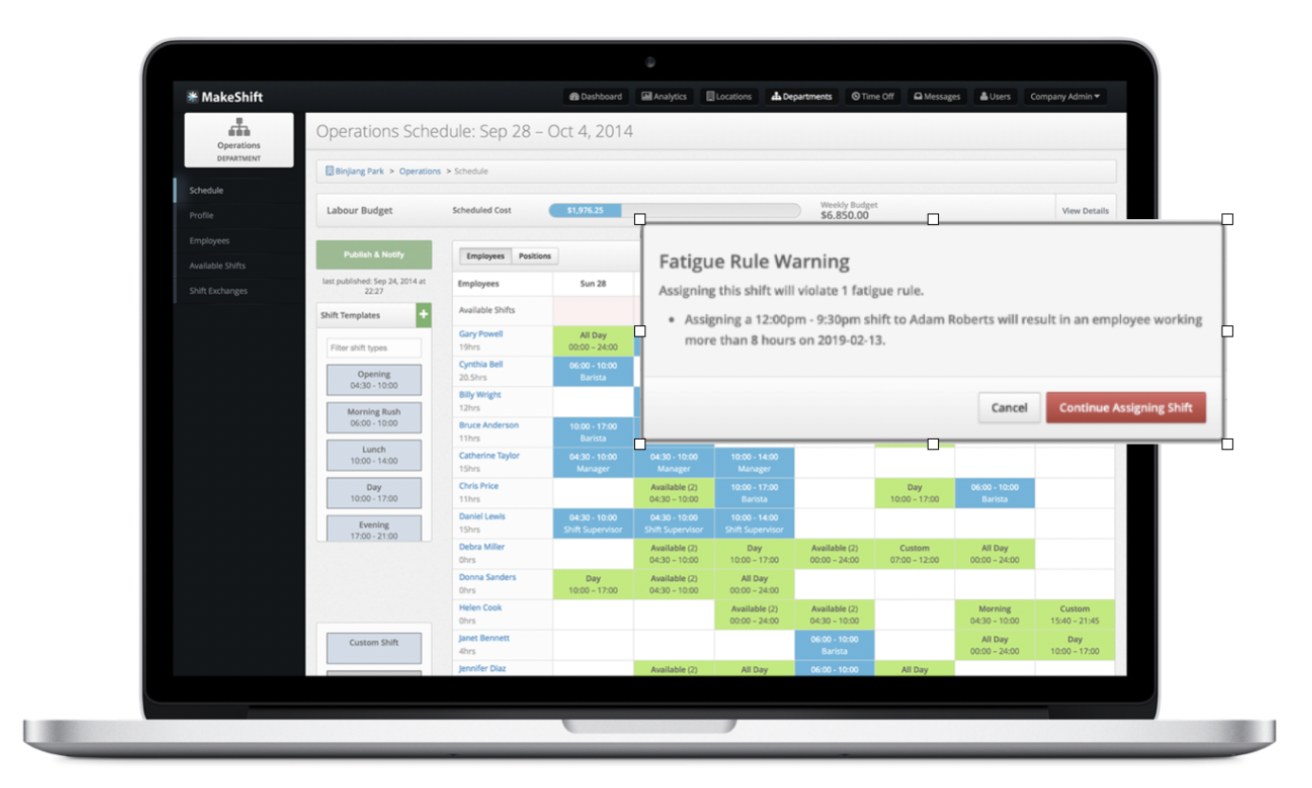 You can automate OT alerts with MakeShift to easily monitor overtime.
7. Consider Hiring Additional Staff
Illness, seasonal demand, maternity leave, and disability leave, can all cause your business to become temporarily short staff.
Consider hiring additional part-time or temporary staff to keep up with the workload during crunch time.
8. Use Push Notifications to Keep Everyone in the Loop
Update employees on the latest announcements and policy changes with push notifications right to their phones.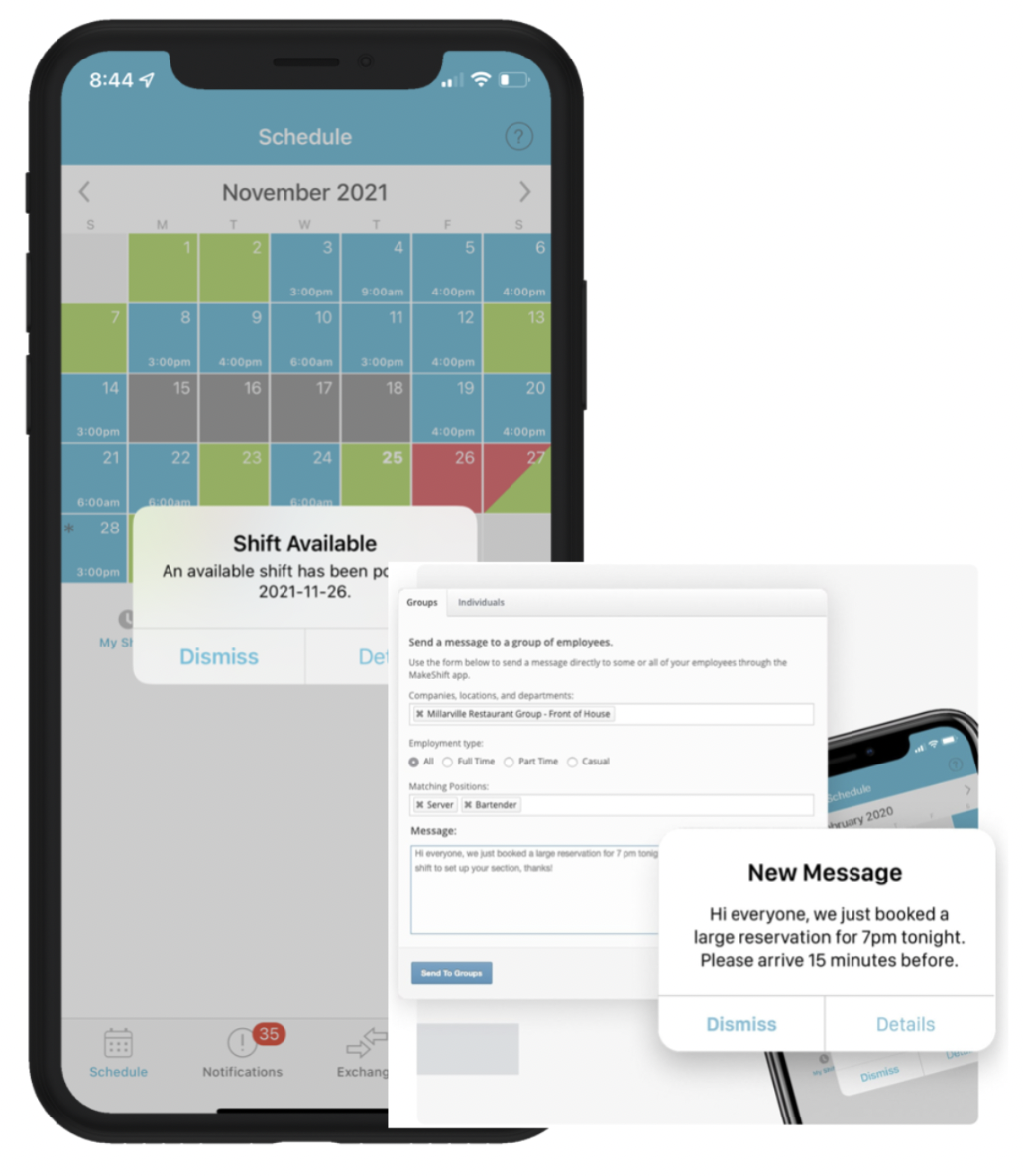 Clearly communicating your overtime and holiday policies keeps your operation running smoothly.
It also saves you from racing to the HR binder to look up rules for each situation.
9. Find the Root Cause of Excessive Overtime
Usually, absences are the main cause of overtime.
We wrote an in-depth article about how to address employee absenteeism that you can check out. But here are our main strategies: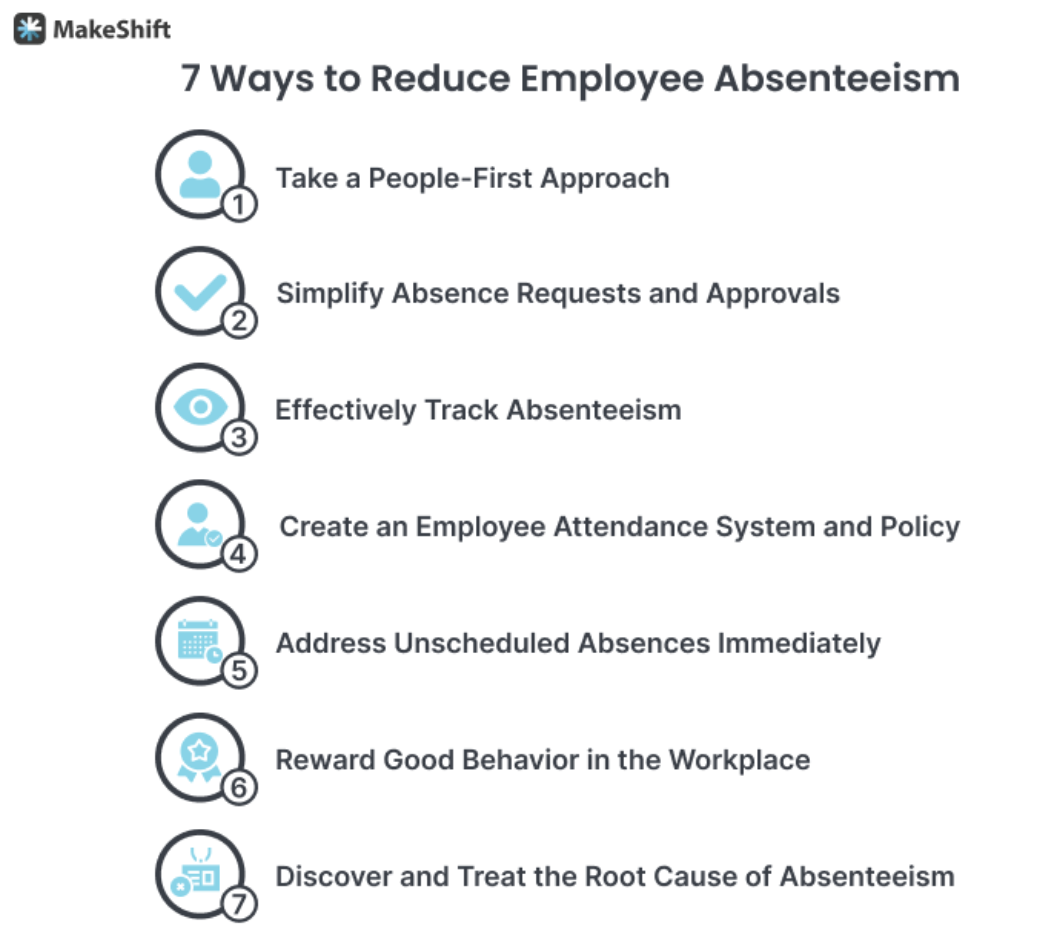 Address employee absenteeism and identify patterns that need a solution (example: more employee absenteeism in summer = hiring more staff).
Use your historical data to forecast workforce demand to avoid employee OT and fatigue.
MakeShift Makes Overtime Management a Breeze
MakeShift was designed to make scheduling efficient and simple by utilizing cutting-edge technology to put people first.
MakeShift's top features that target overtime control are:
The ability to quickly approve or deny shift requests.

You can customize your overtime and stat holiday pay rules and notify the entire staff through MakeShift.

MakeShift's fatigue rules alert managers if they're about to schedule an employee for overtime.

Real-time scheduling management keeps you up to date.

By easily keeping an eye on your employee schedule, you can anticipate schedule gaps and make appropriate adjustments.
"We are reducing our overtime costs by more than a shift a week and noticing other cost savings. If we tried to remove MakeShift from the nursing staff, they would likely revolt."
Stop Overtime by Putting People First
We need to do better. Workers in many industries are struggling with fatigue and burnout attributed to excessive overtime.
Gaining control of your employee scheduling to rein in overtime is imperative — your staff is counting on you to take action.
Employees who aren't swamped with a huge workload are happier. Happier employees enable business growth.
MakeShift was created with a people-first approach to help streamline the daunting task of scheduling.
Book a demo or try MakeShift for free today.
Ready to Make the Shift?