Effective staff scheduling procedures play a critical role in running a successful healthcare organization. If your organization uses a manual scheduling system, switching to a cloud-based staff scheduling software is essential.
Why?
Manual scheduling systems are vulnerable to human error and negatively impact your organization's performance and bottom line when employees miss shifts. In this guide, we'll explain healthcare staff scheduling software and the comprehensive benefits it provides.
What Is Healthcare Staff Scheduling Software?
Healthcare staff scheduling software helps manage, automate, and optimize the scheduling procedures of employees in medical organizations like hospitals, clinics, private practices, and nursing homes.
Due to the pandemic, scheduling shortages in nursing have required on-the-fly changes and more flexibility. Manual schedules do not allow for easy visibility of changes in units.
MakeShift Expert Tip:

Cloud-based staff scheduling software like MakeShift quickly alerts staff to scheduling changes using push notifications. MakeShift also offers the ability to send out available shifts easily.
For managers, healthcare staff scheduling software lets you create effective schedules based on projected budgets, employee availability, and optimal scheduling guidelines. For your employees, scheduling software allows them to view their schedules, request changes, and clock in and out directly from their mobile devices.
Cloud-based staff scheduling software also allows you to:
Generate timesheets

Track overtime

View reports to optimize your budget

Record off days, vacation days, and sick leaves

Request and approve shift swaps
All of these features work together to build a cohesive scheduling environment to boost employee happiness and engagement.
Why Is a Healthcare Scheduling System Important?

Staffing shortages of all types of healthcare professionals are becoming more pronounced, and the gap in unfilled staff positions is increasing. For example, around 5% of hospitals reporting staffing levels in the United States are experiencing critical staffing shortages. Furthermore, 28% of nursing facilities reported at least one staffing shortage.
Because of this, it's more important than ever before to create an effective staff scheduling system at your healthcare organization. Paper-based manual scheduling systems are inefficient and pose risks to both employees and patients.
Healthcare staff scheduling software allows your employees to worry less about paperwork so they can focus on caring for their patients.
Let's discuss a few fundamental issues many organizations in the healthcare industry are currently facing with their staff scheduling.
Scheduling Manager Inefficiencies
Scheduling managers need to work exponentially harder when using a manual decentralized scheduling system compared to cloud-based scheduling software. This is because they need to keep track of everyone's availability and manually build out a schedule every week.
Most hospitals have a full-time employee whose job is to find replacements when callouts happen. This employee must go through a list or rolodex of employees based on skills and contact each potential replacement. Not only is this tedious for the scheduling manager, it's also inefficient and wastes workhours.
The strenuous workload of creating a manual schedule may not even produce great results either. Paper-based schedules are prone to human error and miscommunication, especially when it comes to the stress involved in the healthcare industry.
There's a level of attention and accuracy required in the healthcare sector compared to other industries. Cloud-based healthcare staff scheduling software significantly reduces scheduling errors and issues by using automatic operating procedures.
The saying "work smarter, not harder" perfectly encapsulates the essence of what cloud-based staff scheduling provides. Rather than working overtime to create a potentially ineffective schedule, scheduling software allows scheduling managers to focus on more important tasks like cost-cutting, optimization, and employee happiness.
Employee Burnout and Absenteeism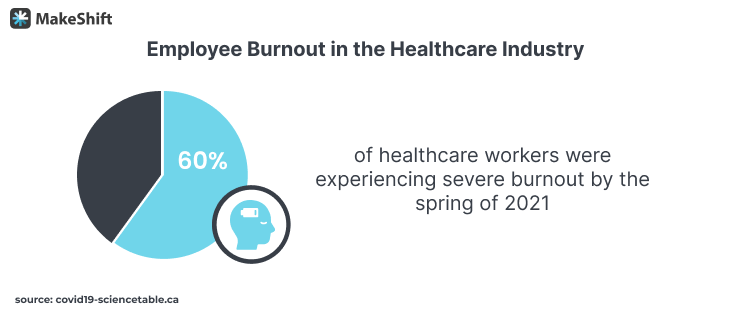 Even before the COVID-19 pandemic, employee burnout within the healthcare sector was well documented. Unfortunately, the pandemic further amplified this burnout, and 60% of healthcare workers were experiencing severe burnout by the spring of 2021.
Healthcare workers undergo intensely stressful situations on a daily basis. For this reason, they're more likely to have psychiatric symptoms such as post-traumatic stress disorder, depression, anxiety, and suicidal thoughts.
Cloud-based staff scheduling reduces employee absenteeism and burnout by putting your employees first.
How?
With healthcare staff scheduling software, your employees can easily:
Request time off

Set their own schedules

Set their preferred availability
These features enable flexibility among your workforce and allow your employees to work on their own terms. For example, if an employee has an unanticipated emergency and needs to request a shift swap, they can quickly use the software and request one.
Rather than manually emailing an HR manager or other co-workers, eligible employees will be notified about the shift swap. Then, they can trade shifts with each other accordingly.
Offering your employees more autonomy in regards to scheduling increases employee engagement. Furthermore, heightened employee engagement leads to high productivity, higher job satisfaction, and a better organization.
Patient Risk
The healthcare sector is unique because you're dealing with your customers' actual well-being and lives. For this reason, scheduling errors can lead to situations where there aren't enough workers tending to patients.
Understaffing isn't the only issue with manual scheduling systems either. Another major problem with manual scheduling methods is overworking your employees and not allowing enough downtime in-between lengthy shifts.
MakeShift Expert Tip:

MakeShift has customizable fatigue management rules when managers build a schedule to prevent employee fatigue.
When your employees are overworked and tired, they're more likely to make mistakes while on the job and put patients at risk.
With cloud-based staff scheduling software, you can avoid overworking your employees and unstaffed shifts. Medical staff scheduling software can ensure that enough workers are tending to patients. It also ensures your employees aren't working significantly long back-to-back shifts.
By using an effective scheduling system, your organization can better care for its patients.
Payroll Inaccuracy
There are dozens of potential payroll errors that can occur when you use a manual scheduling system. However, the most significant issues are miscalculating pay and timesheet errors.
Pay miscalculations occur when your employees receive an incorrect paycheck. If the employee's paycheck is lower than the correct amount, the employee will be frustrated, and their work performance may suffer.
Conversely, if the employee is paid above the correct amount, it causes an imbalance in your organization's budget and reduces profitability.
Fortunately, both situations can be avoided when you switch to scheduling software for healthcare. Digital scheduling solutions offer a level of accuracy that's not possible with manual scheduling systems.
Some of the primary benefits of cloud scheduling include:
Accurate timesheet and paycheck calculations

Mobile clock-in and out capabilities

Making sure employees are paid on time

Accounting for overtime hours

Paying employees properly when they're on leave or taking vacation days
How to Implement Medical Staff Scheduling Software
Investing in the right software can make a significant impact in preventing scheduling errors among your workforce. With the proper scheduling tools, you can optimize your organization's resources, increase efficiency, and improve communication.
Employee scheduling shouldn't need to be so complex.
MakeShift is a people-first employee scheduling software that enables your healthcare organization to reach its highest potential.
Our cloud-based scheduling tools allow clinics to reduce time spent on creating work schedules, create an autonomous employee work environment, and provide a seamless experience.
Additionally, our software lets you:
Reduce scheduling errors

Provide employees with 24/7 schedule access

Save labor hours

Provide information regarding staffing needs

Simplify time recording

Accurately calculate employee pay

Make better staffing decisions

Quickly adapt to sudden shift changes
All of these healthcare scheduling software benefits lead to improved employee engagement and satisfaction.
So let's discuss in detail how MakeShift can empower your healthcare organization.
MakeShift Employee Scheduling Software for Healthcare
At the core of our values, we prioritize people and each individual's well-being. This is why MakeShift's scheduling software offers innovative tools and features for scheduling managers and employees.
We understand how hard scheduling is for healthcare organizations. So with MakeShift, we created a tool that builds and manages effective schedules, is easy to use, and improves communication among your workforce.
Here are the key features of MakeShift's scheduling software for healthcare.
1. Admin Tools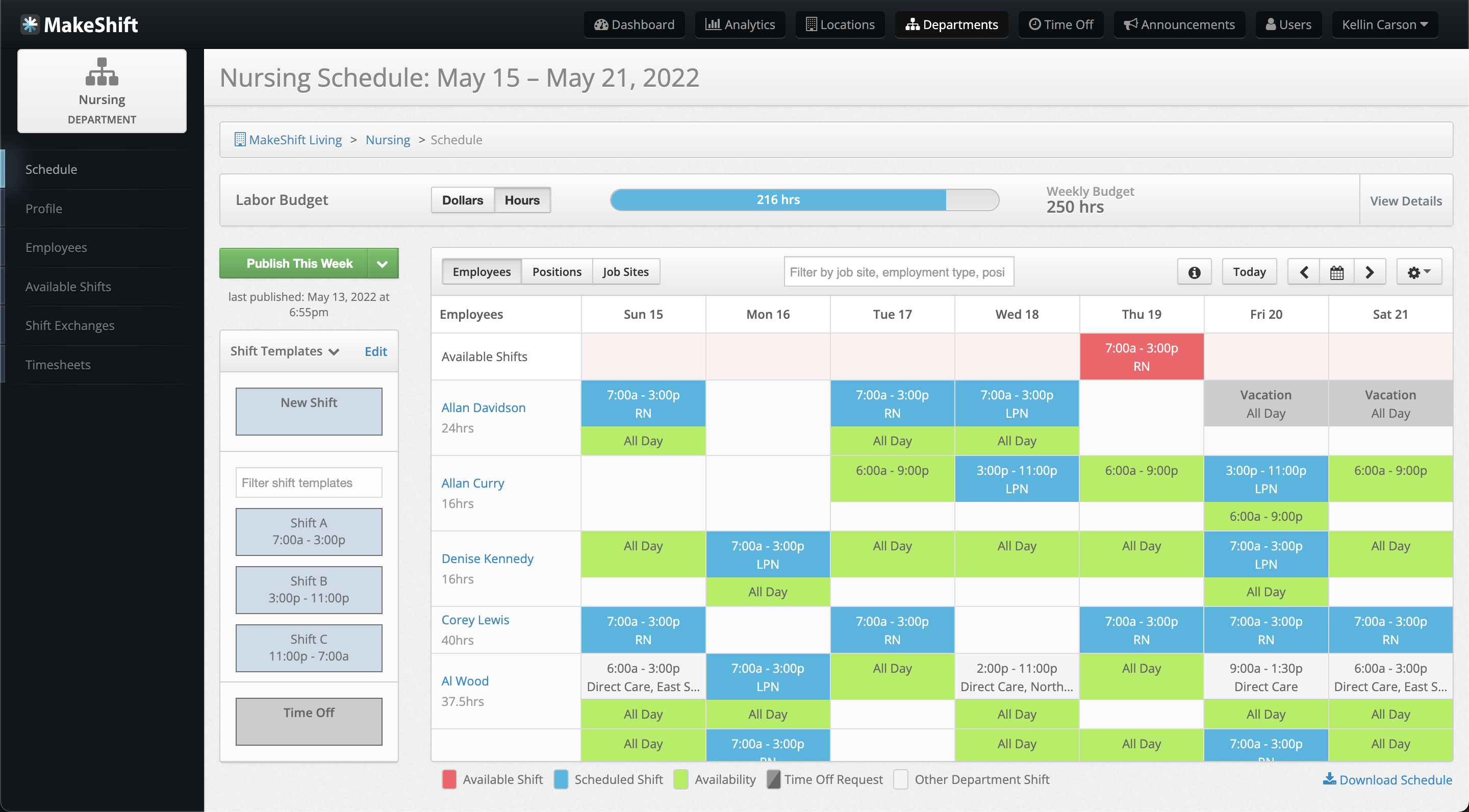 MakeShift allows you to keep track of each employee's schedule, wage, hours, and much more using a flexibly structured account. Each healthcare organization has unique needs, so flexibility is a key feature of MakeShift.
Our software's flexibility lets you:
Structure MakeShift to your needs

Create and manage multiple departments and locations

Assign admins and roles as needed

Establish policies and guidelines for each unit

Schedule employees across multiple departments and locations

Build and manage rotations

Send out available shifts

Create fatigue management rules
MakeShift's easy-to-use employee management tool gathers all the relevant scheduling information in one intuitive dashboard. This way, you can reduce your administrative workload and make informed decisions. You can also audit historical transactions to ensure everything is running smoothly.
2. Web-Based Scheduling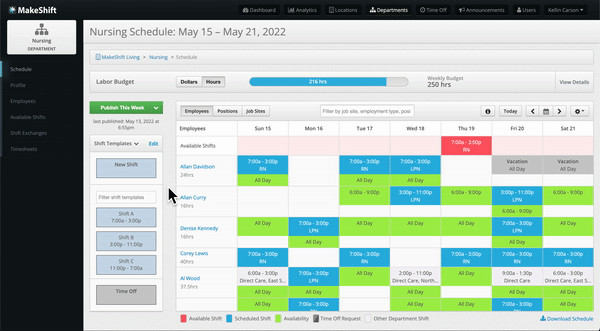 You can easily create employee schedules with our drag-and-drop schedule maker. We also offer robust tools to help you build optimized and efficient schedules. These features include "Rotations," "Copy and Paste Schedule" and "Repeat Last Week" to make scheduling even faster. Furthermore, you can use the in-line search function to find the right people quickly.
Shift templates are the centerpiece for the majority of MakeShift's scheduling tools. They allow you to create shifts to schedules, rotations, and available shifts based on each department.
Our software enables smarter scheduling by allowing your organization to:
Create effective schedules using relevant information

Access employee availability, projected budgets, and functional templates

Schedule the right employees in the right place at the right time

Set fatigue management rules to reduce employee burnout

Set labor budgets to provide optimal budgeting efficiency

Create rotating shift schedules to optimize your workforce
In addition, you can fill shifts faster with MakeShift by:
Creating available shifts and requirements

Instantly notify qualified staff of open shifts

Assembling availability and requests in one location

Viewing all the relevant information required to make effective decisions
3. Employee Mobile App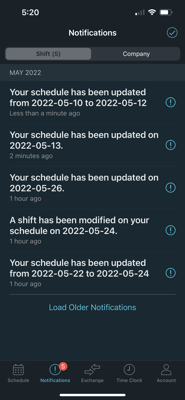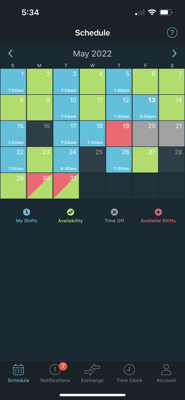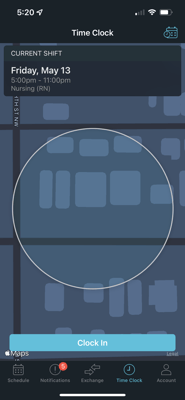 MakeShift offers an app for iOS and Android devices that gives you and your employees convenient 24/7 schedule access. The app lets employees request available shifts posted by the manager. It also lets employees notify their managers when they're available to pick up more work.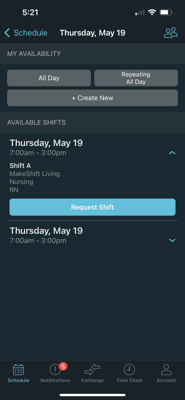 .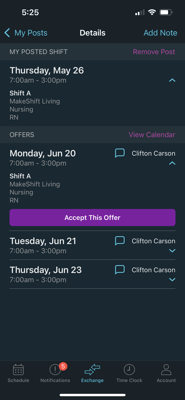 .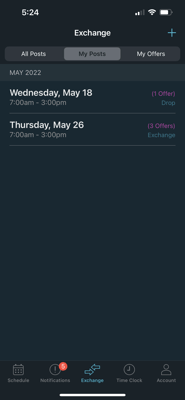 Moreover, the app instantly notifies employees about schedule updates, available shifts, administrator announcements, and shift approvals. Right from each employee's mobile device, they can quickly request time off and trade shifts with their co-workers.
Healthcare organizations usually have nurses or staff located in various different places across their facility. The mobile app allows staff to see schedule changes from wherever they're located. Therefore, employees don't need to return to a central administrative location for these changes to occur.
Your staffs' time is of the utmost importance and the mobile app provides remote access to everything they need to stay flexible.
4. MakeShift Live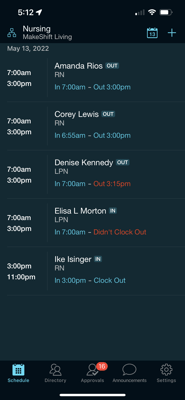 .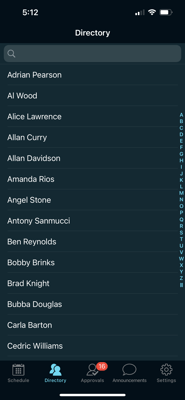 .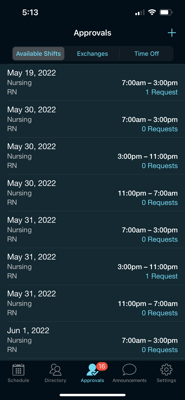 MakeShift Live is a mobile app for healthcare managers. Since managers are always on-the-go and handling multiple departments, this app frees managers from their desks. In turn, managers can be more productive by keeping up with scheduling information from their mobile phones.
MakeShift Live allows managers to:
View who's working, where they're working, and when they're working
Assign shifts to employees
Access a comprehensive directory of all employees
5. Time and Attendance
MakeShift is much more than your typical staff scheduling software. Instead, MakeShift is a complete HR solution for managing your workforce. Employees can clock in and out from their phones using the employee app to automatically generate accurate timesheets.
Here's a breakdown of our time and attendance tools:
Mobile Time Clocks
User-friendly interface

Geo-fenced time clocks through employee phones

Scalable and affordable time clock stations
Custom Rules
Customizable timesheet rules for tardiness and rounding

Customizable daily and weekly overtime rules
Easy Time Sheets
Edit clock in and clock out times from the web or mobile

Manage timesheets through the web or mobile

Export timesheets as needed
A MakeShift Scheduling Software Success Story for Healthcare
To demonstrate the power of healthcare scheduling software, we can look at Hollyburn Family Services. Hollyburn Family Services is a social service provider with many part-time and casual employees. Before implementing cloud-based scheduling software, the organization suffered from manager inefficiencies and vacant or unfilled shifts.
After utilizing MakeShift, Hollyburn Family Services was able to alleviate all of the critical scheduling pains it was previously experiencing. MakeShift enabled Hollyburn's staff to focus solely on providing outstanding social services to their community.
Effective Employee Scheduling Software for Healthcare
Switching from a paper-based scheduling system to cloud-based scheduling software is effortless and fruitful. Not only does MakeShift allow you to quickly create effective employee schedules, but it also improves your organization's bottom line by reducing errors and inefficiencies.
MakeShift streamlines your healthcare organization's scheduling process by putting your employees first. Your employees are the core of your healthcare practice and should have access to tools that can improve their quality of life.
If you're unsure how cloud-based healthcare staff scheduling software works or want a closer look, Request a personalized demo and a 14-day free trial today. We'll help you determine if MakeShift is the right fit for your healthcare practice and show you exactly how MakeShift enhances your scheduling procedures.
Ready to Make the Shift?