Staff scheduling software is a must-have for any company looking to run like a well-oiled machine.
It's a modern approach to save time and money and simplify the process of assigning shifts and tracking employee hours.
You'll be able to quickly and easily:
Create and update schedules

Make adjustments

Communicate with your team
And make sure your staff is getting the hours they need and the time off they deserve.
Plus, it's a breeze to use — no more spreadsheets or forms to fill out and submit.
We've compiled a list of the 7 best staff scheduling software for 2023 — to guide you in choosing the best software for your business.
We'll cover:
What is Staff Scheduling Software?
Staff scheduling software is software used to create, manage, and organize the schedules of your employees.
Staff scheduling software will revolutionize your scheduling process.
Plus, it transforms the process into a more harmonious workflow for you and your employees.
It also allows:
Automatic schedule creation while considering employee availability.

Tracking of employee hours & labor costs.

Assurance of compliance with labor laws.

The ability to run audit reports for in-depth insight.

More say for employees in their schedules.

Easy schedule access on any mobile device.
The Challenges Of Shift Staff Scheduling Without Software
Shift scheduling can be a major challenge for any business, not to mention a dreaded chore.
It requires careful planning to guarantee the right staff members are on-hand to handle customer/patient needs while keeping your overtime costs low.
It can be difficult to maintain a consistent schedule that works for all your employees because everybody has different needs and availability.
When shift staff scheduling is done incorrectly, it can lead to lower employee morale, increased absenteeism, and a plunge in productivity.
You must ensure your shift staff scheduling is done properly in order to have a successful business and overcome the challenges below.
Challenge #1: Inconsistency in Hours
Many shift workers deal with inconsistency in their work hours which impacts their finances, their life outside of work, and their overall well-being.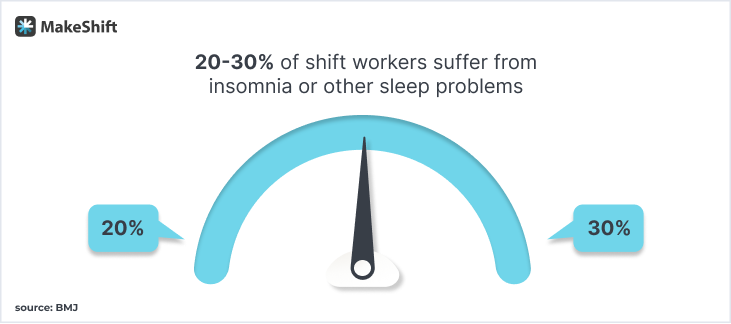 Shift work often involves acute sleep loss, particularly in connection with night and early morning shifts. Unfortunately, 20–30% of shift workers suffer from insomnia or other sleep problems.
The problems above are a direct result of unpredictable scheduling, a typical problem when managing staff scheduling manually.
Using spreadsheets and social media channels for communication is clunky and chaotic, and it's tough to create stable schedules.
Challenge #2: The Right Staff With The Right Skills
You know that having the right staff with the right skills makes all the difference. Whether in a hospital or The Gap — skill matters.
Not only does your business operation suffer when you don't create skills-based schedules, but you end up with unhappy employees because they're working in a position they aren't trained for.
Staff scheduling software makes creating skills-based scheduling simple because you have employee info at your fingertips.
Challenge #3: Difficulty in Schedule Planning
Planning ahead to create on-point schedules that serve your employees and your operation is crucial.
And yet, if you don't have an efficient, streamlined scheduling system that allows you to easily reference past schedules to determine your busy seasons and swamped shifts, planning future schedules will be a dreaded chore.
When you can't easily run audit reports, you'll have difficulty in predicting demand and most likely end up with inadequate staffing.
Challenge #4: High Employee Turnover
When scheduling is chaotic and unpredictable, there's a good chance you'll have a revolving door of employees.
Flexibility and a more balanced work-life are top priorities for today's employees.
Unsatisfied workers won't stay with you, and a low retention rate makes it tough to recruit new employees.
So, how do you counteract these scheduling challenges?
We've got the answer…
How Scheduling Software Is The Solution: 4 Benefits
Scheduling software can address and help eliminate the above challenges while streamlining scheduling and making it more interactive for your employees.
Let's look at the benefits of staff scheduling software:
1. Streamlined Scheduling
Staff scheduling software cuts out manual processes that are daunting and time-consuming.
Efficient scheduling looks like this:
Employees can set their availability, view their schedules, and request shift swaps or time off right on their phones.

You've got up-to-date info available for schedule creation and can approve requests or post available shifts on the go.
2. Employee Engagement
Employee involvement in scheduling boosts morale, culture, and engagement.
Employee engagement is a critical factor in job satisfaction and retention. Studies show that companies with highly engaged employees have a 31% lower turnover rate and increased employee loyalty.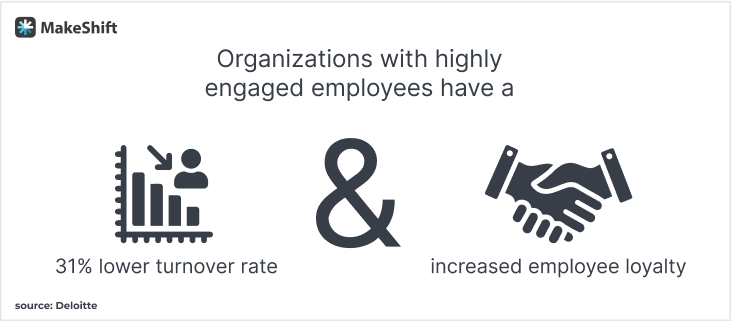 3. Better Schedule Planning
When you know better, you can do better, right?
The insight you gain using scheduling software helps you plan more accurately for future schedules.
Any staff scheduling software worth its salt offers a shift audit option where you can run reports that'll help you:
4. Improved Communication
Employee scheduling software enables you to drastically improve your team communication without time-consuming effort on your part.
Better communication increases the cohesiveness of your team as well as productivity.

According to a McKinsey report, improved communication and collaboration through social technologies could raise productivity by 20-25%.
Improve communication with a team chat app and make mobile schedules and shift swapping easily accessible.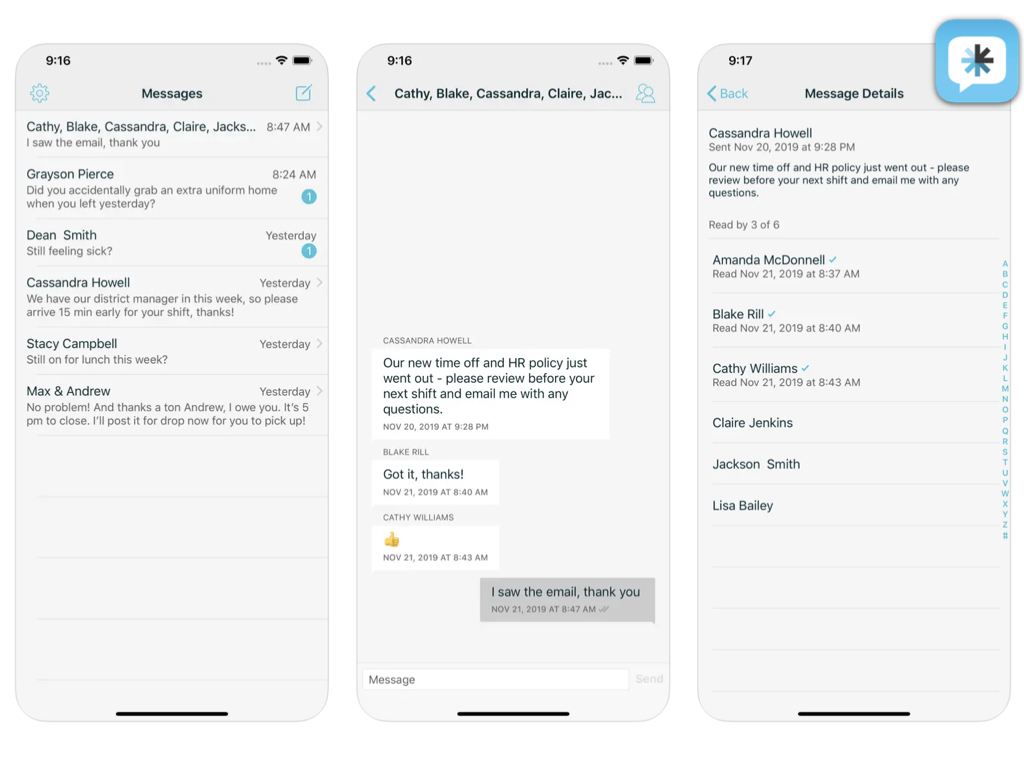 7 Best Employee Scheduling Software
Staff scheduling software provides an efficient and cost-effective way to manage employee schedules, cut labor costs, and optimize your workforce.
You can automate creating, managing, and tracking staff schedules, making it easier to properly utilize your staff and ensure they get time off to rest and recharge.
Choosing a staff scheduling software solution best suited for your business can feel overwhelming. We've researched for you and compiled a list of our top 7 picks that'll streamline your employee scheduling in no time.
MakeShift was recognized as a Leader for Employee Scheduling Software and for the Highest Adoption Rate in G2's Winter 2023 Grid® Reports.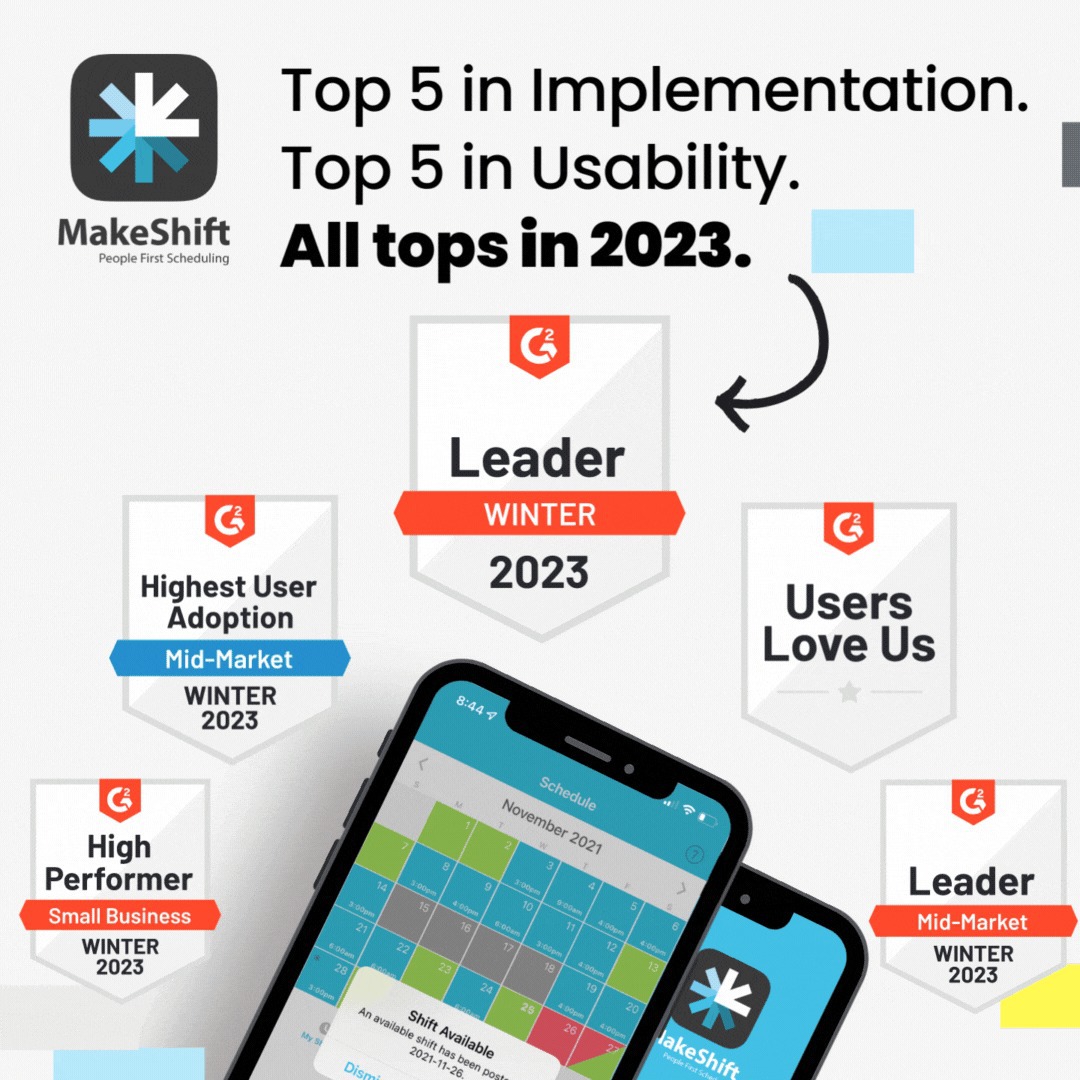 MakeShift was developed to fix scheduling in the healthcare industry and began with a nurse and her frustrating experience with scheduling.
She was constantly scheduled when she wasn't available and could never access her schedule on her phone while on the go. As a result, she couldn't easily swap shifts with other nurses or see available shifts that she preferred.
Over time, we found that healthcare wasn't the only industry in dire need of a different approach to scheduling.
Not by a long shot — so we've expanded our reach and expertise to level up staff scheduling for a diverse range of industries.
MakeShift was built on a people-first approach — we make scheduling smarter and more straightforward for managers and employees. And we're proud to say that using MakeShift results in a 50% reduction in time to build a schedule and an 83% reduction in time to fill shifts.
Features:
Available Shifts Access — Your employees can readily view available shifts when they want to pick up an extra shift.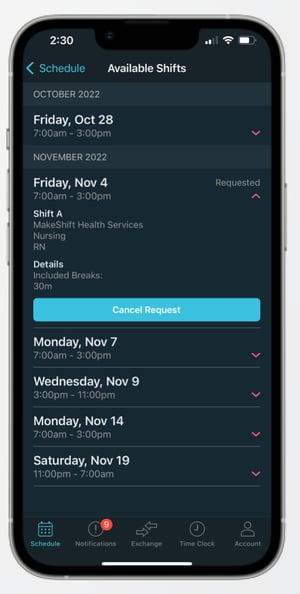 Rotation-Based Scheduling — Easily create a rotating shift schedule to evenly distribute the workload.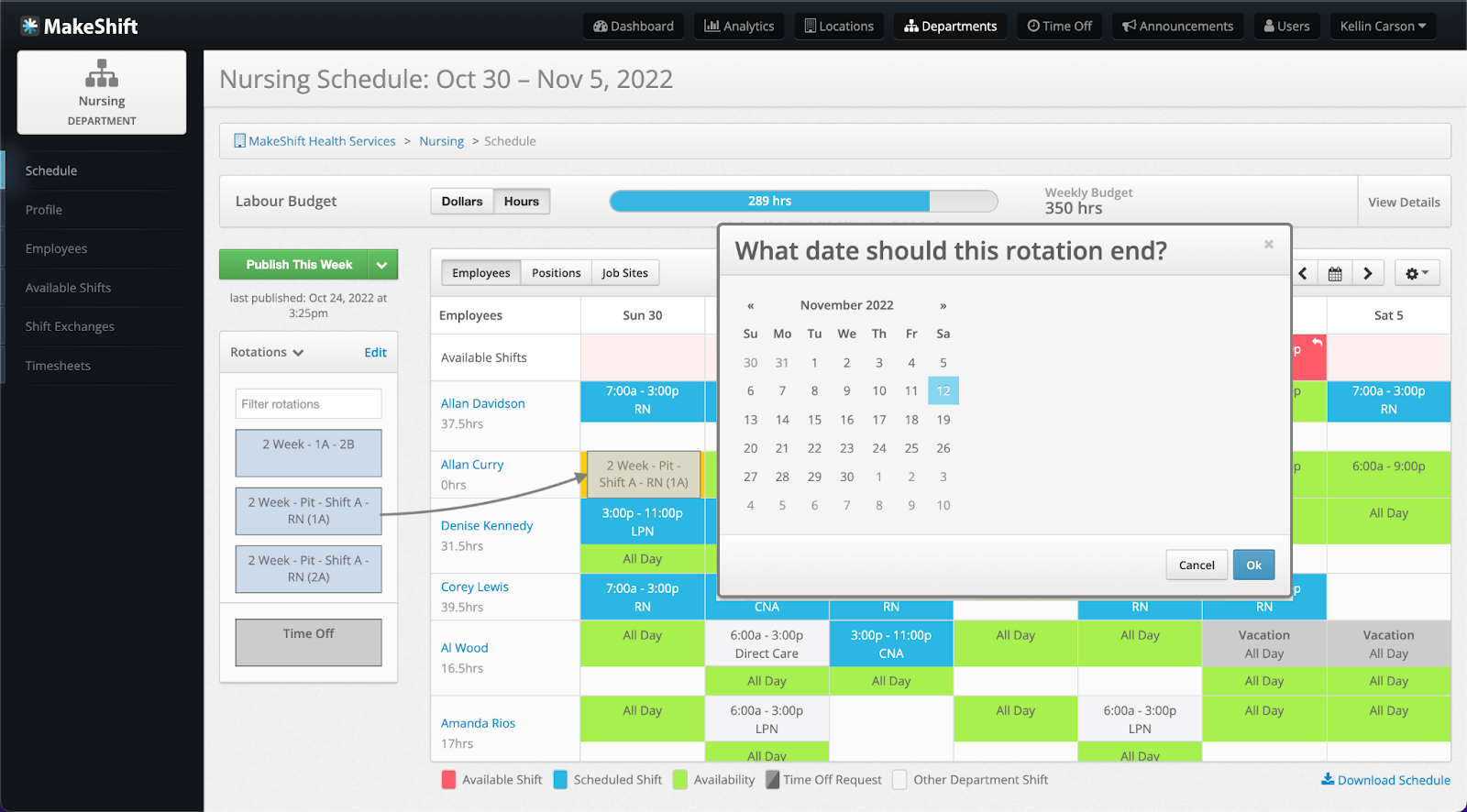 Employee Shift Exchanges — Your staff can easily swap shifts, and you can approve those requests on the go.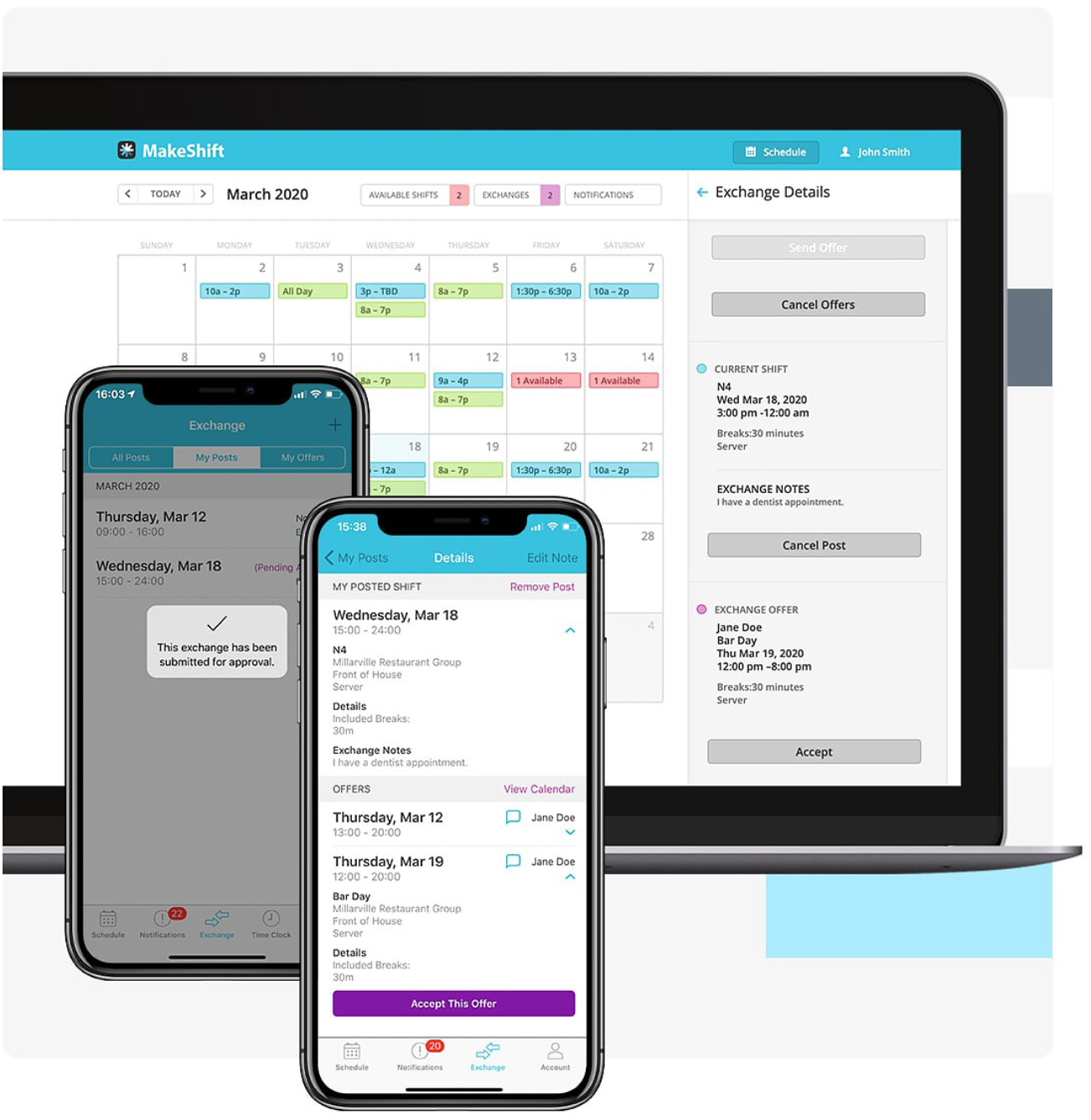 Time Off / Leave Management — Managing and approving time off requests is a breeze on mobile or the web.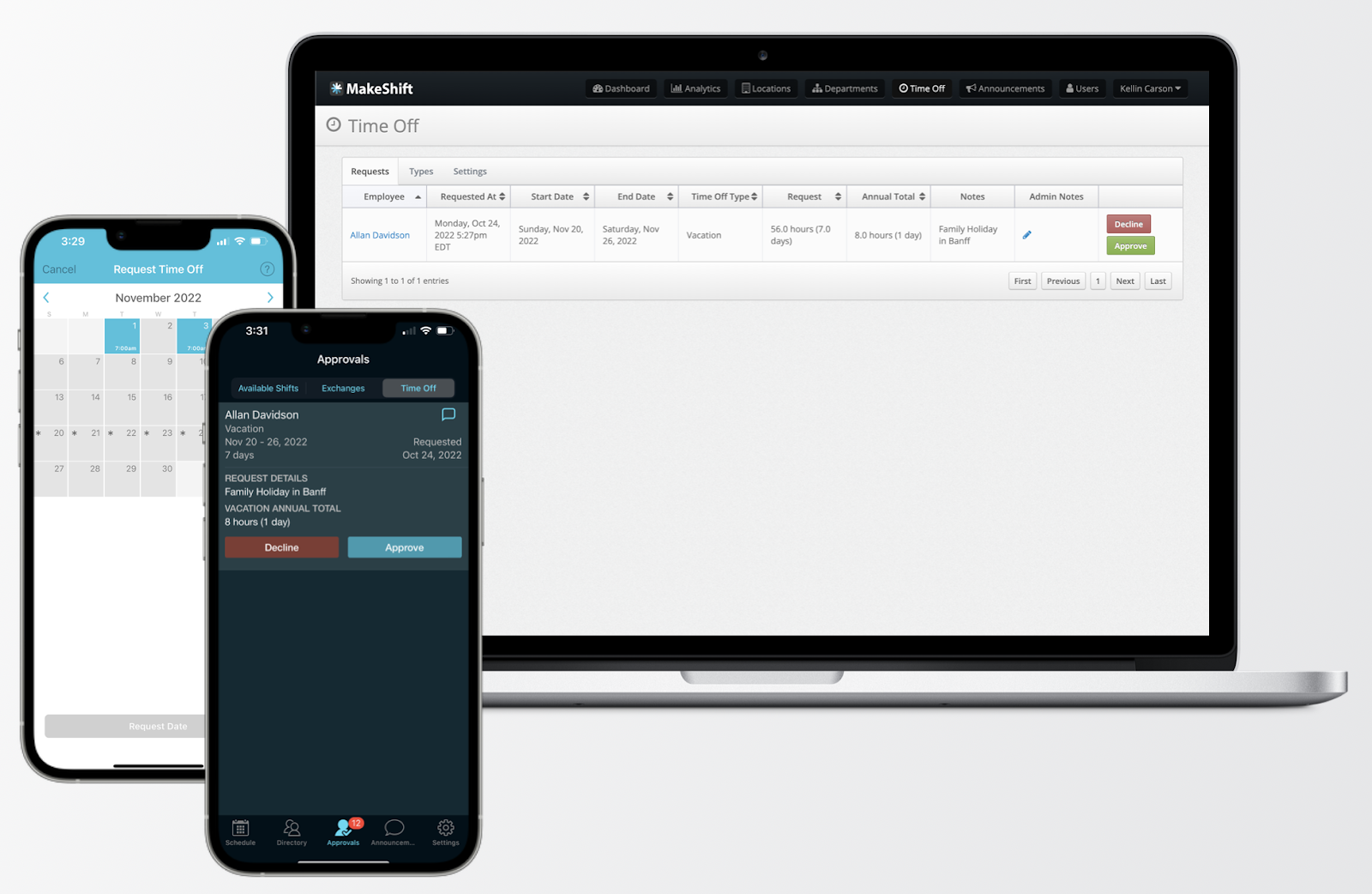 Overtime alerts — Fatigue management rules and alerts help prevent employee burnout.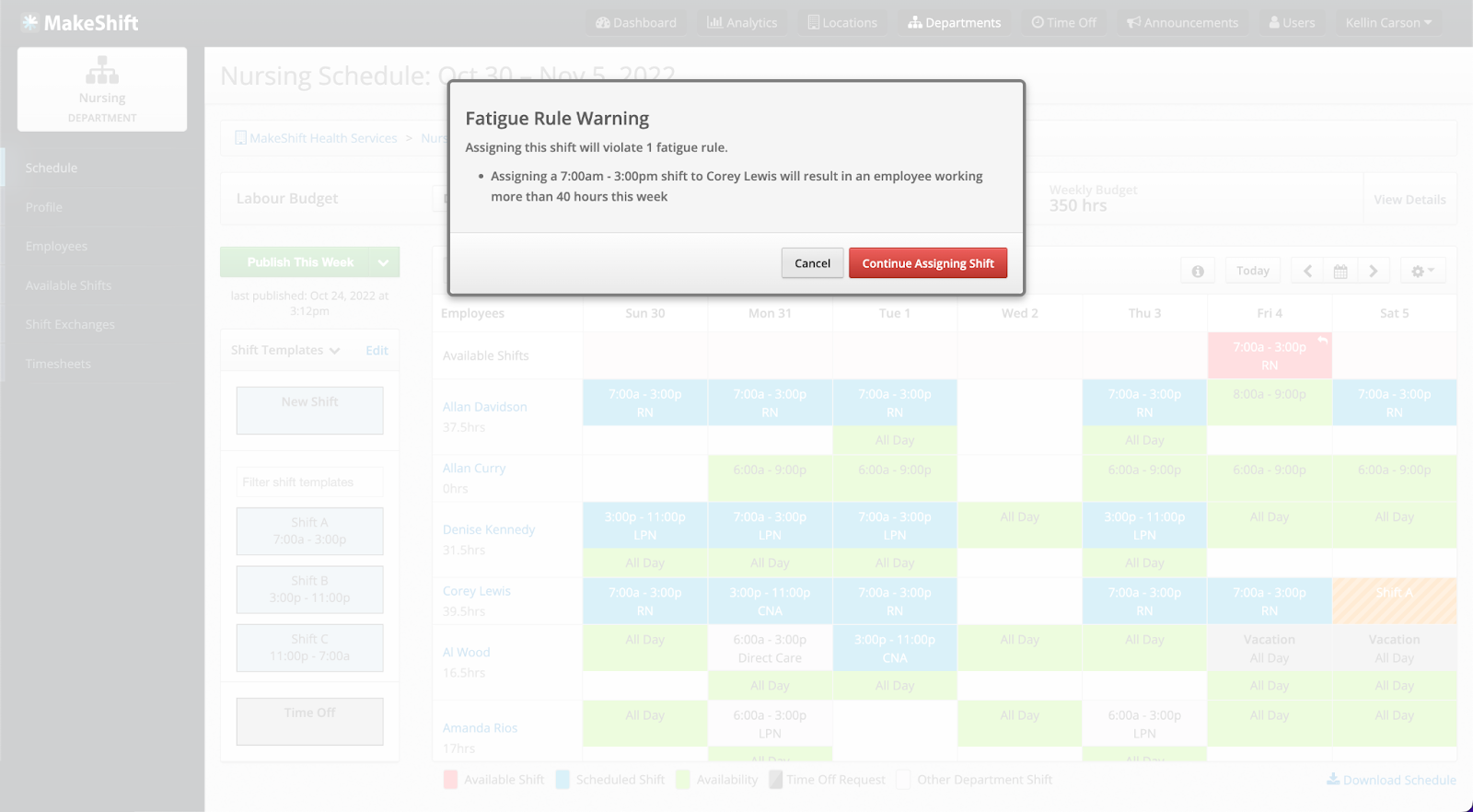 Team communication — Send all-staff announcements and receive push notifications when an employee clocks in on their phone.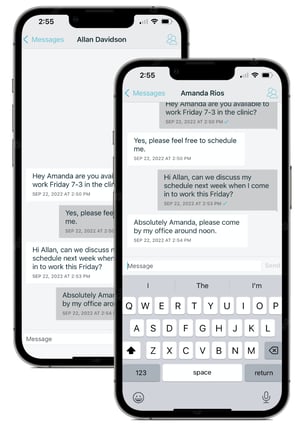 Payroll Integration — MakeShift integrates with leading HR and payroll systems like SAP® SuccessFactors® and ADP to offer an intuitive scheduling solution that automatically syncs schedules and timesheets. They also offer a public API that allows integration to a vast number of systems.

Mobile app for staff and managers — Our app provides on-the-go flexibility when accessing and managing the schedule.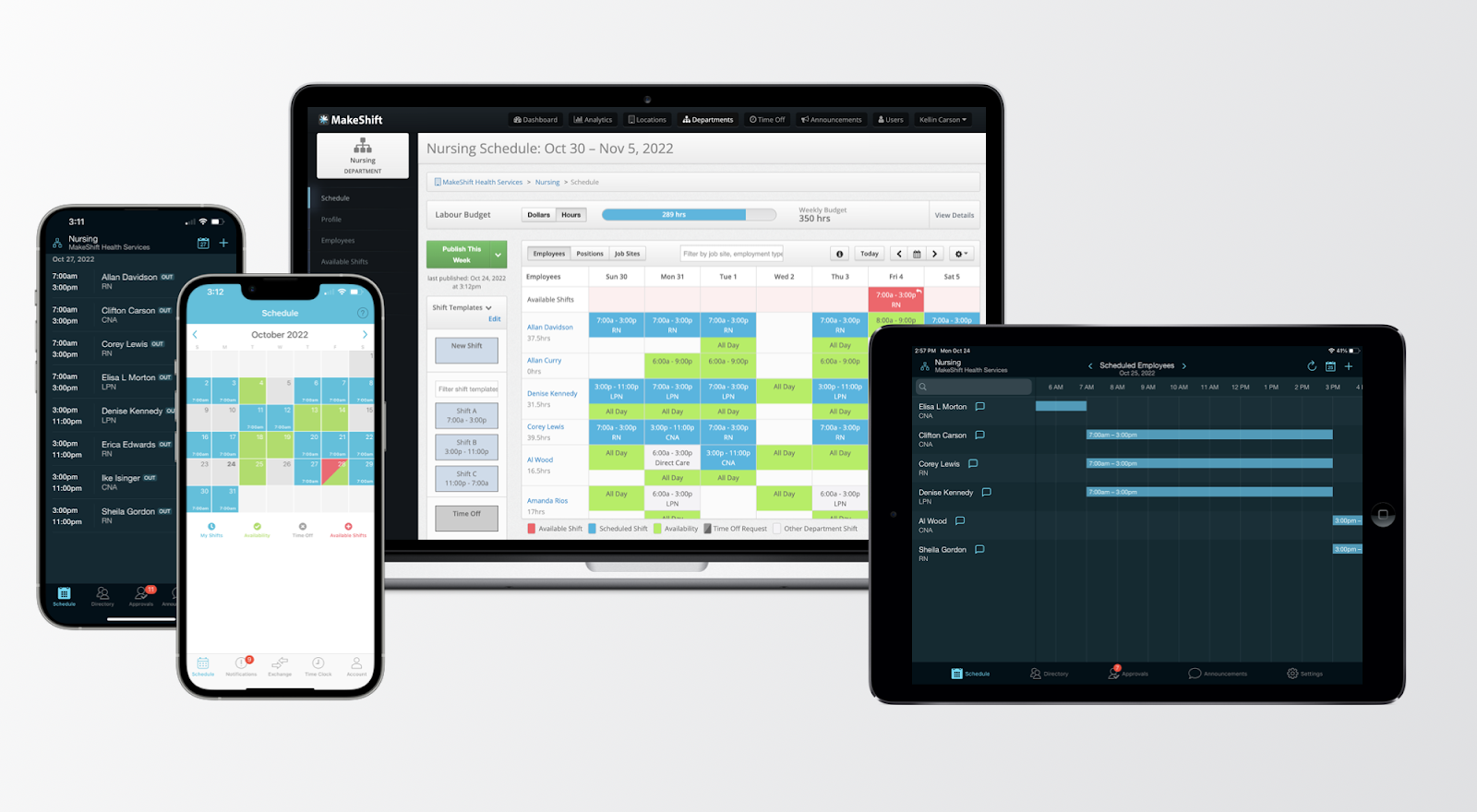 Skills-based scheduling — Ensure you have the most highly skilled employees in the right place and time.
Pricing:
Starting from $2.75 /user/month (Free Trial)
Best For:
Healthcare, hospitality, recreation, retail, or any other fast-paced industry
Customer Review:
"It takes the thinking out of staffing; our company has variable amounts of staffing needs between 1-14 days in advance at different locations. Makeshift enables us to publish availability, and our staff members take care of the rest!" — Matthew A.
Connecteam is a workforce management app that allows managers to put their business processes on autopilot and focus on business growth while also freeing up employees to be more flexible.
Features:
Employee Shift Scheduling
Employee Communication
Employee Time Clock
Checklists & Forms
Employee Task Management
Employee Training
Pricing:
Starting from $29 / mo depending on your needs (Free Trial)
Best For:
Hospitality, retail, construction, or manufacturing
Pros & Cons:
Pros:
Cloud-based & Mobile
Ease of use
Customer service
Cons:
Admin through web-only (not in the app)
Limited integration
Limited storage
Customer Review:
"I enjoy the ease of use because all of Connecteam's features are very user-friendly with a low learning curve." — Jeremy J.
When I Work provides an easy way for businesses to schedule, track time and attendance, and communicate with their hourly employees.
Keep track of time off and employee availability, and manage shift swaps with just a few clicks.
Features:
Shift Scheduling
Time & Attendance Tracking
Absence & Leave Management
Self-Service Capabilities
Mobile Shift Scheduling
Team Communication
Pricing:
Starting From %2.50 / user/month (Free Trial)
Pros & Cons:
Pros:
Stellar training
Can handle a lot of employees
Ease of use
Cons:
Mobile app can be slow to load
Limited reports for payroll
Sometimes clock-in doesn't work correctly
Best For:
Restaurants, retail, entertainment, or professional services
Customer Review:
"I really like the app. I like how my employees can request time off, pick up shifts, etc., all in one interface." — Warren M.
Hubstaff lets you streamline scheduling, shift management, and time off requests with the desktop or mobile app. Managers get shift reminders and alerts for late, missed, or abandoned shifts.
Features:
Shift scheduling
Time tracking
Timesheet approval
Track & manage time off requests
See staff availability
Create recurring schedules
Pricing:
Starting From $0 / month (limited features)
Pros & Cons:
Pros:
Great customer service
Good time tracker
On-the-go project management
Cons:
Limited payroll integration
Errors in salary reports
Lacks customization
Best For:
E-comm, software, or professional services
Customer Review:
"Excellent platform to keep track of the time consumed in the workloads and tasks of your project members. Easy to use and integrate with other applications." — Abhishek S.
Managers can easily track employee time, no matter where they work. Buddy Punch makes it easy to track remote workers' time. Easily create, update, and manage schedules based on employee availability.
Features:
Shift scheduling
Time off management
Payroll integration
Shift swap tracking
Push notifications
Punch limiting
Pricing:
Starting From $3.99 / user/month (Free Trial)
Best For:
Construction, manufacturing, restaurants, or legal
Pros & Cons:
Pros:
Ease of use
Value for the money
Excellent time tracking
Cons:
More time tracking features than scheduling
No "remember me" feature makes signing in slow
Redundant time card approval
Customer Review:
"I like how easy it is for my staff to use. They all have the app on their phones and use it to check schedules, change shifts or request covers." — Debra R.
Sling is a human resources tool for managing hourly employees.
Streamline your HR, employee scheduling, and time clock all from one software. Allows teammates to swap and offer shifts, keeping your entire team ahead of unforeseen changes.
Features:
Shift scheduling
Task management
Payroll integration
Time off management
Employee availability
Shift swap management
Pricing:
Starting From $0/ month (limited features)
Best For:
Remote workers, call centers, education, or retail
Pros & Cons:
Pros:
Stellar integration & syncing
Intuitive features
Full-functioning app
Cons:
Limited employee profile addition
Difficult to shortlist relevant shifts
Tasks function lacks functionality
Customer Review:
"Sling has made tracking hours a lot easier and has helped the payroll department immensely. It's organized and fairly user-friendly, there's a slight learning curve, but it's not bad. It's been nothing but useful!" — Kris L.
Shiftboard is designed to meet the needs of mid-size and enterprise businesses in a variety of industries. ScheduleFlex helps maintain high shift coverage, reduce labor costs, and control the daily chaos of workforce scheduling.
Features:
Shift scheduling
Schedule automation
Time Off Management
Time & attendance
Real-time schedule management
Payroll integration
Pricing:
Starting From $45 / month (up to 36 users)
Best For:
Manufacturing, warehousing, energy, or healthcare
Pros & Cons:
Pros:
Ease of use
Enhances team communication
Reporting options
Cons:
App can be slow sometimes
Shift trade feature could be simpler
3rd party syncing is clunky
Customer Review:
"I like that you can manage every employee AND every position with a deployment all while using one platform. Additionally, the software houses personal information for employees, thus making it easier to notify someone of a schedule or shift change." — Luke G.
Staff Scheduling Software Evaluation Checklist
Before you evaluate these software solutions, you've got to identify YOUR biggest pain points.
4 common staff scheduling problems are:
Manually creating & managing schedules
Inefficient shift swapping, last-minute shift coverage & approval system
Limited accessibility of schedules and updates
Disconnected employee communications
Use this checklist in your staff scheduling software evaluation process: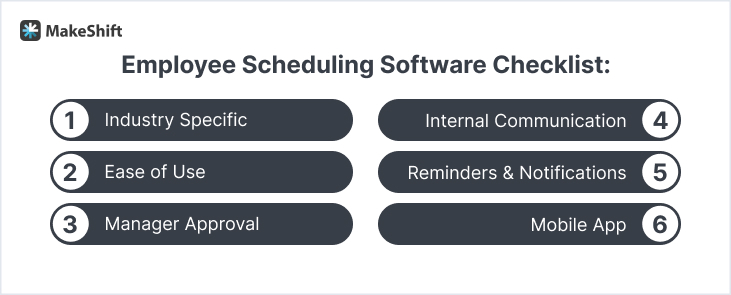 ✓ Industry Specific — Software that caters to your industry will most likely best suit your needs.
✓ Ease of Use — Your software should be user-friendly and not overly complicated to learn.
✓ Manager Approval — To streamline the scheduling process, simple, on-the-go manager approval is a must-have feature.
✓ Internal Communication — Internal communication allows your team to easily trade shifts and see which shifts are available.
Staff Scheduling Software Levels Up Your Scheduling Process
In business today, you can't afford inefficiency, low retention rates, or unhappy employees.
All 3 are bad for business and negatively affect your work environment.
Investing in staff scheduling software can make a huge impact in improving the employee experience and across-the-board efficiency and culture.
Here's to leveling up in 2023.
Frequently Asked Questions About Staff Scheduling Software
What features should I look for in staff scheduling software?
Look for features like employee availability tracking, automated scheduling, and time off management in staff scheduling software.
How can staff scheduling software help my business?
Staff scheduling software can help streamline the scheduling process, reduce time spent manually creating and managing schedules, and increase efficiency.
Is staff scheduling software easy to use?
Yes, most staff scheduling software is user-friendly and easy to learn.
How much does staff scheduling software cost?
Staff scheduling software prices vary depending on the features and number of users needed.
Does staff scheduling software integrate with other systems?
Staff scheduling software like MakeShift can integrate with existing HR and payroll systems.
Does staff scheduling software provide real-time updates?
Yes, staff scheduling software can provide real-time updates to keep schedules up to date.
How secure is staff scheduling software?
Staff scheduling software typically uses encryption and other security measures to protect user data.
Can staff scheduling software help with payroll?
Yes, staff scheduling software can help with payroll by tracking employee hours and absenteeism.
Can staff scheduling software help me track employee attendance and time?
Yes, staff scheduling software can track employee attendance and time.
Does staff scheduling software come with customer support?
Most staff scheduling software providers offer support and training resources.
Ready to Make the Shift?