The revolving door of employees in the healthcare industry is not a new topic of discussion.
Sure, the problem has gotten worse, but it's been an issue for ages.
Are you desperate for ways to improve staff retention in your healthcare facility? Rest assured, even if it feels like it, it's NOT impossible.
Spoiler alert: It begins and ends with taking care of your employees.
Today, you'll learn creative ways to improve your employee retention. We'll cover:
7 Ways To Boost Staff Retention in Healthcare
You already know that healthcare staff retention is a constant struggle.
From 2016 — 2020, hospital employee turnover rates jumped from 16.2% to 19.5% (take note: those are pre-pandemic numbers).
If you need help building a business case to target improving staff retention at your healthcare facility, we've put together a list of 7 creative ideas to help you hang on to your staff.
Before we jump into the strategies, let's hit a few facts about staff retention in healthcare:
Cost of turnover — The average cost of turnover for a bedside RN is $40,038. Each 1% change in RN turnover either costs or saves the average hospital $270,800 annually.

Let's give context to that stat — the RN turnover rate is 8.8% to 37%, depending on region and specialty, with a yearly national average of 17.1%.
ROI of happy employees — The stats don't lie. The ROI of happy employees according to a study from Good.co:
Happy employees are 87% more likely to continue working for a company

85% of fulfilled employees are more efficient with their time

Happy employees stay twice as long at their jobs and are 186% more likely to promote their company
Patient perception — Patients who visit their healthcare facility more than once a year are typically loyal to their doctor. They like knowing the nurses (and the nurses knowing them) and feeling welcomed by the staff.
When your facility has a high staff turnover and patients see multiple new faces each visit, their confidence decreases.
With the ongoing crisis of retaining employees in healthcare coupled with the labor shortage, you've got to improve your staff retention — now.
That may require outside-the-box thinking to do things differently — to do things better.
Below are 7 creative ways to improve staff retention in your healthcare facility.
1. Level-up Recruiting and Onboarding
Look beyond filling open positions and focus on giving people a reason to stay from day one.
Begin recruiting with a priority on job satisfaction in addition to finding qualified staff. Cultivate an environment where employees feel important.
Quality staff stay for more than just a good salary — good benefits, training, continuing education, and professional development also influence whether they stay or hit the road.
Check out these innovative ideas to create culture right from the beginning:
Sign-on bonuses — Sign-on bonuses are a great starting point — research the going sign-on rates so you can stay competitive.
Benefits — Offer excellent vacation time with the ability to actually take it. Allow employees to choose their shifts and be involved in their schedule creation.
Well-organized onboarding — Training new employees thoroughly on tasks and technology goes a long way (payroll, scheduling software, healthcare records…etc.). Focus on building confidence — a tour, a team lunch, or another fun team activity can make a new hire feel welcome.
Ask your current staff members for feedback on your onboarding process. They have a unique perspective because they've been through it.
Welcome kit — Put together a welcome kit for new hires. Go big or small, depending on your budget. Just make an effort to let the new employee know you're glad they're there.
Here are some ideas:
Water bottle

Travel coffee mug for long shifts

Coffee gift card

Scrubs with your logo

Fun socks

On-the-go snacks

A list of insider knowledge (the best times & meals in the cafeteria…etc.)
2. Adopt Scheduling Best Practices
As you know, adequate staffing and proper scheduling are critical to improving employee retention in healthcare.
These 2 areas directly affect the quality of patient care, according to a long-term nursing study on nurse-to-patient ratios in the intensive care unit.
High patient loads due to inadequate staffing can cause burnout among nurses and lead to employee turnover.
No healthcare employee is content feeling like they can't properly care for their patients because they're overloaded.
Implement these scheduling practices:
Flexible scheduling — For example, staggered start times, job sharing, and overlapping shifts.
Self-scheduling — Allow employees to choose their own schedule. Using scheduling software like Makeshift simplifies this. As a result, your staff will feel more valued because they have more control over which shifts they work and how much overtime they take.
Data analytics — Workforce planning software helps managers to predict staff demand based on data. This results in fewer last-minute scheduling changes that impact employees' lives.
3. Follow Safety Standards
Hospitals are one of the most hazardous places to work — there were 221,400 work-related injuries and illnesses in US hospitals in 2019 alone.

Medical professionals regularly worry about workplace violence because of how common it is.
Healthcare employees, particularly nurses, are at an increased risk for workplace violence (2 nurses are assaulted every hour).
Healthcare workers who routinely feel unsafe are more likely to quit their jobs.
To prevent this, take these necessary precautions to prevent injuries:
Stationing security on each floor

Providing training so staff can recognize patient behaviors before they become dangerous.
4. Prevent Employee Burnout
According to the APA, burnout is a physical, emotional, and mental condition caused by overwork and stress.
It results in a lack of motivation, poor job performance, and increased negativity.
Burnout can also lead to poor care quality and medical mistakes.

A Mayo Clinic 2021 study found that 1 in 5 healthcare workers said they planned to reduce work hours or quit the profession in 2 years due to burnout, fear of infection, anxiety, or a high workload.
Take these steps to prevent employee burnout so your staff won't be prone to leave due to sheer exhaustion.
Adequate staffing and scheduling — Consider hiring part-time or contract workers to fill scheduling gaps.
Prep new staff for burnout risk — Educate new employees on the signs and symptoms of burnout and how to help prevent it.
Upgrade technology — Technology should improve patient care and staff tasks, not hinder them.
Treat burnout — Squash the stigma around burnout at your facility. Talk about it. Initiate conversations so your employees feel open to discussing burnout with management. Then, be ready to treat it.
5. Invest In Employee Engagement
Employee engagement is a critical factor in job satisfaction and directly impacts staff retention in healthcare.
Studies have shown that organizations with highly engaged employees have a 31% lower turnover rate and increased employee loyalty.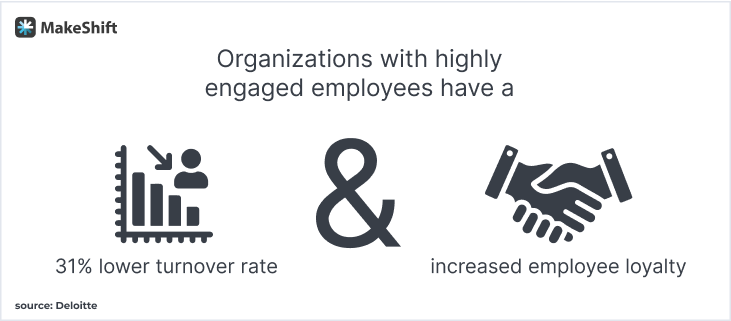 Engaged employees are more likely to be involved in decision-making, feel valued, and take a stake in an organization.
Encourage engagement through:
Coaching & mentoring programs

Continuing education

Employee-led initiatives
6. Offer Relocation Assistance
Assisting with relocation costs helps entice staff to move to your facilities area. This is a win/win — they have less commute time, and you've got more locals on staff.
This is essential for rural areas that lack enough medical personnel — almost 60% of areas with a shortage of primary care professionals are rural.
Offering relocation assistance incentivizes more healthcare employees to relocate to a community for work.
Offer a housing allowance (for a set period), pay moving costs, and help locate housing to let staff know you value their life outside work.
7. Food & beverages
This is a simple yet highly effective method to improve employee retention — who doesn't love free snacks?
Healthcare workers can get too busy to grab food or even sit down to eat.
And, it's certainly not healthy to go an entire shift without eating or drinking.
Stock your break room with food and drinks to offer grab-and-go options when employees are swamped with patients.
We did some brainstorming for your snack stockpile:
Nuts

Meats

Cheese

Ready to eat fruit

Yogurt

Cottage

chees

e

Peanut butter crackers

Protein bars

Bottled water

Smoothies

Protein shakes
Get Feedback To Improve Your Employee Retention
While these 7 tips are solid, we recommend surveying YOUR staff to get feedback on specific ways to boost staff retention in your healthcare facility.
Gather feedback by:
A

sking for feedback during staff meetings — dedicate the last 5 minutes to taking suggestions

Send out surveys to be completed anonymously to encourage brutal honesty
If you use MakeShift scheduling software, you have the option to message your entire staff and ask for feedback. We go beyond scheduling by offering a solution that creates connections within work teams.
MakeShift was specifically designed for healthcare workers to lighten the burden of their workload.
Improving Employee Retention In Healthcare Is Possible
Anyone in the healthcare industry knows the turnover rate is high — that's just a day in the life.
But, you can improve employee retention in your healthcare facility. It's not impossible, even in today's labor market.
Focus on your staff.
Prioritize meeting their needs and making them feel valued. When you take a people-first approach, it'll have a direct impact on your operation and staff retention.
At MakeShift, we're all about people first. So let one of our MakeShift gurus walk you through a free trial or a demo today.
Ready to Make the Shift?