Technology continues to advance to better support healthcare organizations. The right healthcare software techstack can make your staff more efficient, engaged, and happier, resulting in improved patient care and reduced costs.
Roughly 90% of healthcare organizations use cloud-based software solutions.
Cloud-based software has become essential for the healthcare industry, so finding the right techstack that seamlessly integrates with your business, is vital.
In this post, we discuss five essential must-have healthcare software for every healthcare organization.
What is Healthcare Software?
Healthcare software is any software that improves and optimizes a healthcare organization's functions. From staff scheduling tools to employee health record tools, healthcare software improves the flow and productivity of your organization.
Other examples of healthcare software include appointment scheduling tools, medical billing software, and customer relationship management software. The purpose of healthcare software is to make it easier for your employees to fulfill their duties.
What Are the Benefits of a Healthcare Software Techstack?
A healthcare software techstack improves your managers' and employees' efficiency and effectiveness. This way, they can focus on what truly matters — your patients.
Burnout is highly pertinent in healthcare due to long hours and stressful working conditions. In fact, approximately one in three physicians experience burnout at any given time.
You can improve employee happiness and reduce the burnout rate by giving your employees the software necessary to succeed.

Additionally, the right healthcare software techstack can alleviate a lot of stress and anxiety by equipping your team with the proper tools.
At MakeShift, we're constantly listening to our healthcare customers about what tools successfully aid them and which do not. We've created this list to help healthcare professionals learn what works — without trial and error.
1. MakeShift: Staff Scheduling Software
Creating staff schedules is tedious, time-consuming, and challenging. Worst of all, it's hard to communicate schedules to your staff to ensure everyone's on the same page.
An essential piece of any healthcare software techstack should be staff scheduling software. This is because the healthcare industry is prone to employee fatigue, burnout, and inaccurate timesheets. We've even seen instances where nurses were forced to keep track of their schedules on a whiteboard (this is extremely inefficient).
MakeShift is a healthcare staff scheduling software designed to optimize your organization's workflow. With MakeShift, managers can easily create effective staff schedules. Also, employees can conveniently view their schedules on the MakeShift mobile app.
What is MakeShift?
At its core, MakeShift is a PeopleFirst and PainFree staff scheduling software that builds and manages effective schedules. Moreover, it removes lapses in communication and enables your healthcare organization and employees to focus on tending to patients.
MakeShift's easy-to-use software allows your employees to communicate their availability to managers easily. This way, your employees have a say in when they want to work. Since your employees can provide their preferred hours, they'll feel more appreciated and thus happier.
Happy staff drive growth and produce effective patient care. Especially in the healthcare industry, where burnout is prevalent, it's crucial to ensure your employees have mental clarity and low stress.
MakeShift Employee Features
Easy app access — MakeShift offers an iOS and Android app that allows your staff to see an up-to-date look at their work schedules. Therefore, your staff can view their schedules at any time and from any location. Your employees can also view who they're working with each day, integrate their favorite calendar app, and share their calendars with friends and family.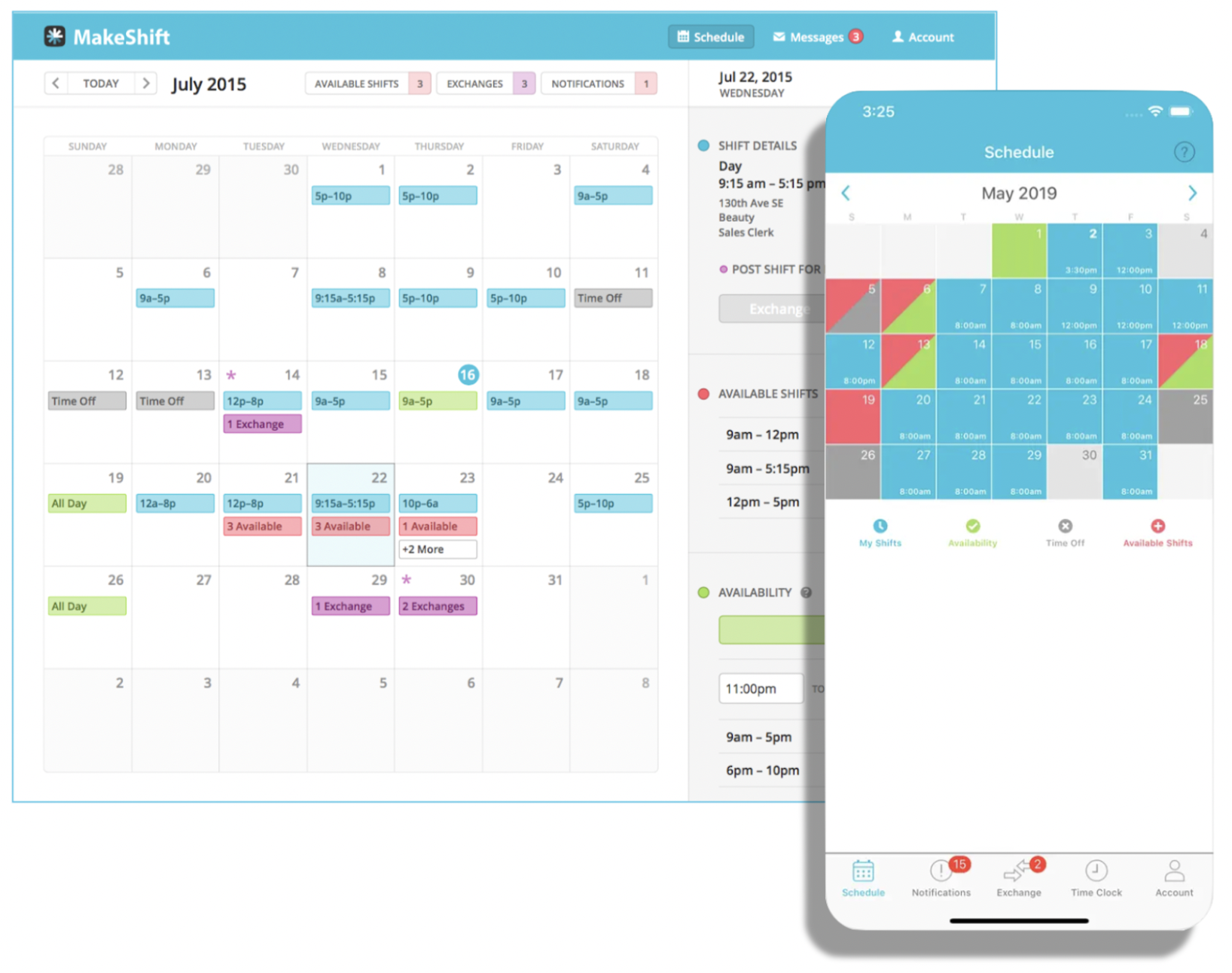 Live notifications — Your employees will receive notifications about schedule changes in real-time.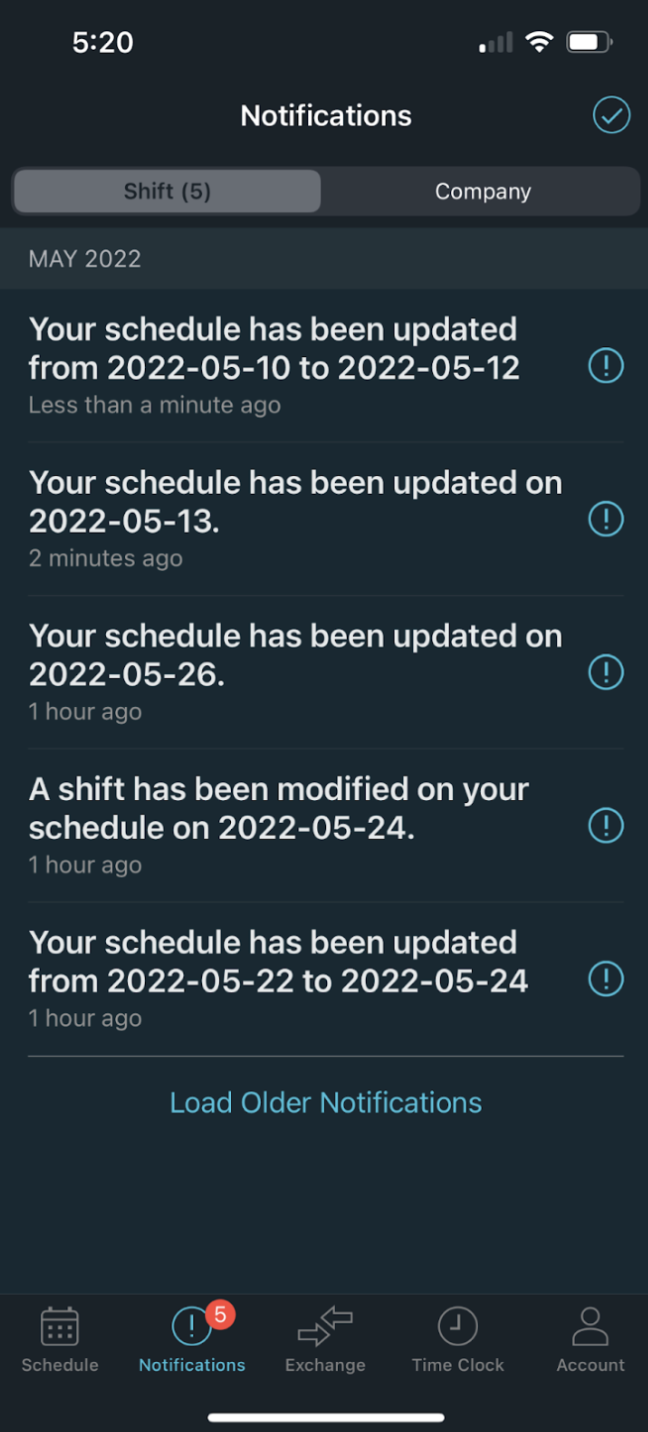 Employees set their availability — With either the MakeShift app or desktop website, your employees can set their own availability, request time off, and request shift swaps. Then, you can create schedules based on your employees' preferences.
Effortlessly trade shifts — With MakeShift's shift exchange tools, your staff can post shifts they'd like to drop, and other employees can offer to trade their shifts with them. After a shift exchange is agreed upon between two employees, managers can approve or reject it through MakeShift's desktop website or MakeShift Live mobile app.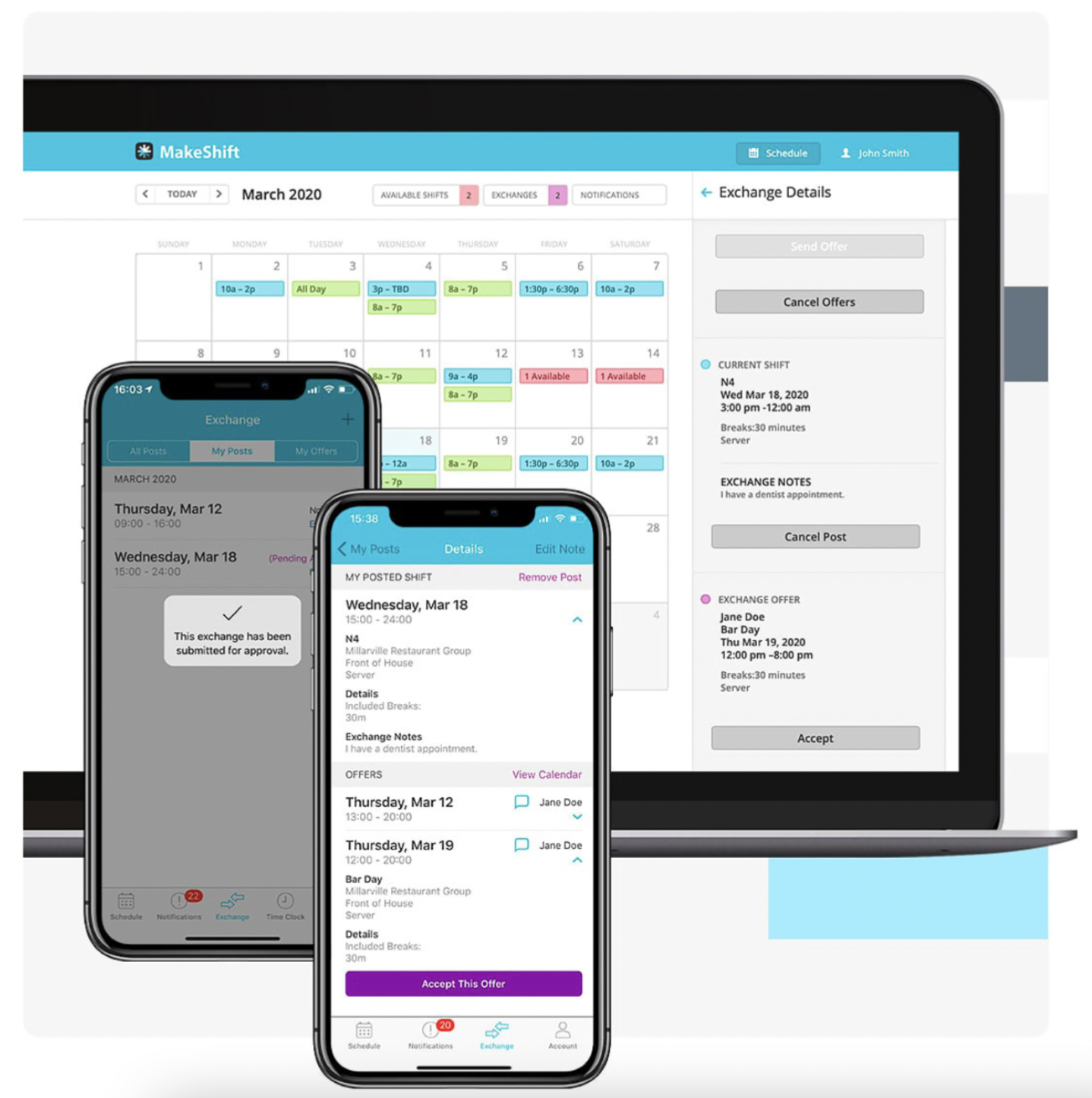 Fill available shifts — Another core component of MakeShift's suite of features is filling available shifts. For example, managers can broadcast open shifts on the MakeShift app. Then, qualified employees can pick up the shift to fill schedule gaps.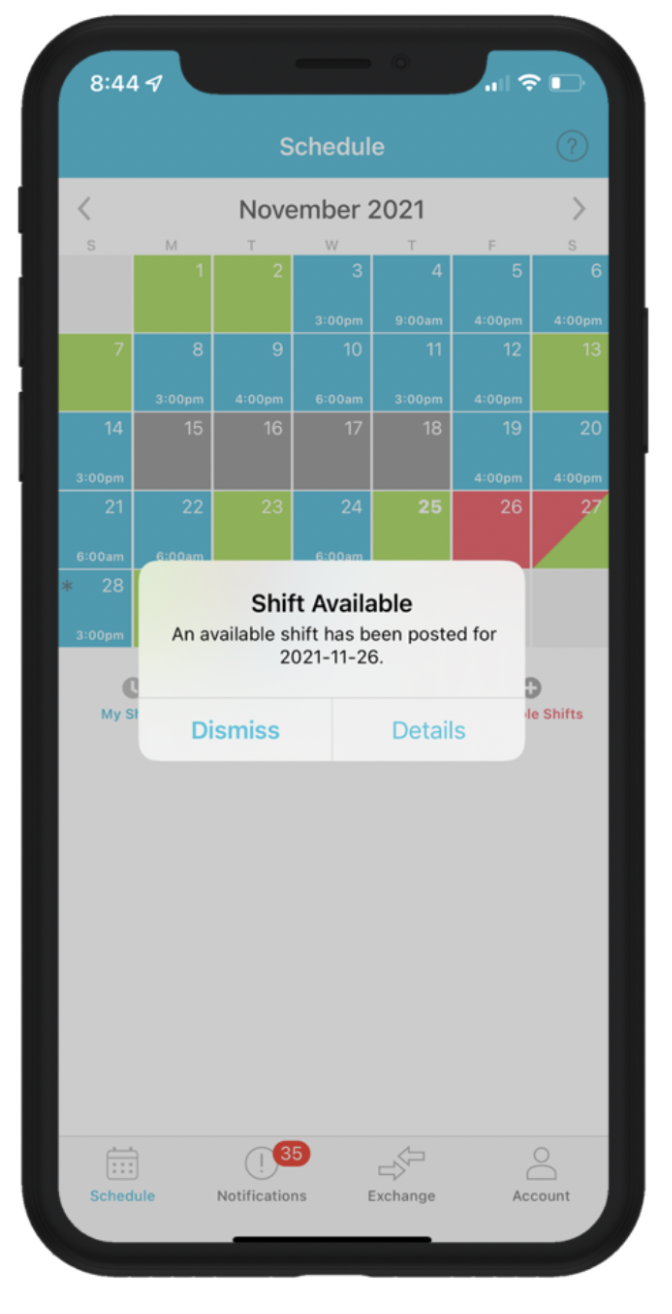 Time and attendance — MakeShift also provides comprehensive time and attendance tools to ensure accurate timesheets and payroll. For example, your employees can clock in and out with the MakeShift app.
Geofence clock-in — Additionally, you can geofence where employees clock in and out to ensure your employees are on-site.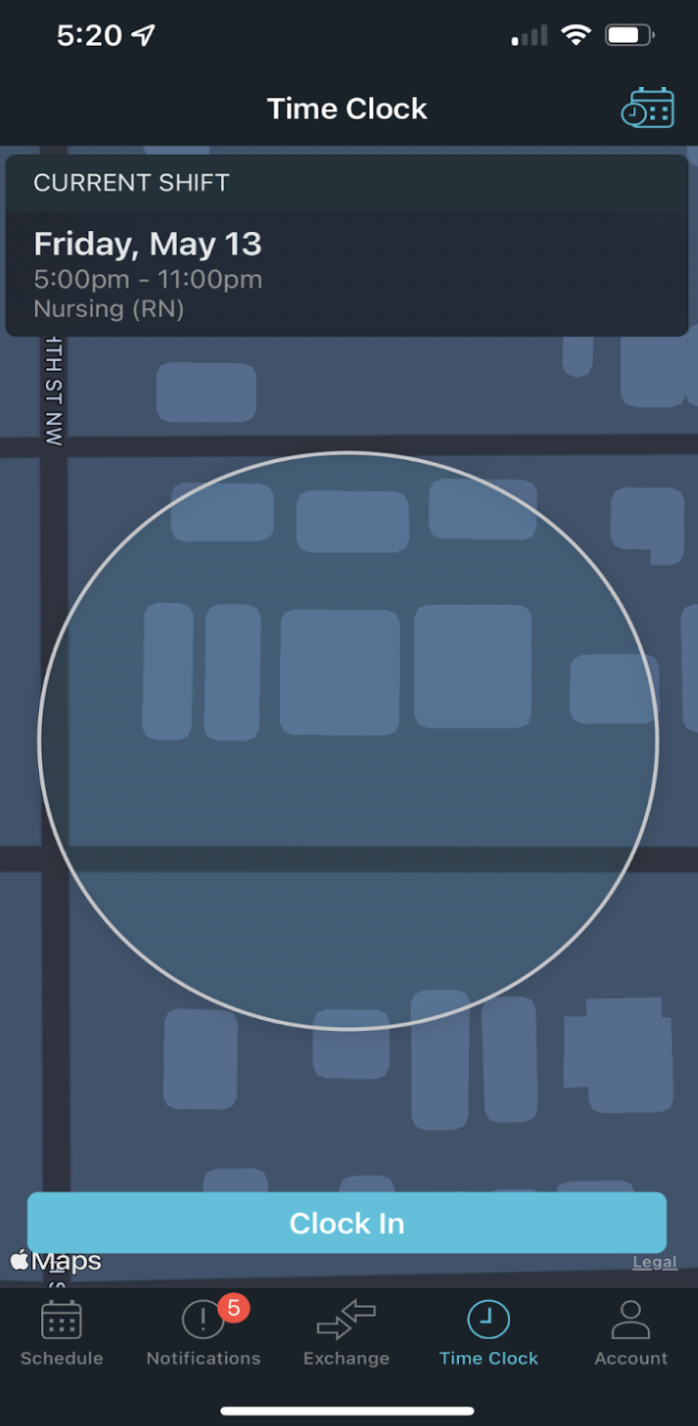 Photo punches — MakeShift's clock-in tool allows managers to enable photo punches. Employees will be required to take a selfie in the MakeShift app to prevent buddy punching.
MakeShift Manager Features
Create employee schedules — MakeShift allows your scheduling managers to create optimal schedules based on employee availability. Since MakeShift is a cloud-based scheduling software, managers can create schedules anytime and anywhere.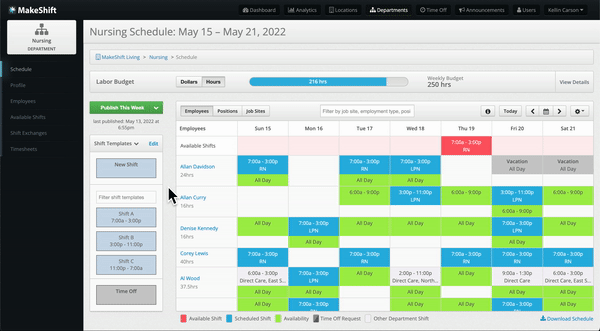 In essence, MakeShift allows your managers to create employee schedules in half the time it usually takes. As a result, not only does MakeShift improve the speed of creating staff schedules, but it also creates more effective staff schedules.
Broadcast schedule changes — They can also broadcast schedule changes to your employees automatically.
Mobile manager app — MakeShift provides a dedicated manager app called MakeShift Live. This is different than the MakeShift employee app.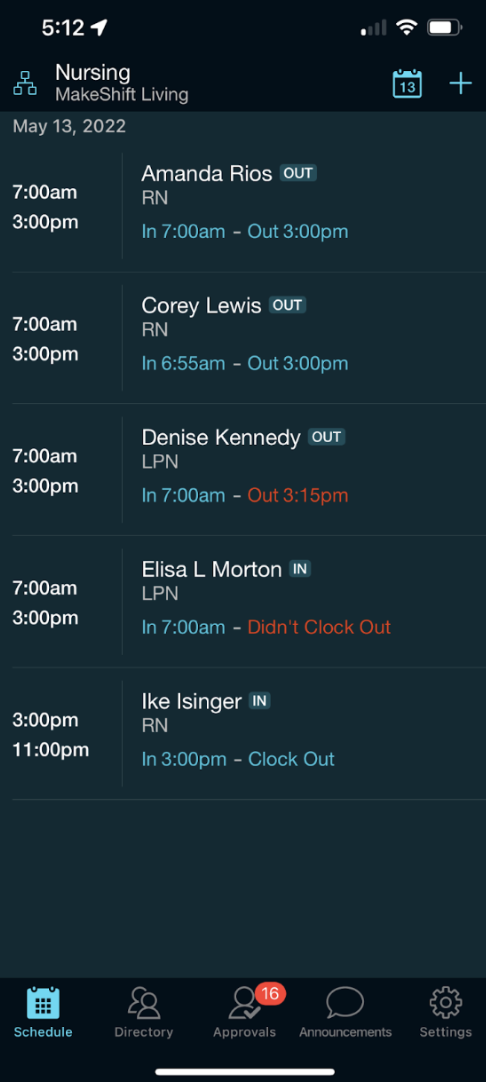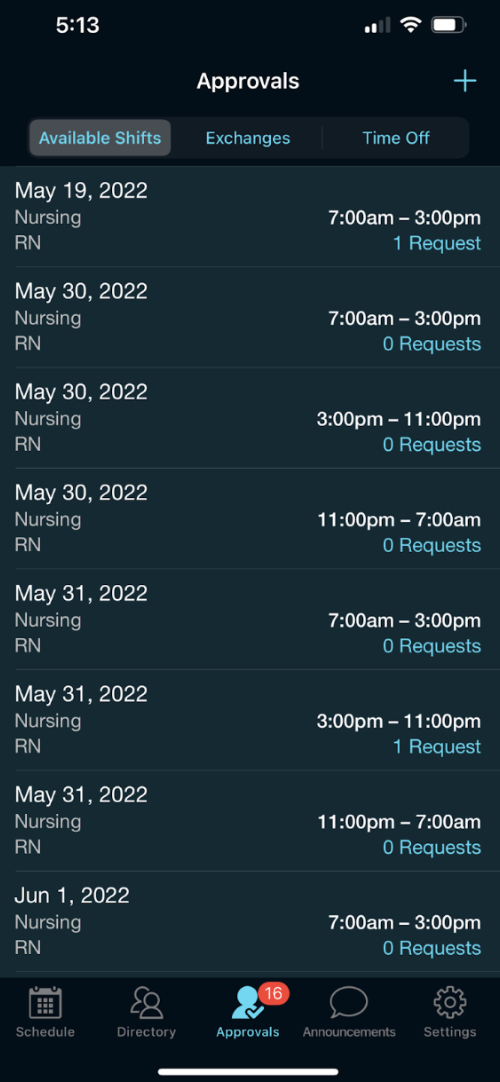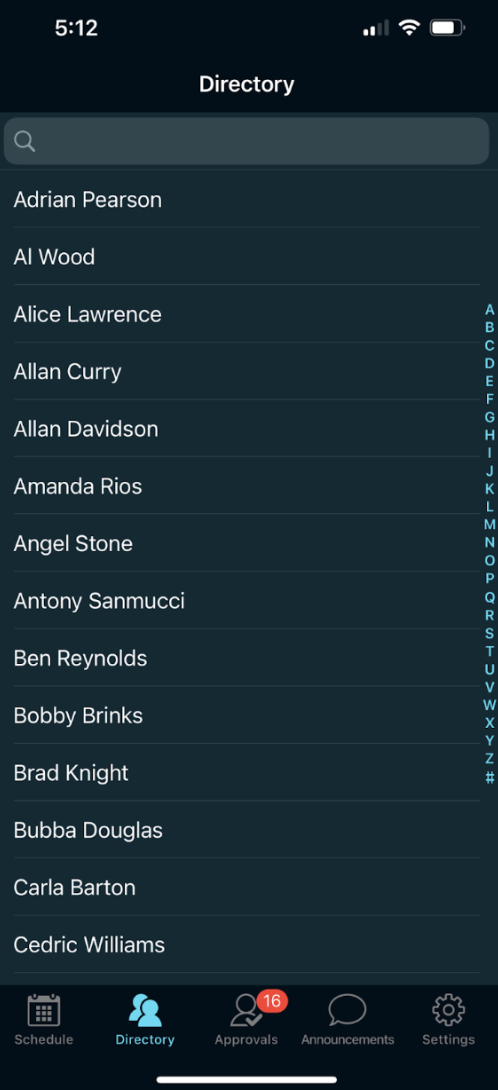 MakeShift Live allows managers to:
Create, edit, and delete shifts

Adjust clock in and out entries

Send available shifts

Approve shift swap and time-off requests

View daily schedules to see who's early, late, or on break
Fatigue management rules — Another innovative feature MakeShift offers are fatigue management rules. You can create fatigue management rules inside MakeShift's dashboard to prevent overscheduling and employee burnout.
If a fatigue management rule is broken, a warning message will appear, and the scheduling manager can adjust the schedule to prevent suboptimal staff schedules.
MakeShift Benefits
At its core, MakeShift enhances the lives of your employees and managers. More specifically, it reduces employee absenteeism, overtime hours, and turnover rates.
MakeShift solves these pain points by allowing your managers to create optimal schedules based on employee preferences. Employees want to feel valued and know that their happiness is prioritized. With MakeShift, your employees have a voice.
How can burnt-out and tired employees effectively tend to their patients?
They can't.
MakeShift puts your people first and gives them the resources and tools they need to sustain and grow your healthcare organization.
2. ADP®: Payroll, HR, and Tax Services Software
ADP is a comprehensive software offering a large set of human capital management tools including payroll, HR, tax, and talent services. As a member of the NASDAQ 100, ADP has an $85 billion market cap and is used by thousands of healthcare organizations around the world.
There are several ADP platforms and services to choose from, which means any sized healthcare organization can find a suitable option. Furthermore, you can choose to onlyuse ADP's payroll services or its extensive suite of HR tools as well.
ADP is an essential piece of a healthcare software techstack because it offers integrations with hundreds of third-party HR solutions, including MakeShift, through its digital storefront, ADP Marketplace. When it comes to a software techstack, it's important that each software can communicate with the other. This way, you avoid the need to enter data into each software manually.
What is ADP?
ADP's core feature is its payroll services. With ADP's payroll services, you can automate your online payroll, calculate and pay taxes automatically, and ensure your healthcare organization complies with federal, state, and local laws.
ADP also offers HR, onboarding, recruiting, and analytical tools that other payroll software providers can't match. This allows you to manage multiple aspects of your business on one platform.
MakeShift Expert Tip: MakeShift integrates with ADP to provide accurate timesheets and payroll expenses.
ADP Payroll Services
ADP offers customizable packages that include payroll runs, direct deposit, tax support, and automated employee data syncing.
However, it's essential to know that ADP offers various payroll packages based on your healthcare organization's size.
Each plan offers:
Reporting

Payroll check delivery

Multistate payroll

General ledger interface

W-2s and 1099s

Tax filing

Direct debit cards for employees

Options to run payroll via mobile app, online, or phone
ADP clients also receive basic HR tools such as an employee portal, new-hire onboarding, and new-hire reporting. Once your employees are enrolled into ADP's easy-to-use system, running payroll involves just a few clicks. All you need to set are your healthcare employees' hours, pay scales, and pay dates. ADP will take care of the rest.
ADP's tax services ensure your organization doesn't have to pay any penalties for inaccurate tax payments. ADP will calculate, withhold, and pay the IRS the correct amount of taxes. It also supports W-2s, 1099s, and W-4s. Your staff can e-sign their I-9s and W-4's. Furthermore, they can quickly view and download their W-2s and 1099s at the end of the year.
ADP HR Services
ADP's onboarding features are available on each small-business plan. If you want to access more advanced HR features, you'll need to subscribe to a higher-tier plan. Nonetheless, ADP offers a wide range of HR features that suit any sized business.
Here's a closer look at ADP's HR services:
HR employee tracking

HR forms

HR training toolkit

Talent acquisition tools

Background checks

Creating and distributing relevant curricula

License and certification tracking

Employee benefits

Screening services
The list goes on and on. ADP's comprehensive HR services enhance your organization's ability to bring the right people into your team and make sure they're well trained and equipped to tackle their responsibilities.
Best of all, ADP is scalable. You can start with a basic plan and upgrade to a higher-tier plan as your organization grows.
3. Intuit QuickBooks Online: Accounting Software
QuickBooks Online provides a complete suite of accounting features to empower your healthcare organization. It's known as the industry standard for small business accounting software.
You can choose from four different QuickBooks Online plans, depending on what type of accounting services you need. Each plan includes mobile app access, QuickBooks support, and app integrations.
QuickBooks Online provides a high level of flexibility, functionality, and scalability. You can customize QuickBooks online to meet your healthcare organization's needs.
What is QuickBooks Online?
QuickBooks Online is a cloud-based accounting software that features customizable invoices, inventory management, reporting, multiple currencies, and over 650 app integrations. It also offers features you won't find in the more traditional QuickBooks Desktop.
These features include split transactions, scheduled invoices, automatic sales receipts, and location and class categories.
The basic QuickBooks Online plan, called QuickBooks Online Simple Start, provides:
Unlimited invoices

Expense tracking

Unlimited estimates

Live bank feeds

Reports

Mileage tracking

1099 tax support

One user

Integrations with 650+ apps
The higher-tier plans include all these features and additional ones as well. For example, the next level plan, QuickBooks Online Essentials, offers time tracking, bill management, and up to three users.
In summary, QuickBooks Online has everything you'd expect from bookkeeping or accounting software.
Invoices and Estimates
QuickBooks Online offers robust invoicing capabilities, complete with numerous customization options, multiple templates, and time-saving automations. It also lets you create estimates, emails them to customers, and convert the estimates to invoices.
A few additional invoicing features include:
Ability to add attachments, shipping charges, and discounts

Invoice reminders

Recurring invoices

Batch invoicing

Invoice tracking

Client portal for invoices

Six invoice templates

Ability to customize invoice header, logo, footer, and color scheme
If your healthcare organization uses a manual invoicing process, it's time to switch to QuickBooks Online's automated invoicing tools. Through automation, your healthcare organization can cut costs, save time, and increase accuracy.
Ultimately, automation boosts the quality of patient care.
Bookkeeping
QuickBooks Online makes it easy for healthcare organizations to balance books and track financing.
A few key features from QuickBooks Online's bookkeeping tools include:
Expense tracking

Categorize expenses and create custom bank rules

Import bank statements, manually add expenses, or enable live bank feeds

Transaction matching

Receipt capture

Bank reconciliation

Accounts payable

Purchase order

s
And much more.
Overall, QuickBooks Online lets you keep accurate and thorough records. This way, you can quickly understand the financial health of your healthcare organization. With over 650 app integrations, QuickBooks Online is a key piece in a healthcare software techstack.
4. DrChrono: Electronic Health Records (EHR) Software
DrChrono is an innovative employee health records software that adapts to your healthcare organization's needs.
But what is EHR software?
EHR software is one of the most widely used types of software by hospitals and clinics. Electronic health records can be thought of as digital versions of traditional paper charts. EHR software host patients' medical records from their entire health history.
You can use EHR software to streamline your healthcare clinic's workflows by:
Creating customizable templates for note-taking during patient encounters

Generating reports on practice efficiency and compliance with government programs

Using speech-to-text features for easy charting

Seeing patients remotely with telehealth sessions

E-prescribing patient medications

Ability for online scheduling, self check-in, and automated appointment reminders
DrChrono EHR Software Benefits
Using DrChrono in your healthcare software techstack can dramatically impact your organization's bottom line.
Specific EHR software benefits include:
Save time by automating manual processes like charting and prescribing medicine

Streamline physician workflow with scheduling, communication, and task prioritization tools

Access patient records from anywhere using mobile and tablet devices

Protect against data breaches and ensure HIPAA compliance with increased PHI (protected health information) security measures
To provide the best patient care, healthcare professionals must be able to quickly understand patient histories and maintain consistent communication with patients about their treatment and health.
5. Salesforce: Customer Relationship Management (CRM) Software
Salesforce is a cloud-based customer relationship management software. It helps your healthcare organization connect with and get more information about your patients.
You've probably heard of SaleForce before, the pioneers of the cloud-based CRM.
From startups to massive Fortune 500 companies, everyone seems to be hopping onto Salesforce.
But, what exactly does Salesforce do?
Salesforce enables organizations to use cloud technology to better connect with patients and partners. It replaces the mass amount of spreadsheets, databases, and apps healthcare organizations use to track patient data.
As a result, Salesforce empowers better organization, efficiency, time management, and patient care. Salesforce consolidates all communications (calls, emails, texts, etc.), quotes, documents, and tasks associated with each patient. As a result, your entire staff can access these details anytime to deliver better care and services.
Salesforce also offers dedicated tools for healthcare organizations. Salesforce claims to help healthcare organizations decrease operational costs by 29%, increase application deployment by 32%, and increase the response rate to key stakeholders by 33%.

Best of all, Salesforce integrates with EHR software. This unlocks a panoramic view of each patient for smarter and more personalized care.
Ready to Make the Shift?