The retail industry is a wild ride.
And only those in the trenches really get this.
As a manager, your job ranges from creating an exceptional customer experience to handling demanding customers, all while making sure your staff is supported.
Easier said than done — we know.
By understanding the unique nature of the retail industry and prioritizing the needs and well-being of your employees, you have the power to create a company culture that fosters productivity, employee satisfaction, and, ultimately, success.
Interactive, people-first scheduling supports your retail team and makes your life easier by lowering turnover rates and boosting morale.
Keep reading to learn how to make that happen:
Why Retail Scheduling is Unique
Retail staff scheduling presents a unique set of challenges because of its dynamic nature.
Fluctuating customer demand, seasonal variations, and ever-changing employee availability make creating an effective schedule tougher than a $5 dollar steak.
It balances optimizing customer service, managing labor costs, and accommodating your staff's scheduling preferences.
And don't forget the other factors that further complicate the retail scheduling process:
Part-time & flexible work arrangements
Multiple store locations
Diverse employee skill sets
The Stats of Retail Employee Scheduling
The retail industry is caught in a hiring and scheduling crisis — struggling to juggle employee availability with customer expectations.
WorkJam did a study on the hiring and scheduling crisis of the hourly workforce. These stats tell the story of what's happening in retail today.
57% of retailers still manually set the weekly schedule, and 56% of employees receive their schedules a week or less in advance.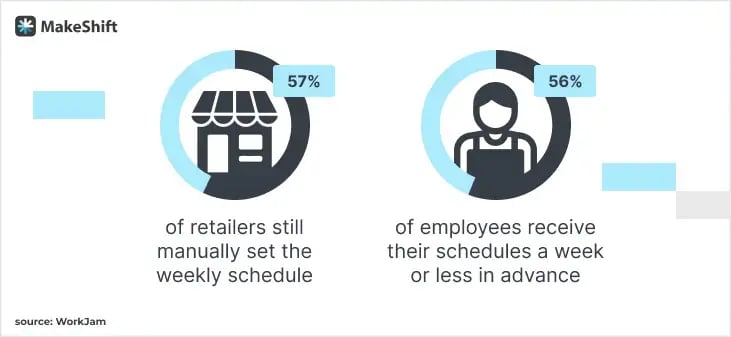 75% of employers say the most challenging part of workforce scheduling is assigning shifts that accommodate both their staff's availability and business needs.
29% of employees say they rarely receive consistent work schedules.
Almost half (46%) of retailers say they're frequently understaffed.
Of the understaffed merchants, a whopping 53% say the situation compromised their customer experience.
Other top consequences of being understaffed include:

Increased overtime (45%)
Decreased staff morale (30%)
Inability to meet sales targets (27%)
Inability to meet store compliance goals (25%)
1 way to combat these dreadful stats is to level up your staff scheduling. Need help on where to start?
Follow These Retail Staff Scheduling Guidelines
Start your scheduling process with a people-first approach. When your employees' well-being is front and center, they'll feel it.
Use these 7 guidelines to schedule with your staff in mind.
1. Align staffing with traffic & sales
Schedule your staff based on historical data and predicted customer traffic to ensure sufficient coverage during peak hours.
This accomplishes 2 things:
Ensures you have enough staff to provide exceptional customer service
Keeps your staff from overwhelm & overwork
Routinely adjust schedules to accommodate the ebb and flow of sales patterns and customer demand.
To make this a breeze, use scheduling software or tools to optimize staffing levels in alignment with sales forecasts and employee availability.
2. Minimize overtime
Overtime should be a temporary fix, not an ongoing staffing solution. While a bit of overtime can pad the pockets of your retail staff, too much can drain their energy and passion for their work.
To avoid this, plan and distribute work hours to minimize the need for overtime.
Monitor and manage staff hours to avoid exceeding labor cost targets.
Implement strategies like cross-training to increase employee flexibility and reduce your reliance on overtime.
3. Bring in temps when necessary
Identify your peak periods or specific events that require additional staffing support.
The National Retal Federation cites the top 5 consumer spending events as:
#1 Back-to-College
#2 Back-to-School
#3 Winter Holiday Gifts & Celebrations
#4 Mother's Day
#5 Valentine's Day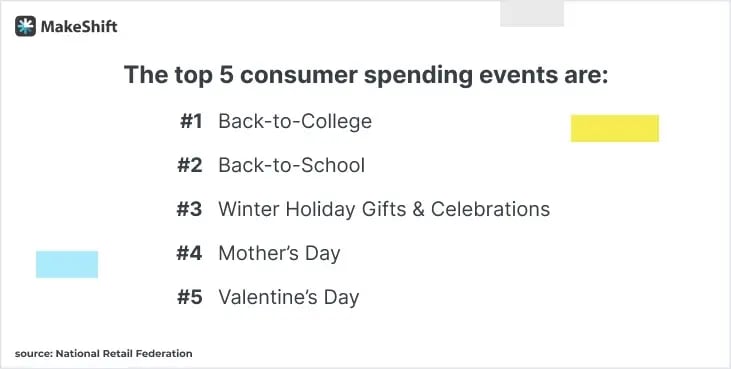 Of course, in addition to these, you probably have unique busy periods based on your location and what you sell.
Utilize temporary or part-time staff to address short-term increases in workload and seasonal demand to prevent overworking your employees.
Develop relationships with staffing agencies or create a pool of reliable temporary workers to call upon as needed.
4. Prioritize fair scheduling
Now, we all know there's no such thing as absolute fairness.
And It's a good idea to gently remind your staff of that from time to time. However, do your best to create schedules that are fair and equitable — take into account staff availability, preferences, and seniority.
Rotate shift assignments in order to:
Divvy up the workload
Escape perceived favoritism
Avoid overburdening certain team members
Spread out assigning undesirable shifts
5. Honor requests
Look, if you're going to ASK your employees for their availability and ENCOURAGE communication about scheduling, then you've got to honor their requests.
Accommodate reasonable scheduling requests from staff members whenever possible.
Respect employees' personal commitments and work-life balance needs.
Establish clear communication channels for staff to submit scheduling requests and address conflicts or concerns.
6. Publish in advance
Giving your team advance notice about any business-related issues shows them respect.
Publish staff schedules well in advance to allow your team to plan their personal lives and make necessary arrangements.
Maintain consistency in schedule publishing to build trust and reliability throughout your retail team.
Post schedules electronically or, better yet, use scheduling software to make everyone's life easier.
7. Ask for staff feedback
Encourage staff to give you input on scheduling preferences and let you know about any challenges they face.
Regularly check in with your staff on the effectiveness of the current scheduling system.
Use whatever feedback you get to improve scheduling practices and address any concerns or issues raised.
How to Create a Retail Schedule with Staff Scheduling Software
MakeShift simplifies creating and managing your store's staff schedule. It lets you spend MORE time on the sales floor interacting with staff and customers and LESS time managing schedules.
You can even bring MakeShift with you while you manage the sales floor with MakeShift Live, our mobile app for managers.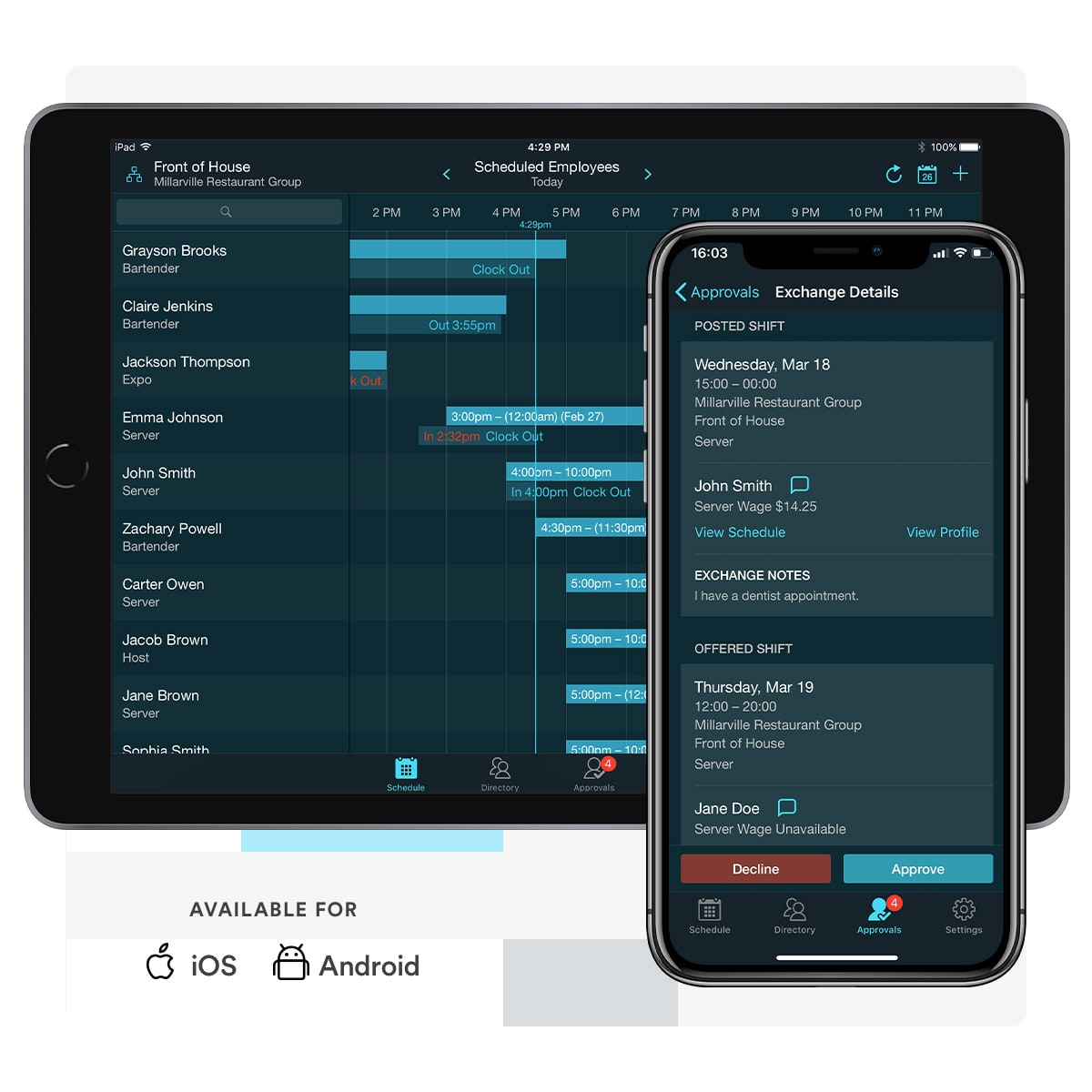 When you're ready to create your first retail schedule in MakeShift, follow these steps for a smooth process.
1. Create a location
First things first — you need a location.
Click Locations on the top navigation bar.
If you haven't yet created a location, click the large button that reads You currently have no locations.
Create one below the top navigation bar.


If you've already created a location, click the

Add Location

button

Name your location, choose your location's Time Zone, and select the day that the Week Starts On. (If your time zone isn't right, your employees will see the wrong shift times on their schedules & it'll be a mess).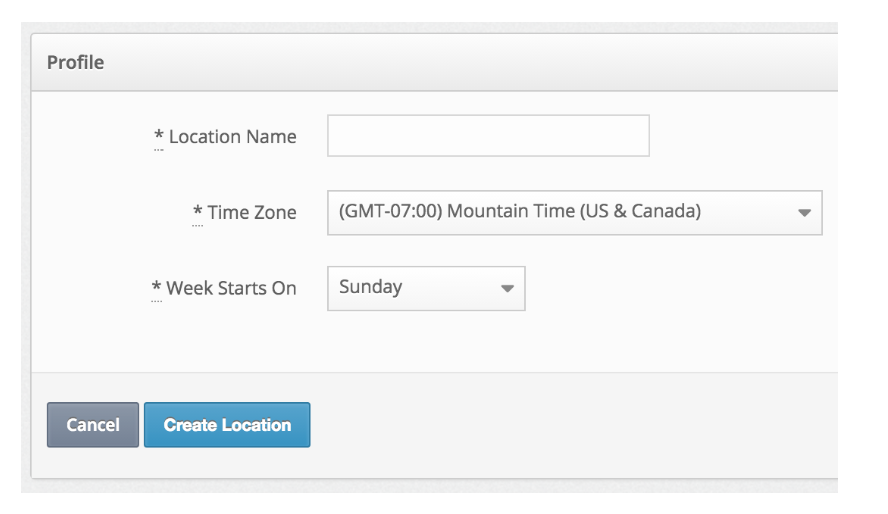 Click the Create Location button. Your location has now been created, and it's time to set up the location's departments.
2. Add a department
Click on the Departments link in the top navigation bar.

Name the department you want to create, and then click the Create Department button.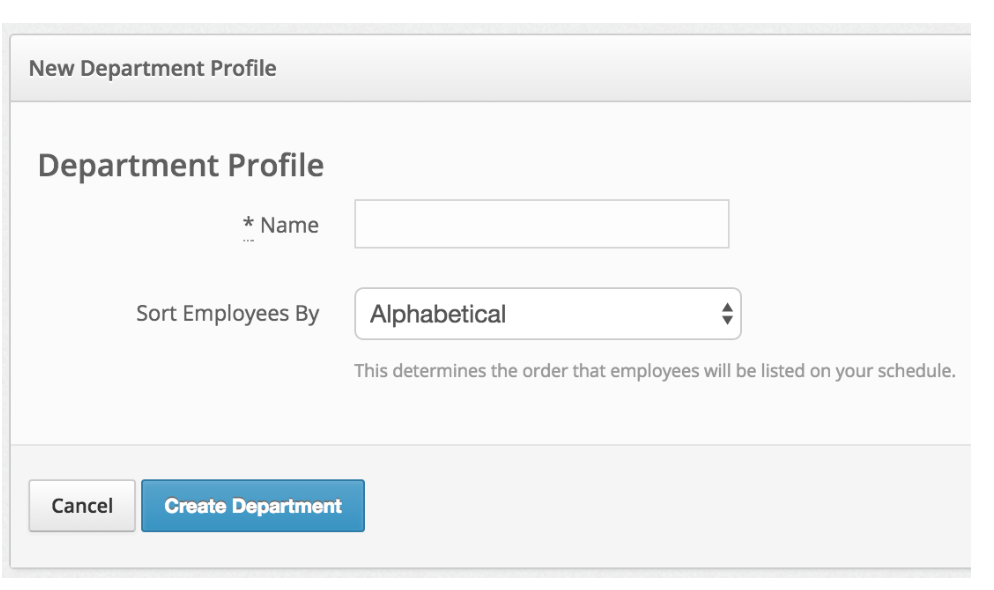 We'll walk you through creating a shift template below.
3. Create Your Shift Template
If you'd rather watch the video:
These are these steps: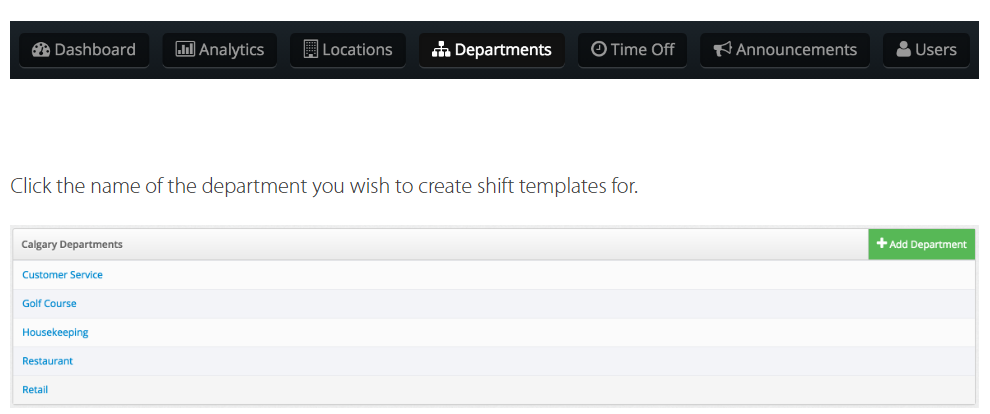 Click the Profile link on the left side of the page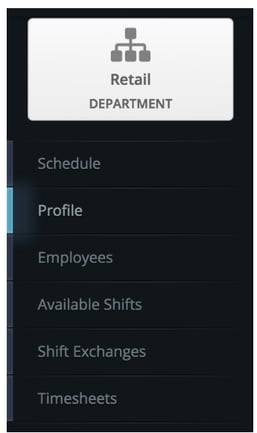 Click the Shift Templates Tab

Give your shift template a Name. You'll use this name to identify the shift when adding it to department and employee schedules. Employees will also see the shift name when looking at the details of their shifts, so use language they'll understand. Good examples of shift names are "Opening", "Afternoon," or "Closing."

You can add unpaid breaks by clicking the blue Add Break button. If you add breaks, MakeShift will automatically calculate break times into the shift. For example, if you made the shift start time 8 am & the end time 5 pm with a 60 min break — MakeShift will calculate this as an 8-hour shift.


Enter the duration of this break.


Multiple breaks can be added to 1 shift template by clicking the blue Add Break button again. Breaks won't have an assigned start & end time, but your employees will see on their phones that they have a scheduled break(s) during this shift.
If you'd like to hide the end time of the shift so employees can't see it, check the Hide End Time box. (You'd do this if your retail schedule has a variable ending time. If you choose to hide it, your employees will see the end time as "TBD")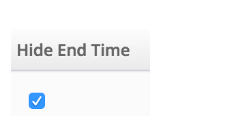 Click the Save button to finish creating your shift template. Congrats! The shift template can now be used to create employee schedules, department schedules, and rotations.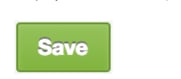 At MakeShift, we pride ourselves on high-level customer support. Visit our customer support page for FAQs, guides, and video tutorials. Or submit a request for help. We're here to set you up for success.
Start Scheduling Your Retail Staff
Retail staff scheduling is a complex puzzle that requires constant adjustment and adaptability to ensure smooth operations and employee satisfaction.
Complex? Yes.
Impossible? Not even close.
Revolutionize your staff scheduling by adopting a people-first approach. That's the kind of next-level scheduling that your employees will love.
MakeShift helps you grow your retail business from the inside out with our all-in-one platform — try it free for 14 days.
Ready to Make the Shift?