In the bustling world of retail, where chaos collides with customer demands, creating harmony in your retail workforce is no easy feat.
Don't sweat it.
You can use retail staff scheduling software to optimize your workforce and create a collaborative company culture.
Ditch outdated spreadsheets for intuitive, automated staff scheduling software to streamline the process for you AND your retail team.
Retail staff scheduling software boosts efficiency and employee morale through features like:
Real-time notifications
Easy shift swaps & approvals
Quick mobile clock in
Time & attendance tracking
The option to set employee availability
On the go schedule management
We know choosing the best staff scheduling software for your retail operation can be overwhelming.
So we've complied a list of the best retail staff scheduling software available today to help your decision-making.
We're covering everything you need to know — feel free to skip to the section you're most interested in:
What's Retail Staff Scheduling Software?
Retail staff scheduling software helps you create, manage, and organize your employees' schedules. It revolutionizes your manual scheduling process through automation so you can ditch spreadsheets for good.
Plus, it transforms the process into a more harmonious workflow for you and your employees.
It also allows:
Automatic schedule creation while factoring in employee availability.
Tracking of employee hours & labor costs.
Assurance of compliance with labor laws.
More oversight to significantly reduce (or eliminate) time theft and buddy punching.
The ability to run audit reports for in-depth insight.
More say from employees in their schedules.
Schedule access on any mobile device.
3 Challenges of Retail Staff Scheduling Solved with Scheduling Software
Retail staff scheduling is unique and has its own challenges. But, for the most part, you can counteract these challenges with scheduling software.
1. Outdated, manual scheduling
The retail industry is evolving, especially after the pandemic. You've pivoted to add online ordering and offer curbside pickup or shipping. Good work.
In the fast-paced world of retail, there's no room for outdated staff scheduling processes like spreadsheets.
57% of retailers still manually set the weekly staff schedule, and 56% of employees receive their schedules a week or less in advance.
Receiving schedules on short notice makes life difficult for employees. They're stuck with accommodating personal obligations with less flexibility. If this is how you handle scheduling, you probably deal with higher last-minute absenteeism and overworked employees.
How staff scheduling software solves this:
Enhanced organization

— Scheduling software provides a centralized platform to manage all scheduling-related information. You can easily access data like employee availability, shift preferences, and task requirements. You'll be able to create advanced schedules that mesh with employees' lives.

Flexibility and adaptability

— Manual scheduling can be challenging to adjust when changes occur. Scheduling software allows easy modifications, enabling you to quickly update schedules, post available shifts, and approve shift swaps.
2. The Revolving Door of Employees
When scheduling is routinely chaotic and unpredictable, there's a good chance you'll have a revolving door of employees.
Flexibility and a more balanced work-life are top priorities for today's employees.
Unsatisfied workers won't stay with you, and a low retention rate makes recruitment feel like an uphill walk in a blizzard.
In 2022, the retail industry's annual average separation rate was 5% compared to 3.9% across all industries. The number-one driver of leaving was lack of flexibility.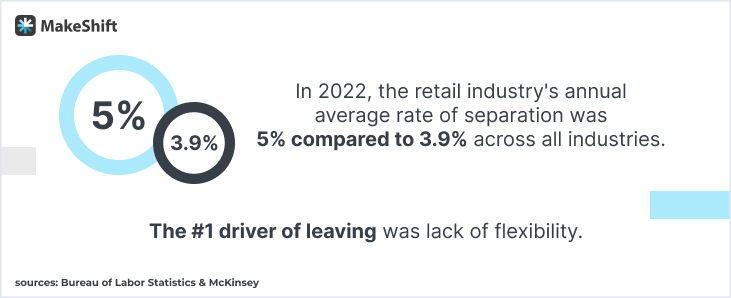 How staff scheduling software helps solve this:
Improved scheduling flexibility — Staff scheduling software gives your retail employees more control over their schedules. They can input their availability, preferred shifts, and time-off requests, enabling managers to create schedules that align with their preferences. This flexibility makes for happy employees that stick around.
Fair and equitable scheduling — Scheduling software helps ensure fair and equitable distribution of shifts among your employees. The software factors in seniority, skills, and availability when assigning shifts, minimizing favoritism and promoting a sense of fairness.
3. Poor Communication
Using inefficient (or too many) communication channels can make team communication inefficient and a massive headache.
If you're unsure how you stack up in the communication area, ask yourself these questions.
How do your employees inform you of their availability or submit requests?
How do you send out team communication?
According to a McKinsey report, improved communication and collaboration through social tech can raise productivity by 20-25%.

Improve communication with a team chat app and make mobile schedules and shift swapping easily accessible.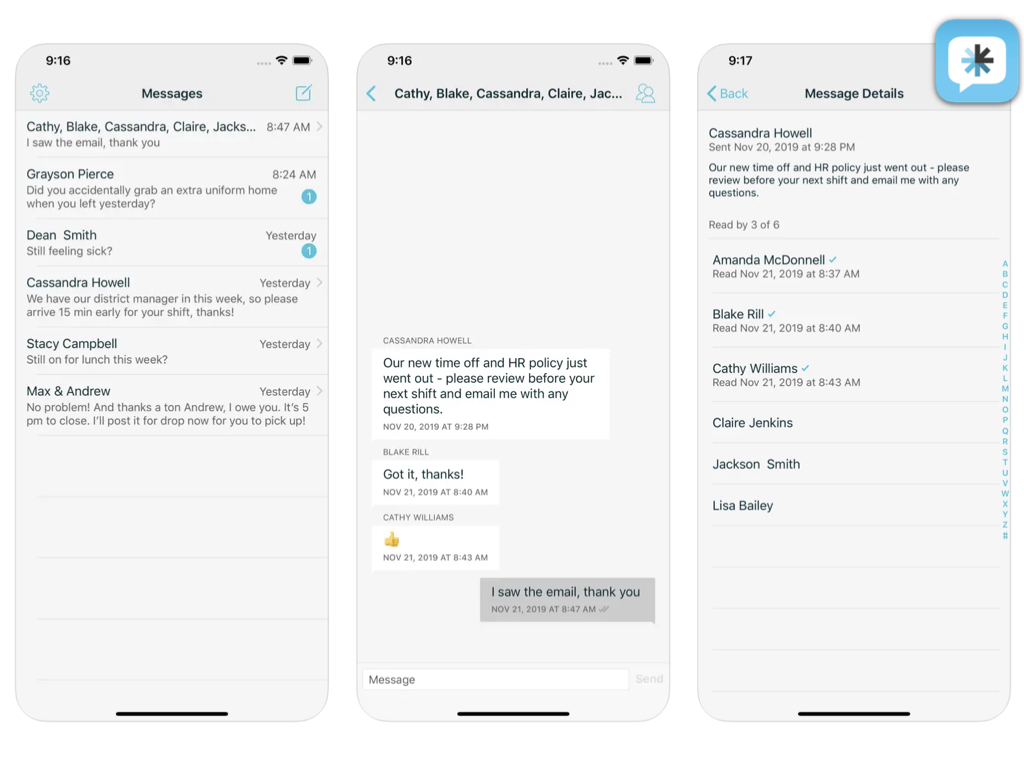 How staff scheduling software can help solve this:
Centralized communication platform — Staff scheduling software provides a centralized channel for team communication — all relevant info and updates are easily accessible to every team member.
Real-time notifications — The software sends real-time notifications to employees regarding schedule changes, shift updates, or attendance policies, and any other important information, eliminating communication gaps and ensuring everyone is on the same page.
Instant messaging — Many scheduling software solutions offer built-in instant messaging capabilities, allowing team members to communicate directly within the platform. This feature enables quick and efficient communication, promoting collaboration and problem-solving.
5 Best Retail Staff Scheduling Software
It can be overwhelming when you're researching staff scheduling software. Rather than disappear down the rabbit hole of information, use our list of the top retail scheduling software on the market.
MakeShift was recognized as a Leader for Employee Scheduling Software and for the Highest Adoption Rate in G2's Winter 2023 Grid® Reports.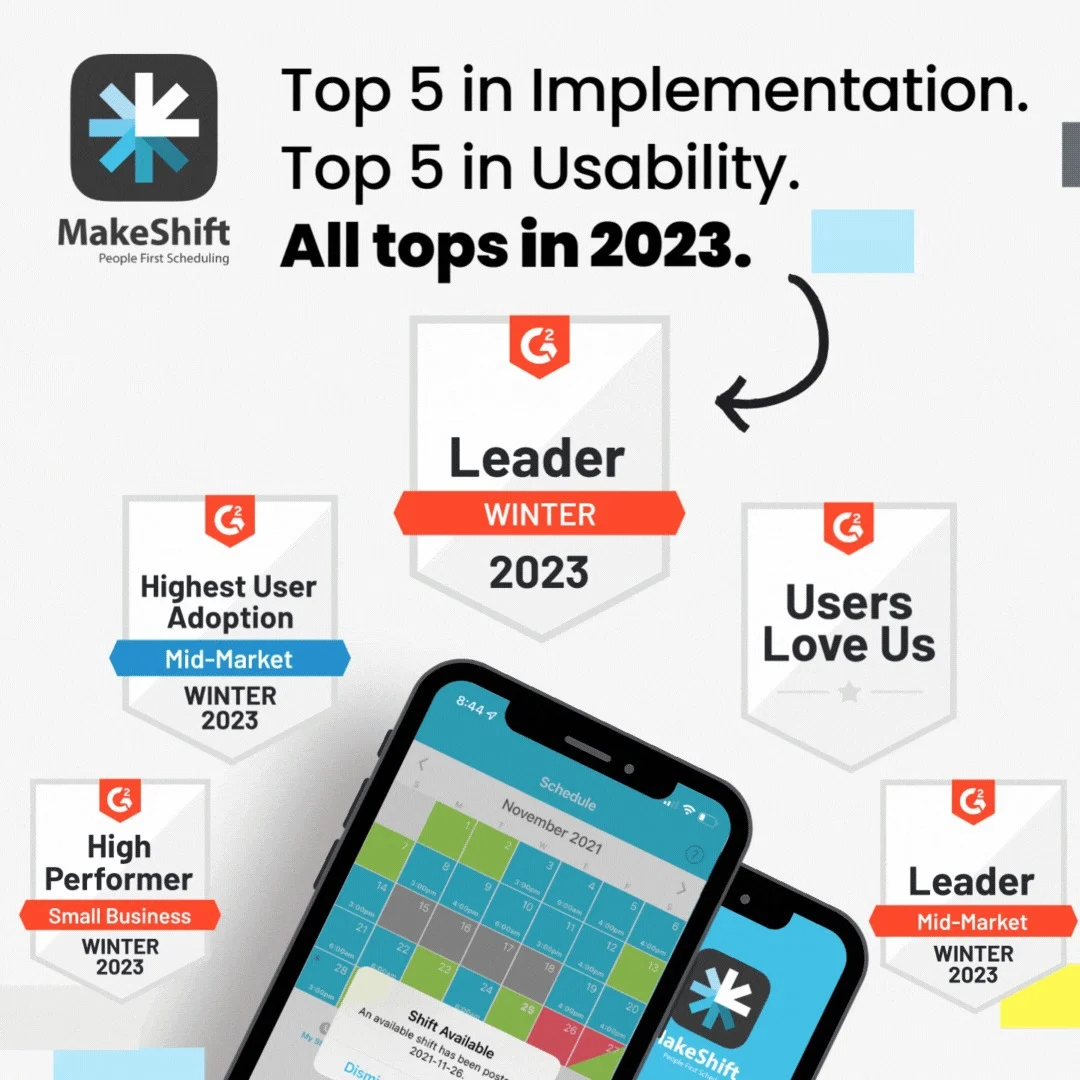 MakeShift was developed to fix the broken scheduling system of shift workers.
Here's what we noticed:
A lack of schedule accessibility.
Employees regularly scheduled for shifts that didn't sync with their lives.
No streamlined process for setting availability, shift swapping, or picking up available shifts.
The entire manual scheduling process was slow, clunky, and irritating.
When we saw how frustrating the scheduling system was, we created a solution to revolutionize the process. We took a people-first approach to scheduling with features that enhance work-life balance for managers and employees.
At MakeShift, we make scheduling smarter and more straightforward for the whole team. And we're proud to say that using MakeShift results in a 50% reduction in time to build a schedule and an 83% reduction in time to fill shifts.
Features:
Available Shifts Access

— Your retail employees can readily view available shifts when they want to pick up an extra shift.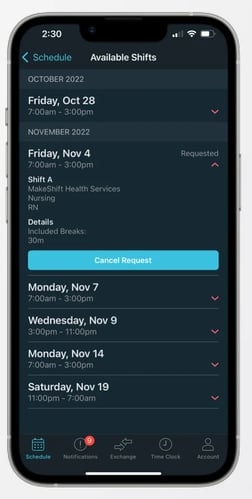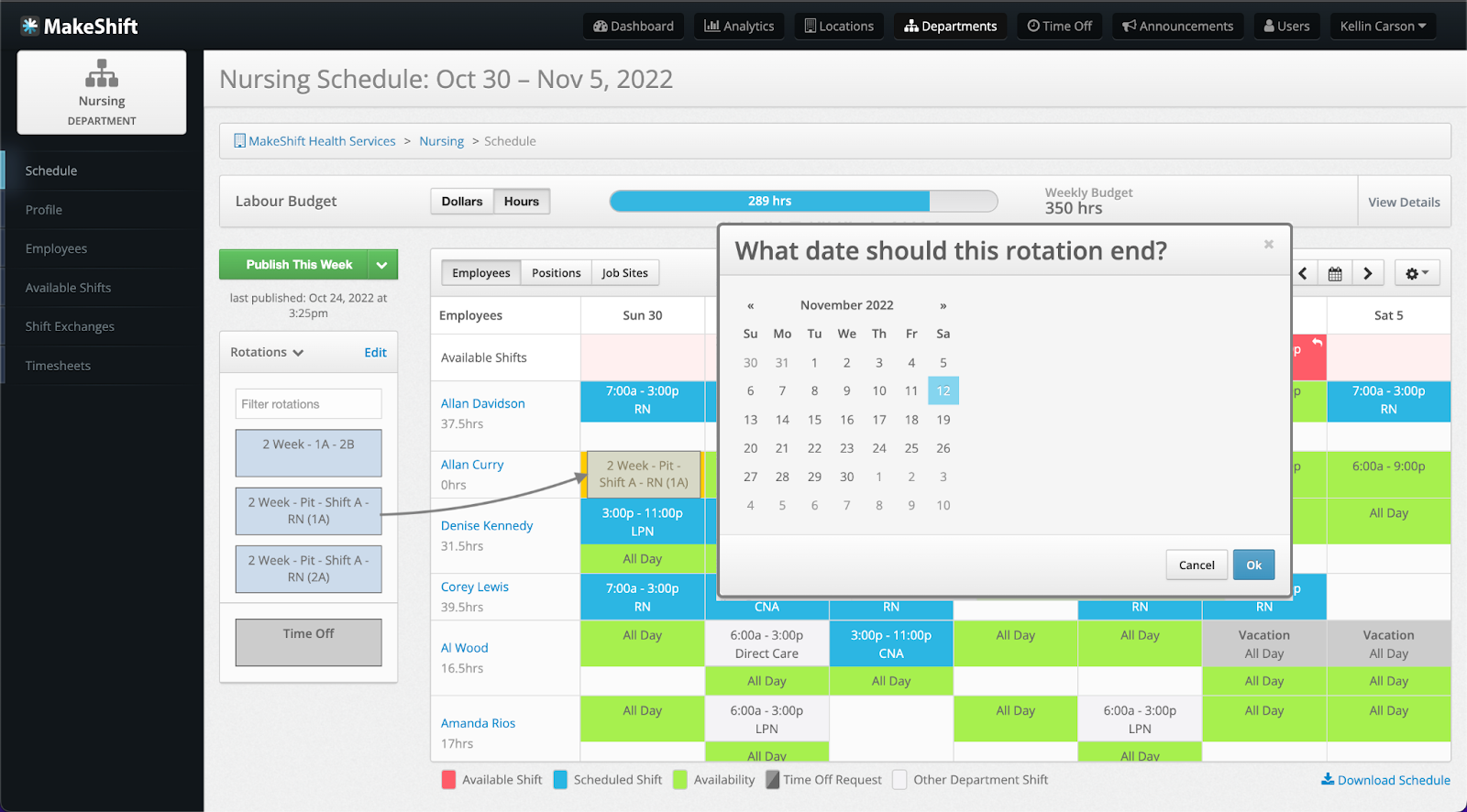 Employee Shift Exchanges — Your retail staff can easily swap shifts, and you can approve those requests on the go.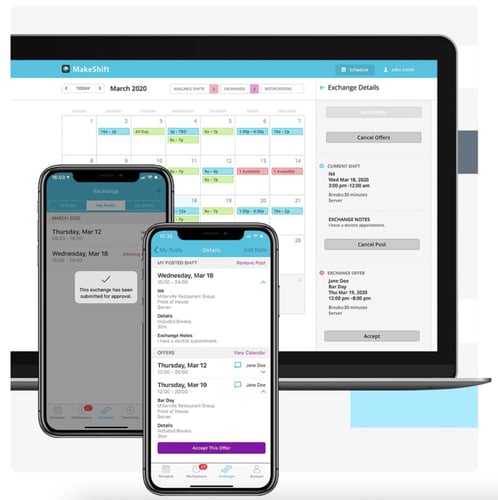 Time Off, Leave Management, & Availability — Managing and approving time off requests and setting availability is a breeze on mobile or the web.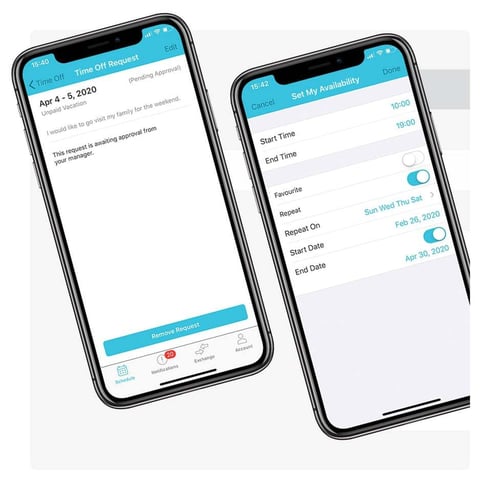 Overtime alerts — Fatigue management rules and alerts help prevent employee burnout.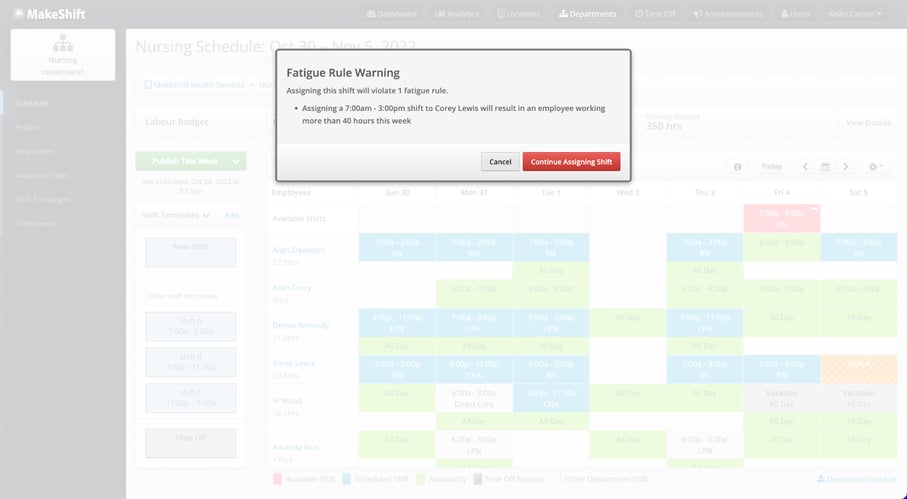 Team communication — Send all-staff announcements and receive push notifications when employees clock in on their phones.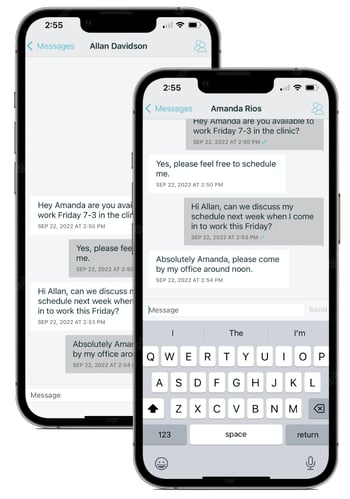 Payroll Integration — MakeShift integrates with leading HR and payroll systems like SAP® SuccessFactors® and ADP to offer an intuitive scheduling solution that automatically syncs schedules and timesheets. They also offer a public API that allows integration with a vast number of systems.

Mobile app — Our app provides on-the-go flexibility when accessing and managing your schedule.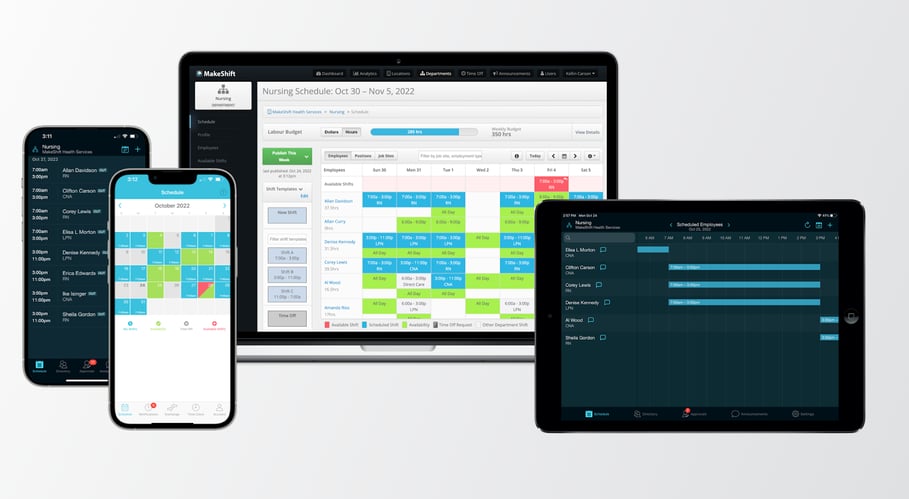 ShiftMate AI (phased rollout 2023-2024)— Your own AI-powered shift scheduling platform that provides 24/7 support.
ShiftMate AI aids and enhances your decision-making so scheduling is even simpler.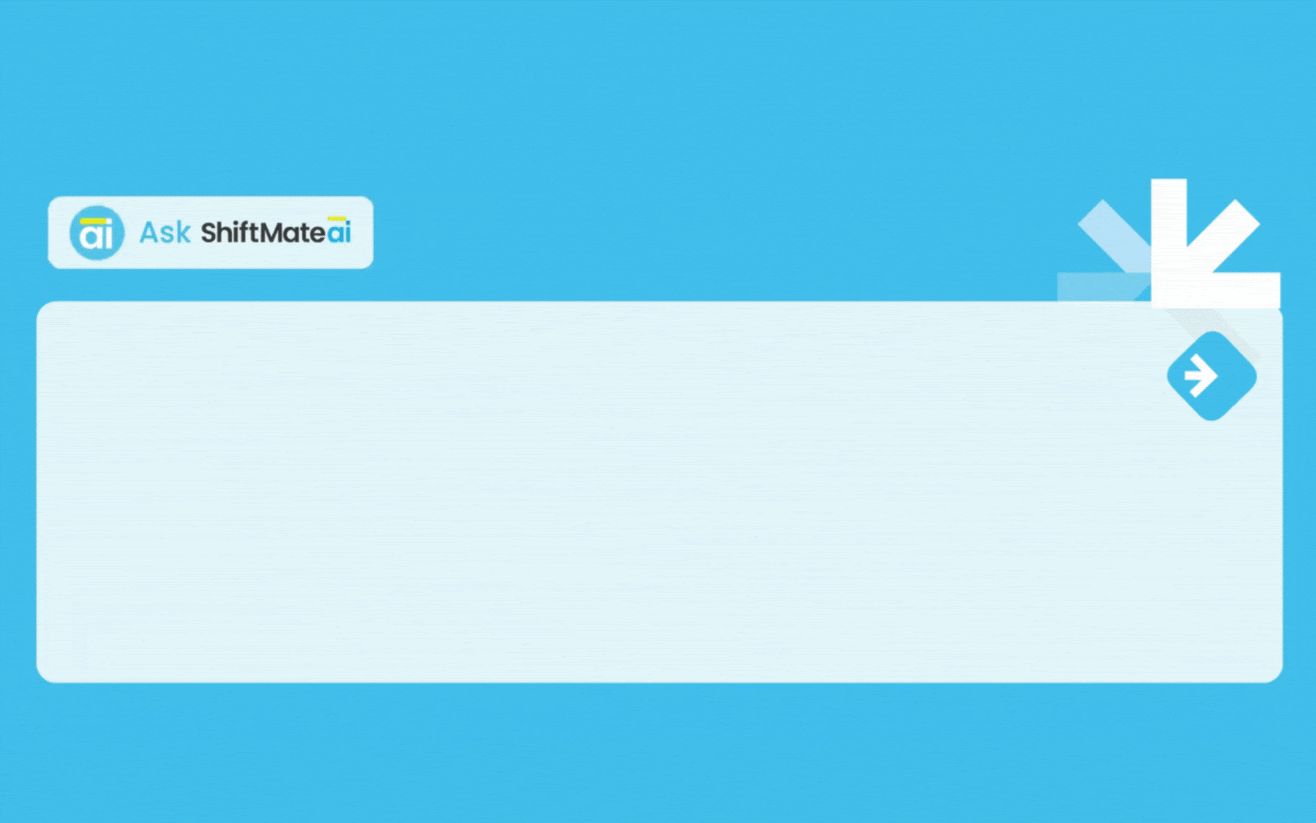 Pricing:
Starting from $2.75 /user/month + Free Trial


Pros & Cons
Pros:
Customizable and intuitive scheduling
Mobile accessibility
Easy shift swapping and communication
Cons:
Certain features like Predictive Analytics aren't available out of the box and may require integrations. However, MakeShift's public API and seamless integration with enterprise-grade analytics software like SAP Analytics Cloud Platform make configuration a breeze.
MakeShift gets an average of 4.5 stars for its ease of use and stellar customer support. Here's what Annetta has to say about using MakeShift:

Homebase helps you optimize your retail staff schedule, get control over labor costs, and know how your business is running.
Homebase makes work easier for your retail business with everything they need to manage and pay an hourly team: employee scheduling, time clocks, payroll, team communication, hiring, onboarding, and compliance.
Features:
Scheduling
Time clock
Payroll
Hiring & Onboarding
Team Communication
Integration
Mobile app
Pricing:
Starts at $0 (limited use) + Free Trial

Pros & Cons:
Pros:
Scheduling & Time attendance features work well
Real-time feedback on labor costs
Cons:
Correcting missed clock in's / out's is difficult
Notifications & chat/messaging can get lost or turned off
Homebase gets an average of 4-5 stars for its affordability and functionality.
However, some customers complain that once an employee takes ownership of their account, the manager can't edit info. So, if an employee loses their password, it's a huge hassle.
Here's what Megan has to say about using Homebase:

Connecteam is a workforce management app that allows you to put your business processes on autopilot and focus on business growth while also allowing employees to be more flexible.
Connecteam helps retail organizations keep their staff engaged, connected, and aligned.
Features:
Employee Shift Scheduling
Employee Communication
Employee Time Clock
Checklists & Forms
Employee Task Management
Employee Training
Mobile app
Pricing:
Starting from $0 (limited options) + Free Trial

Pros & Cons:
Pros:
Cloud-based & Mobile
Ease of use
Customer service
Cons:
Admin through web-only (not in the app)
Limited integration
Limited storage
Connecteam gets an average of 4-5 stars for customer support and affordability.
Complaints focus on quirks in functionality.
Maddy's review below sums up what the average customer review sounds like:

With ZoomShift, you'll spend less time creating schedules. Their simple schedule builder makes it easy to build schedules, view availability and time off requests, monitor shift swaps, and track your labor targets.
Features:
Work Scheduling
Time Clock
Time Tracking
Shift Planning
Shift Swaps
Mobile app
Pricing:
Starts at $2/active team member/month + Free Trial

Pros & Cons:
Pros:
Seasonal shops can put their ZoomShift plan on hold
Shift requests and time off management
Cons:
Minimal live support
No 3rd-party integrations available yet
ZoomShift gets an average of 4-5 stars for its ease of use and employee time clock. Complaints focus on limited features in plans below the Enterprise level.
Carolina's review below gives you an idea of the average customer review:

When I Work provides an easy way to schedule, track time and attendance, and communicate with your retail employees.
Keep track of time off and employee availability, and manage shift swaps with just a few clicks.
Features:
Shift Scheduling

Time & Attendance Tracking

Absence & Leave Management

Self-Service Capabilities

Mobile Shift Scheduling

Team Communication
Pricing:
Starting From $2.50 / user/month + Free Trial

Pros & Cons
Pros:
Stellar training

Can handle a lot of employees
Cons:
Mobile app can be slow to load

Limited reports for payroll
When I Work gets an average of 4-5 stars for ease of use and customer service.
Complaints focus on the pricing structure.
Jessica's review below gives you the gist of most customer reviews:

Retail Staff Scheduling Software FAQs
What are the best practices of retail scheduling?
The best practices of retail scheduling involve optimizing staff allocation, skillful coordination, and maintaining a harmonious balance between customer demand and employee availability to enhance efficiency and customer satisfaction.

Why do we need retail employee scheduling?
We need retail employee scheduling to ensure that the right number of staff with appropriate skills are available at the right time to meet customer demands and maintain smooth store operations. Effective scheduling helps prevent understaffing or overstaffing, improves employee morale, and enhances overall productivity.
How do you manage retail staff scheduling?
Managing retail staff scheduling involves combining data analysis, forecasting customer footfall, considering historical trends, and understanding peak hours.
Implementing scheduling software or tools can streamline the process, allowing for easy shift adjustments, employee availability tracking, and communication while factoring in labor laws and employee preferences.
Regularly reviewing and optimizing schedules based on feedback and performance helps maintain a well-balanced and efficient workforce.
Retail Staff Scheduling Software — You Know You Need It
You know you've got to do more with less in business today — especially in the retail industry.
Adopting staff scheduling software will streamline your scheduling process and make life easier for you and your staff.
Here's to more innovative and intuitive scheduling in your business.
Ready to Make the Shift?