At MakeShift, we understand the challenges that come with running a business, managing employees, and strategizing for growth.
Regardless of the size of your business or industry, your HR and Operations teams have their work cut out for them.
If your business is using a non-integrated techstack or tech tools that can't talk to each other, your team is likely burning a lot of hours on manual data entry, duplicated work, and correcting needless errors. Let's face it, switching from software to software to find and update certain information is inefficient and tedious.
An integrated software suite combines your HR, payroll, and staff scheduling systems into one single package. This way, you and your employees can quickly and easily enter and access correct information while also opening up time to focus on other business matters.
But, if you're still not sold on why you need an integrated techstack for your business or are looking for advice on creating a business case to integrate your tech systems, this guide covers the nitty-gritty of why you should integrate your HR, payroll, and staff scheduling software.
The Disadvantages of a Disconnected Techstack
The Rising (Hidden) Risk of All-in-One Systems
Why Integrated Systems Give You the Best of Both Worlds
6 Benefits to Integrate Your HR, Payroll, and Staff Scheduling Systems
MakeShift Integrates with Leading HR & Payroll Software
The Disadvantages of a Disconnected Techstack
Simply put, a techstack is a combination of the software and data storage solution your company uses. For example, your company likely has different software for HR, payroll, and staff scheduling.
A disconnected techstack is when your software systems are incapable of communicating with each other. This causes the need for operators to log in to each individual software to access and update key information, resulting in compounding inefficiencies within your company.
Inefficiencies that lead to unhappy employees, wasted hours and payroll, and potential errors in your reporting and analytics.


According to a Cleo survey, 57% of respondents attributed losing up to $500,000 in annual revenue due to poor integration capabilities — a material amount for many small businesses.
The Rising Risk of All-in-One Systems
Given that non-integrated systems are clearly not worth the investment, what is? Recently we've seen a sharp rise in All-in-One systems.
In fact, there has been a massive push and marketing dollars spent by the major players in the HR and Payroll space to convince businesses to use all-in-one systems.
The major advantages of using such systems are convenience and accessibility. However, there are certain risks involved you should be aware of.
For example, Kronos is a software company that offers industry-leading workforce and human capital management tools, including HR, staff scheduling, payroll, and talent acquisition. Many organizations use Kronos as an all-in-one software system.
Kronos features top-notch security. However, it was unfortunately hacked by cybercriminals in December of 2021.
As a result, users were locked out of their entire system for over a month. This cyberattack caused major problems for many organizations as they couldn't access their HR, payroll, and staff scheduling tools.
Many workers reported paychecks short by thousands of dollars as employers struggled to track hours and manage schedules without access to the Kronos software. Human resources workers were also affected because they needed to manually add the records they collected over the month Kronos was down.

Over 8 million total employees were affected.
Healthcare organizations were impacted the most because of their complex and urgent scheduling needs.
Despite Kronos doing everything they could to prevent cyberattacks, the hack still happened. The hard reality is hacks are inevitable no matter how much security is in place. However, businesses can still minimize risk and ensure business continuity by using separate but integrated systems.
Another risk of using an all-in-one system is that the software company doesn't specialize in everything. Therefore, you may be using modules that are outdated and lagging when more efficient ones are available.
So what options do you have?
Integrated systems are the key to an effective and successful techstack.
Why Integrated Systems Give You the Best of Both Worlds
An integrated payroll, HR, and employee scheduling software system gives you the best of all worlds.
How?
First, you get to use software that specializes in its purpose. For example, ADP® is a leading HR & Payroll solution. MakeShift is a cloud-based staff scheduling software. Thanks to their deep integration, you get to use a great HR & Payroll software with a top-notch staff scheduling tool. Since each software company specializes in its purpose, they're constantly developing new features and adding value for their users.
Second, as mentioned earlier, integrated systems speak to each other and automatically update and synchronize information. This eliminates unnecessary human error. For example, you can automate the syncing of schedules and timesheets from MakeShift directly into ADP.
Third, your techstack will be easier to use for you and your employees. Each independent but integrated software provider is focused on providing the best user experience within their platform. With All-In-One-Systems, the user experience for certain modules can be archaic and lagging.
Lastly, in the event of an unfortunate cyber-attack, you can very quickly and easily turn off or disconnect the affected software ensuring business continuity while you work through the hack.
This video with MakeShift's Chief Product & Operations Officer sums it up perfectly:
6 Benefits to Integrating Your HR, Payroll, and Staff Scheduling Systems
Still not convinced? Here are 6 benefits that businesses enjoy when they integrate their HR, payroll, and employee scheduling systems. One of the many reasons companies choose MakeShift for their employee scheduling is due to our integration capabilities with the leading HR and payroll systems.
1. Reduce Redundant (and Tedious) Administrative Work
Your HR and Ops teams are often stretched thin and shouldering a million different responsibilities. Non-integrated systems create redundant work. The #1 benefit of integrated HR, payroll, and staff scheduling systems is the reduction in time spent manually updating information across the different systems. An integrated system can seamlessly sync data across different platforms and departments.
This saves operators time to focus on other areas to increase operational efficiencies.
2. Reduce Error and Improve Payroll Accuracy
The American Payroll Association discovered an error rate of 1-8% of total payroll in companies using traditional timecards. Furthermore, nearly 40% of small businesses incur an average of $845 per year in IRS penalties because of mismanaged payroll processes.
Payroll errors are costly and can impact employee retention - a recent study from HR Dive found that it takes as little as 2 payroll errors for employees to start searching for a new job.
Integrated systems help detect and prevent cost leakages through accurate time tracking and pay stubs. Since your systems communicate with each other in real-time and share data, your payroll specialists always have access to accurate and up-to-date payroll information.
3. Enhance Your Employee Experience
Happy employees drive growth.
As a business, a key objective should be continuously improving the employee experience.
Employees want to be useful, add value to the organization, and be recognized for their work. However, if their time is spent checking with managers to ensure their timesheets are accurate, it's difficult for them to contribute valuable work. Furthermore, archaic tech or (new) software with a poorly designed user interface can create a lot of frustration and lead to lost productivity.
Integrated software systems prioritize the employee experience, which also increases user adoption and usage.

A happy workforce can increase business productivity by 31%. What would that do for your bottom line?
4. Improve Reporting and Analytics
Combining your HR, payroll, and staff scheduling tools provides management access to more accurate and manageable reporting because data is shared between the systems.
Easier reporting means better decision-making about optimizing your budget and management tasks. In other words, scheduling managers can make more efficient schedules based on budget — without overstaffing or understaffing.
Having the right number of employees can be the difference between a profitable month or a poor one. For example, if your retail store is overstaffed based on foot traffic, it may result in an unprofitable day. Or if your healthcare clinic isn't properly staffed for peak times, patient care will take a hit.
When your systems are integrated, you get a fuller picture to make better decisions. Integrated systems allow you to efficiently deploy your staff based on accurate financial data and reporting.
5. Increased Efficiency Leads to Growth
Your staff already have a lot on their plates to deal with. Unfortunately, having an independent techstack makes their lives more difficult.
Duplicate entry, human error, and manual entry across multiple platforms mean time lost for HR, managers, and employees. Organizations need to be agile, move fast, and adapt on the go — connecting your scheduling, HR, and payroll systems helps by increasing efficiency.
By integrating your staff scheduling, HR, and payroll techstack with MakeShift, managers spend less time performing menial tasks and more time focusing on tasks that improve business outcomes.
For example, your leaders can focus more on strategic initiatives to supplement your organization's growth. This could be an expansion of operations, profitability, or any other growth target. Additionally, managers are better time equipped to delegate tasks to their employees.
6. Increase Security
When you use an integrated employee scheduling, payroll, and HR techstack — instead of an all-in-one — you drastically decrease the chance of a Kronos-like hack crippling your company.
In other words, you reduce the risk of administrative nightmares such as:
HR, payroll, and scheduling systems simultaneously being shutdown
Needing to manually track time and schedule staff
Sensitive information leaks
Employees missing pay
Additionally, if your industry is suffering from a labor shortage, mitigating these risks is crucial to employee retention and keeping your operations alive.
MakeShift Integrates with Leading HR & Payroll Software
MakeShift offers a flexible and specialized suite of staff scheduling tools. In essence, MakeShift offers PeopleFirst™ employee scheduling with PainFree™ integration and management.
With MakeShift, you can easily:
MakeShift is an online employee scheduling tool that allows businesses to build comprehensive employee schedules, creating happier organizations that drive growth. MakeShift's integrations aim to eliminate duplicate, manual data entry and improve your organization's efficiency.
Best of all, MakeShift integrates with leading HR and payroll software, including:
In 2018 MakeShift was named ADP Marketplace partner of the year. MakeShift is also an ADP Marketplace platinum partner and one of the best-selling apps for scheduling on the ADP marketplace.
In addition to MakeShift's current integrations, we are always on the lookout for new partners to work with.
If you would like to integrate with MakeShift, contact the MakeShift integration team. To view our complete list of integrations you can visit makeshift.ca/integrations.
How Snow Valley Ski Club Made the Shift to a Connected Payroll, HR, and Staff Scheduling Techstack
Click on the case study below to see how Snow Valley Ski Club made the shift, resulting in:
No more human error-induced payroll problems
Time saved for staff to focus on their customer experience
No more shifts going uncovered
Increased employee happiness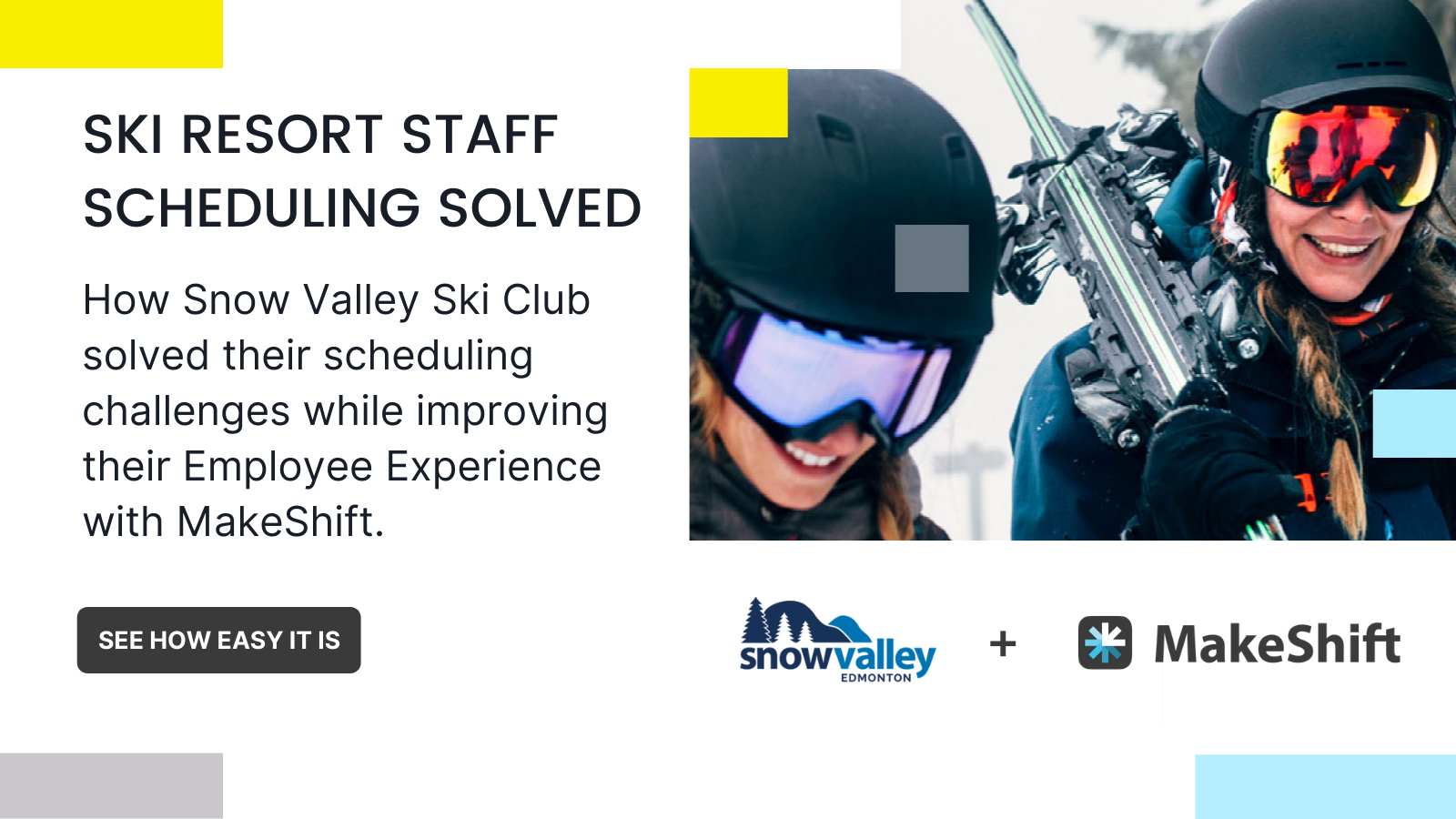 Make the Shift to Cloud Scheduling Software that Integrates with HR & Payroll
Ready to Make the Shift?