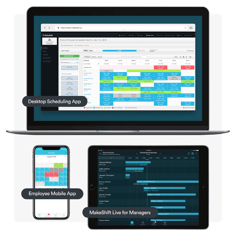 QuickBooks Time and MakeShift now seamlessly integrate to create a new, robust solution for time tracking and scheduling. This integration provides enhanced scheduling capabilities to address client challenges, including shift swapping, scheduling based on certification for job or role, and budget allocation.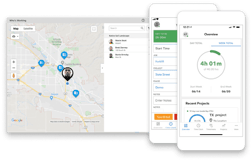 Once the schedule has been created in MakeShift, it pushes to the #1 Time Tracking Software1 app, QuickBooks Time, allowing employees to clock in and out to their scheduled activities in real-time--with visibility to admins in a live working window.


These advanced differentiators:
Provide both mobile and web solutions to allow employees to swap shifts with their co-workers or post their shifts for another co-worker to bid on.
Enable clients to broadcast open shifts for urgent coverage to all employees that are eligible, based on their job or skills.
Give clients the ability to monitor daily or weekly budgets within the schedule view and track them in real-time.
Detailed fatigue rules (per job role) can be configured to alert managers if they are overscheduling or approaching an overtime pay situation so that adjustments can be made on the fly.
Time punch detail will pass to ADP® via the QuickBooks Time Connector for ADP Workforce Now® or ADP Workforce Now® Next Generation.
This new partnership between QuickBooks Time and MakeShift will make time tracking and scheduling for multiple industries, including healthcare, retail, hospitality, restaurant, security, professional services, manufacturing, and construction, a PainFreeTM process.
Here's how it works:
Employees are onboarded and then populated within QuickBooks Time.

Selected employees who have specific scheduling needs are synced over to MakeShift.

Schedules are created and reside in MakeShift. Employees use the MakeShift scheduling app to receive their schedules, swap shifts with their coworkers, set their availability, and more.

Once shifts are published, they automatically are synced back to QuickBooks Time for reporting purposes to ensure visibility to track completed shifts.


The integration is all automated, so there is no need to click a button to sync shifts to QuickBooks Time. So, from a QuickBooks Time client's perspective, there are no extra steps involved. MakeShift clients who need advanced time tracking capabilities can take advantage of QuickBooks Time's cutting-edge features, including Bread Crumb Trail and Geofencing, In-App Mileage Tracking, Signature Captures, Jobsite Photos, Who's Working Window, and other differentiators.

To learn more about MakeShift on ADP Marketplace, click here.


ADP and ADP Workforce Now are trademarks of ADP, Inc. or its affiliates or licensors. The information in this document was prepared by QuickBooks Time and QuickBooks Time is solely responsible for its accuracy and completeness. ADP makes no representation as to the accuracy or completeness of any information contained herein.