Managing employee time off requests is an essential part of any business.
If you drop the ball on this area, your business suffers, and staff morale plummets.
Establishing and communicating clear policies and procedures related to time off helps to ensure your employees' needs and expectations are met while your business continues to thrive.
And let's be honest here — happy employees and a thriving business make life pretty darn good.
By planning and implementing a stellar system for handling employee time off requests, you'll feel confident that you're treating your staff fairly while daily operations don't miss a beat.
You'll be prepared before the holiday rush or other seasonal busy times hit.
If you're here for an easy-to-use Time Off Request Template, we've got you covered — here's a downloadable one for you.
If you'd like to learn how to upgrade your process and scrap the template, stick around. We're dishing out tips for effectively handling employee time-off requests by covering:
Types Of Time Off Requests
When working on your time off policy, address the various types of time off requests that you know can come up. Then, clearly communicate to your employees how these will be handled.
Employee time off comes in 2 forms:
Paid Time Off (PTO)
Although employers aren't obligated by law to provide paid time off in the US, 12 states, plus Washington, D.C., have adopted regulations that make it mandatory.
Research shows that taking time off work is good for our health. People who take vacations have lower stress, less risk of heart disease, a better outlook on life, and more motivation to achieve goals.
Offering paid time off can also help you hang on to talented team members and promote a company culture of work-life balance. PTO categories might include:
Vacation Time — Employee vacation time is for employees to take a break from their job and relax.
Maternity/Paternity Leave — Time off for new parents.
Paid Sick Leave — Days off for when employees are ill, caring for a sick family member, or attending doctor's appointments.
Bereavement Leave Request — Leave available in the event of the death of a family member, usually to attend the funeral.
Jury Duty Or Voting Time — Paid time off to cover jury duty or to hit the polls.
Unpaid Time Off
As the name implies, this is time off that your employees don't get paid for. While the US doesn't require paid medical leave, the Family and Medical Leave Act (FMLA) requires you to offer 12 weeks of job-protected unpaid leave yearly for certain family and medical reasons.
Fyi — if an employee needs to take 12 weeks of leave, you won't typically get much advance notice. For example, a staff member could have a heart attack and need 4 weeks off to recover.
It's essential to have a backup plan in place for these types of situations.
5 Challenges Of Dealing With Time-Off Requests
There are several challenges businesses face when dealing with employee time-off requests — these inherently get worse the more manual your process is.
Some of these challenges include:
1. Business Needs vs. People-First
According to Gartner, 65% of employees say the pandemic has made them rethink the place work should have in their lives.

Balancing your business needs with your employees' needs is a top priority and a bit of a juggling act.
You've got to have enough staff to meet your customers' demands while also providing employees with the time off needed to recharge and attend to their life desires.
Employees today are no longer willing to give everything they've got to work — they want more work-life balance, and if you want to keep them, you need to figure out a balance.
2. The Additional Workload On Employees
In the wake of the Great Resignation, managing the workload of your remaining employees has become critical. When an employee takes time off, it can increase the workload for their colleagues, who may end up picking up the slack.
This can lead to more stress and burnout among your staff.
Workload is a major driver of burnout in the workplace today.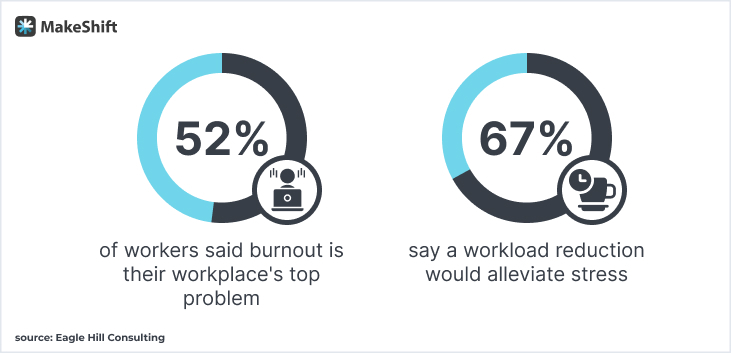 In an Eagle Hill Consulting survey, 52% of workers said burnout is their workplace's top problem. 67% of employees say a workload reduction would alleviate stress.
3. Labor Law Compliance
Ensuring compliance with labor laws comes with the territory when you've got employees.
Businesses must ensure they comply with labor laws concerning time off, including laws related to vacation time, sick leave, and other types of time off.
Familiarize yourself with the labor laws to protect yourself and take care of your employees.
4. The Cost Of Time Off
When employees take time off, it can be costly for your business. Especially if you need to hire temporary staff or pay overtime to existing employees to cover the work of those on leave.
When putting together your time off policy, calculate these costs and plan for them.
5. Manual And Paper Processes
You know it can be tedious and time-consuming if you're still using a manual scheduling process and time off requests are submitted on paper. Manual and paper processes are a massive drain on your time and energy.
Transitioning from paper to digital processes can eliminate the paperwork shuffle and help to optimize your workflow.

In a report by Thompson Reuters, 70% of surveyed organizations stated that their top tech priority is simplifying workflows and manual processes.
7 Steps To Handling Time Off Requests Like A Pro
Establishing a clearly defined time off policy and process for your employees is essential. The more streamlined your process, the better.
Your staff is made up of humans — they'll need (and deserve) time off for various reasons, and you need to have a process in place to handle it smoothly.
In 2021, more than a 3rd of private industry workers received 10 to 14 days of paid vacation after a year in their position. After 10 years, 33% received between 15 and 19 days of paid vacation.
That's a lot of PTO time-off requests to handle.
Whether you're dealing with PTO or unpaid leave, having a solid time off policy and process will help you AND your staff in the long run.
1. Establish Time Off Request Notice
This step will depend on how far in advance you create your staff schedules.
For example, you might want your employees to request time off at least 2 weeks in advance and no more than once per month.
However, if you plan your staff scheduling months ahead, you may require a month or more notice.
Ensure your policy is clear to your employees and built into your time off request process.
2. Communicate Restricted Time Frames For Time Off Requests
Inform your staff about restricted time frames for time off requests. Look at your calendar and block out the busiest times of the year, such as holidays or peak season.
For example, let's say you're in retail — you know you'll be extra busy from Thanksgiving up to the last open minute on Christmas Eve.
Communicate (in advance) to your staff that time off requests will not be approved during this time.
3. Create A System For Handling Overlapping Requests
How do you handle it when you've got overlapping time off requests?
It's bound to happen, so plan accordingly and include it in your time off policy so your employees understand how you handle this issue before it happens to them.
For example, when 2 or more employees request the same time off, evaluate the requests based on seniority, length of service, and importance of their work responsibilities.
4. Create A Standardized System For Submitting Time-Off Requests
If you use a time off request form — ensure your staff knows how to fill it out and where to submit it.
Do Not Accept time off requests from multiple channels (i.e., paper form, email, text, DM's…etc.) — standardizing this process is key to reducing confusion and chaos for you and your staff.
Using scheduling software creates a simple, standardized system that makes submitting and approving time off requests easy like Sunday morning.
5. Build A Rotating Time-Off Schedule
Set up a schedule that rotates time off among your employees so everyone can take some time off when needed.
For example, if you need to stay open for the holidays, consider rotating your employees' shifts so everyone has a chance for their personal life.
Sure, seniority often gets 1st dibs and probably more accrued time off, but make sure your newbie employees don't fall through the cracks.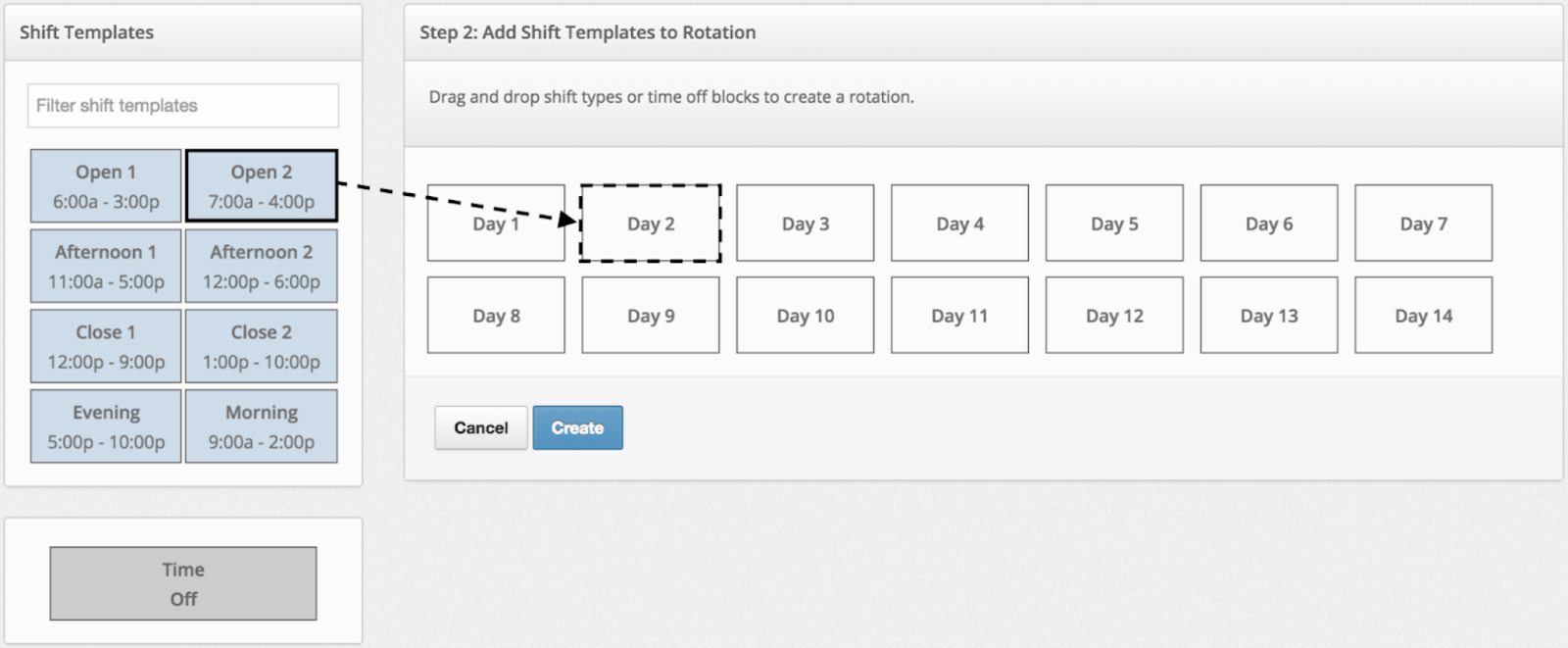 If you want help creating rotating shift schedules, MakeShift makes it easy.
6. Have A List Of Backup Employees For Last-Minute Replacements
Life happens. A team member's unexpected illness, family death, or other emergencies may require a last-minute leave request that'll have you scrambling to fill the schedule.
You can handle this in 1 of 2 ways:
Have an up-to-date list of backup employees and start working your way down a call list.

Use scheduling software like MakeShift to quickly post available shifts and allow staff to pick them up.
7. Upgrade Your Time Off Request Process With Technology
With the last 6 steps, you've solidified your system — why not upgrade to a digital version to streamline the process further?
Scheduling software allows you to spend less time managing schedules, monitoring employee time clocks, and processing time off requests. So instead, you can focus on team building and managing your business.
MakeShift Scheduling Makes Handling Time Off Requests Easy
Scheduling software like MakeShift makes managing employee scheduling straightforward and easy.
MakeShift was developed to fix the broken scheduling system in healthcare after our founder's wife, a nurse, was beyond frustrated with the scheduling process.
That gave us a unique perspective to create features that simplify scheduling for managers and employees — including the time off request process.
Here are some ways scheduling software like MakeShift can eliminate your manual and paper processes.
For Managers:
Quick Approvals

— Spend less time building schedules and more time managing your business and your team. With MakeShift's approvals, you can quickly assign available shifts and approve a shift exchange or a time off request.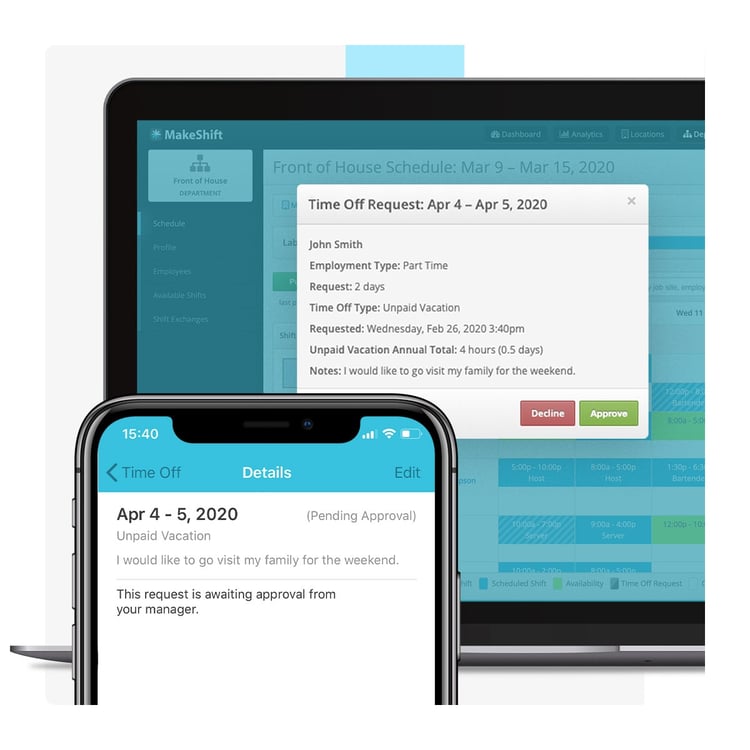 On-The-Go Schedule Management

— We know you're not always at your desk when schedule changes happen, so with MakeShift Live, you'll be notified when requests are made and can approve them directly from your mobile device.

Approve or decline employee shift exchange requests

Assign available shifts to fill schedule gaps

Review & manage time off requests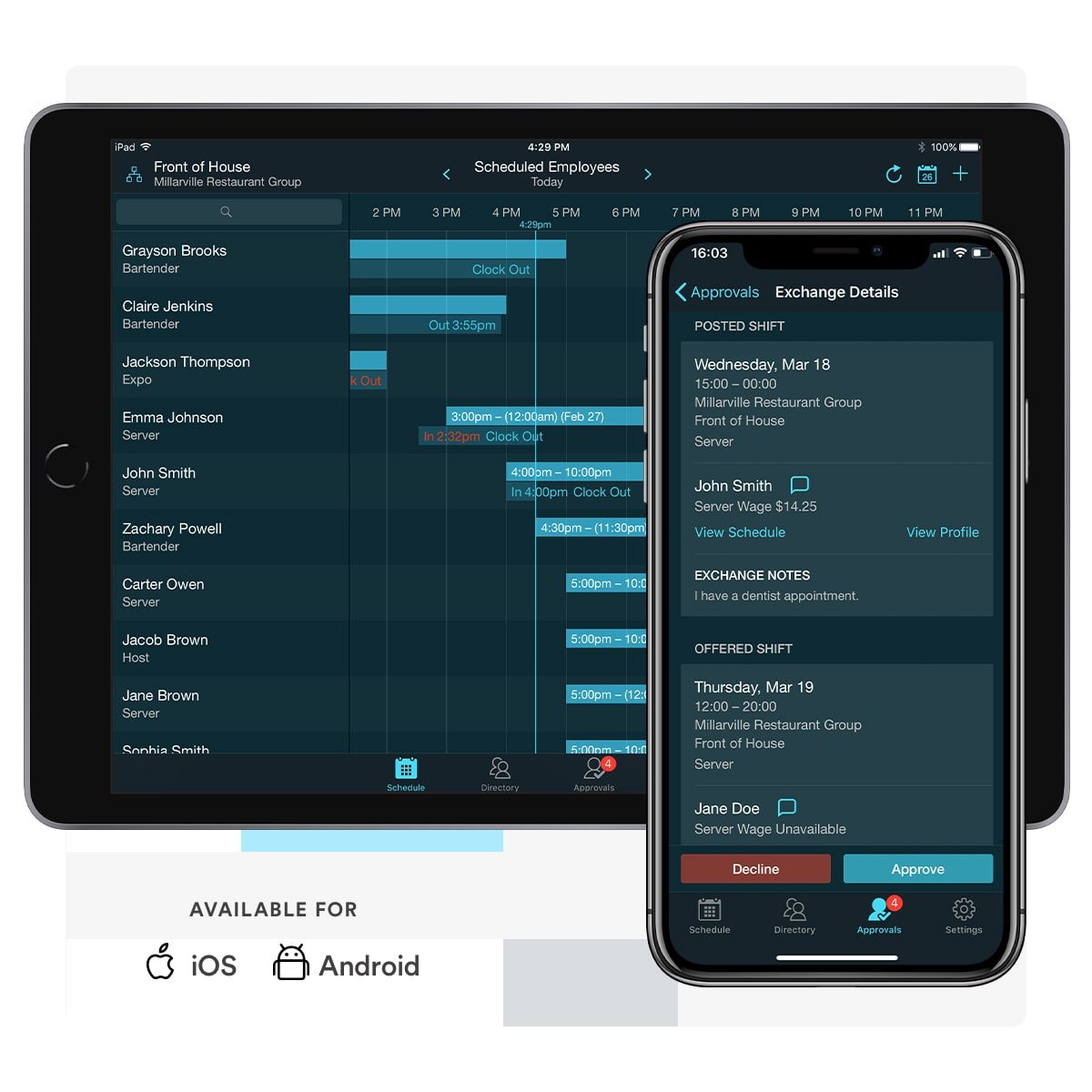 For Employees:
A Schedule In Their Pocket

— The MakeShift app for iOS and Android gives your employees an up-to-date look at their work schedule whenever they open the app.


Employees can view their schedules, receive notifications about schedule changes, and quickly submit time off requests right in the app.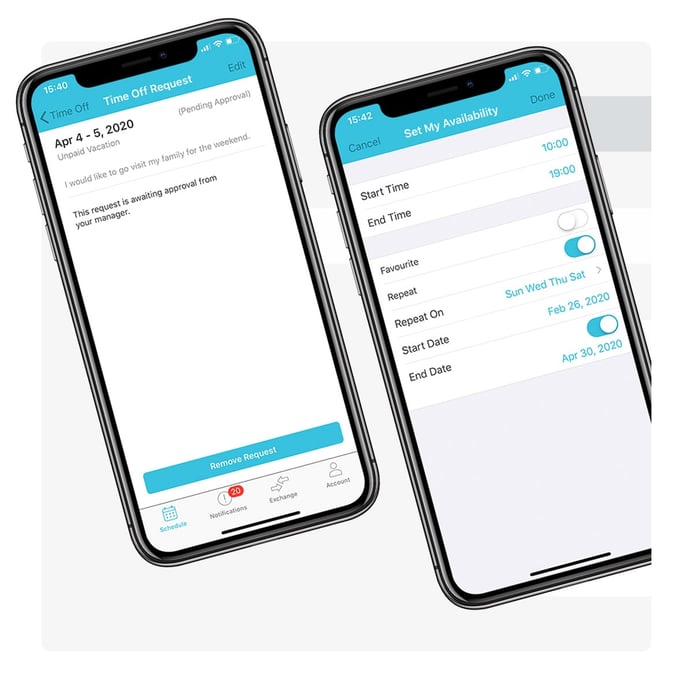 Manage Availability, Shift Swaps, & Time Off — Empower your workforce to set their availability, letting you know when they're free to work to make scheduling easier.They can also quickly request time off or swap shifts with other employees, reducing absenteeism.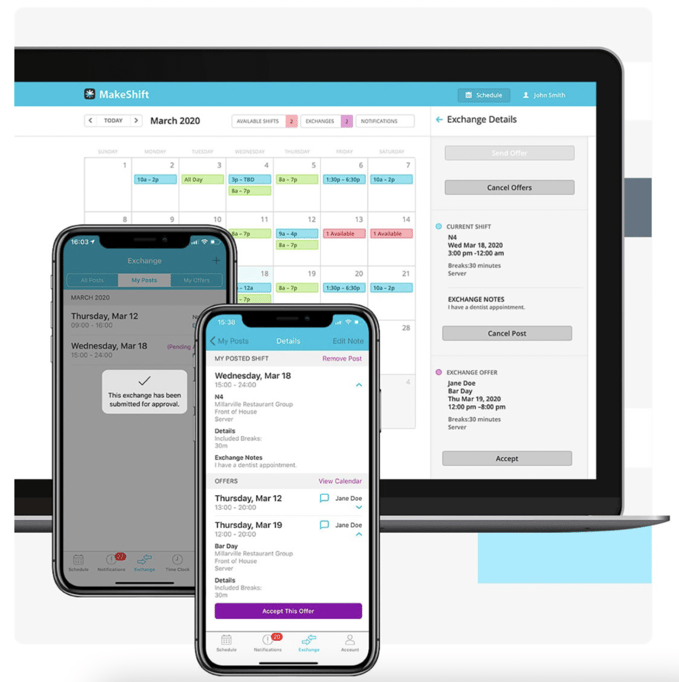 Simplify Your Employee Time Off Request Process
Managing employee time off requests doesn't have to be daunting or time-consuming for you or your team.
Creating a standardized system for handling time off requests makes life easier for you and your employees.
Upgrading to staff scheduling software further streamlines your time off request process and your entire scheduling management system.
Try a free MakeShift demo to see what we can do for you.
Ready to Make the Shift?