Optimally deploying your workforce is one of the most impactful factors for your clinic's success. However, you likely spend more time optimizing your schedules than you want to admit.
We understand how chaotic and time-consuming it is to create an effective staff schedule.
Managing piles of spreadsheets, calendars, timetables, and maintaining an updated schedule will take a big bite out of your organization's bottom line.
Fortunately, healthcare centers can use medical staff scheduling software to simplify and automate the entire staff scheduling process. These scheduling tools save you time and money and empower a more sustainable and happy work environment for your staff.
In today's comprehensive guide, you'll learn:
6 Business-Changing Benefits of Healthcare Scheduling Software
Medical staff scheduling shouldn't be that complicated. With the modern healthcare scheduling tools available, you can drastically shift the outlook of your organization. Scheduling software empowers clinics to reduce the time spent creating staff scheduling so you can focus on providing a caring experience to your patients.
Healthcare staff scheduling software manages the schedules of hourly employees at medical facilities such as clinics, private practices, hospitals, lab technicians, and nurses. Additionally, scheduling software helps to automate schedules, track overtime, record sick leave and vacations, and generate timesheets for compensation.
Let's take a closer look at the core benefits of healthcare scheduling software:
1. Freedom From Traditional Scheduling Systems
Traditional scheduling systems such as spreadsheets and paper-based arranges are a crutch for many healthcare organizations. These systems are time-consuming to create, which means your scheduling manager spends a lot of time creating schedules when there may be more important tasks at hand.
Worst of all, traditional scheduling systems are prone to scheduling errors and inefficiencies. For example, if an employee has an emergency and needs to take the day off, it can be difficult for the scheduling manager to find a replacement.
The scheduling manager must contact suitable replacements quickly and try to find an employee to cover the shift. If the manager can't find a replacement before the shift starts, your clinic will be short-staffed for the entirety of the shift, which can lead to staff burnout and worsened patient care.
Healthcare scheduling software allows scheduling managers to easily modify shifts and send notifications directly to the staff's phones.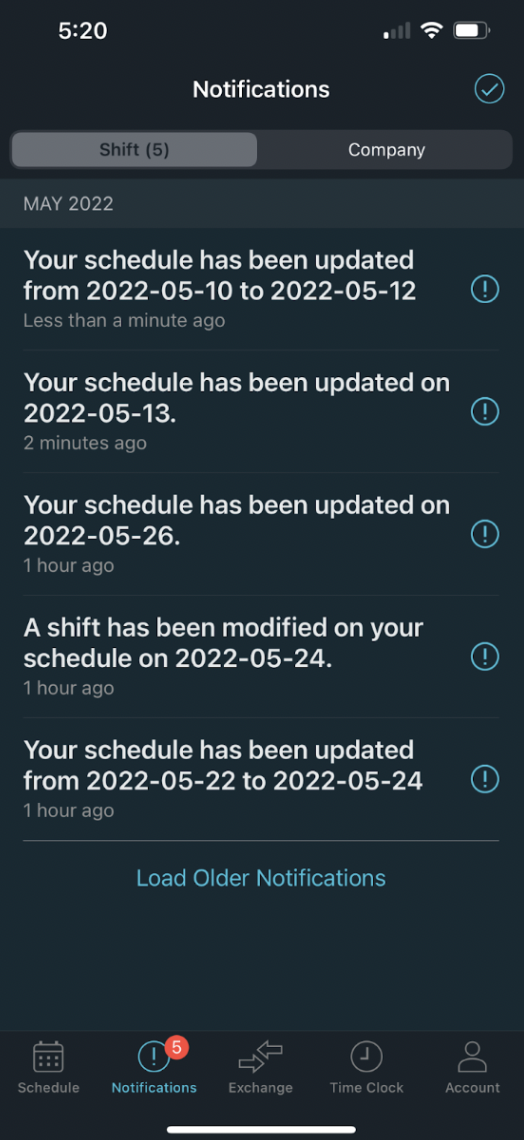 Creating the schedule itself with spreadsheets and paper-based systems is also challenging. The scheduling manager needs to comb through multiple papers and spreadsheets to see what shifts need to be filled and who's available to fill each shift.
Medical staff scheduling software allows the scheduling manager to create schedules efficiently on an all-inclusive platform. The scheduling manager can simply drag and drop different employees into different shifts in the medical staff scheduling software.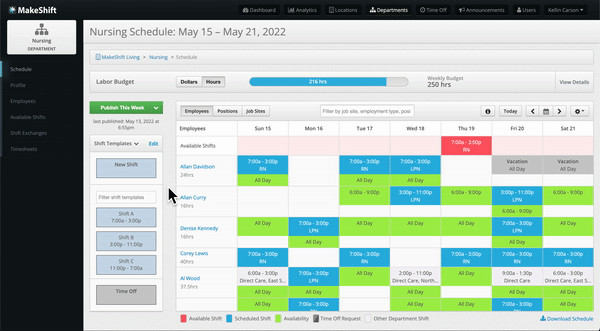 Then, the employees can easily view their future schedules from their smartphones or the desktop dashboard.
As time has progressed, new technology has enabled clinics that have adopted healthcare staff scheduling software to optimize their workforce by putting the correct people into each shift.
This way, your staff can dedicate themselves to caring for their patients and ensuring everyone is safe and tended to.
2. Keep Your Staff in Sync
With traditional scheduling systems, schedules can be lost, inaccurate, and sent out too late. This is why another key benefit of medical staff scheduling software is that it keeps your staff in sync.
In a single platform, managers can create and update schedules, employees can view and request changes for future schedules, and managers can send company-wide announcements to the workforce.
If your staff aren't on the same page, it can create a chaotic workplace where people don't know when they're scheduled to work and who they're working with. For example, with traditional scheduling methods, schedules may be emailed to everyone, published somewhere on the internet, or printed and posted in the break room.
We've even witnessed nurses tracking schedules on a whiteboard in the breakroom — it's not efficient for anyone.
While your staff does have access to their upcoming schedules, the access is limited. In addition, it may be difficult for your staff to view their schedules 24/7 from any device as you can with medical staff scheduling software.
3. Accurate Payroll
Medical staff scheduling software can enable accurate time tracking and payroll for hourly employees. This way, your staff are compensated fairly and won't resent inaccurate or late paychecks.
This is because healthcare workforce scheduling software offers a time clock feature for clocking in and out on a mobile app. This employee time clock feature records accurate timesheets and notifies managers if someone is late. Therefore, it empowers a complete time and attendance solution.

According to a survey from the Workforce Institute at Kronos Incorporated, 49% of American workers will look for a new job after two bad experiences with their paycheck.
To provide accurate payroll, healthcare staff scheduling software can enable geo-enabled sites to ensure employees can only check in or out when they're at your clinic. Or, if management chooses, they can enable a "photo punches" feature. Photo punches take a selfie of the employee when they clock in to prevent buddy punching.
Best of all, managers can approve timesheets and quickly export data into a third-party integration for payroll. That's right, medical staff scheduling software, such as MakeShift, offers integrations with popular payroll services such as ADP® Payroll & HR and Alliance Payroll & HR.
4. Reduce Medical Staff Burnout
It's no secret that healthcare workers are more prone to burnout and fatigue because of stressful working conditions, long working hours, and back-to-back shifts. The COVID-19 pandemic worsened matters as there were too many patients compared to healthcare workers, leading to insufficient staffing.
Adding insufficient staffing into the mix further increased the level of burnout, anxiety, insomnia, and grief. According to a survey conducted by the Journal of General Internal Medicine, health care workers and first responders experience significant clinical psychiatric symptoms, including post-traumatic stress disorder at 38%, depression at 74%, anxiety at 75%, and recent thoughts of suicide or self-harm at (15%).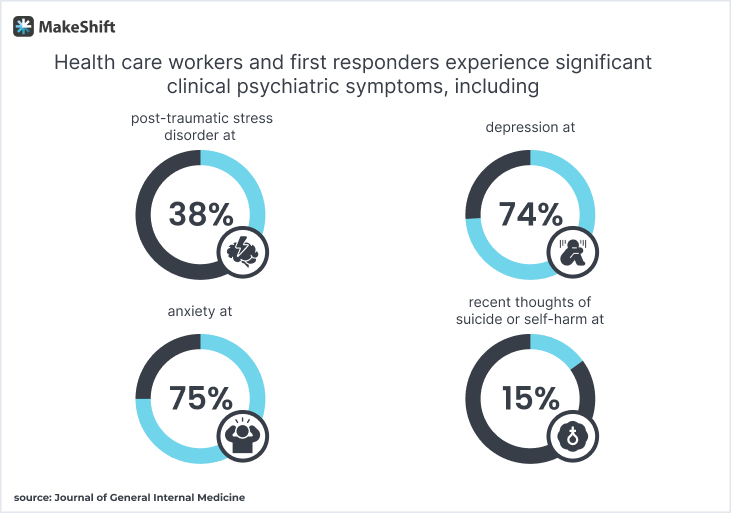 Medical staff scheduling software reduces burnout by creating schedules based on employee availability. With these scheduling tools, your workforce can directly input their preferred shifts in the software's intuitive dashboard.
This way, scheduling managers can easily view and accommodate their requests. Employees who are given their preferred shifts typically work more effectively since they're given autonomy over their work-life balance.
5. Eliminate Employee Absenteeism
Employee absenteeism occurs when employees take unplanned or unannounced absences. These absences do not include authorized leaves such as sick days, vacation days, or paternal leave.
For example, employee absenteeism occurs if an employee wakes up late and doesn't feel like coming to work. However, the best strategy to eliminate employee absenteeism is to take a People-First approach and simplify absence requests and approvals.
Healthcare staff scheduling software simplifies absence requests and approvals by allowing your employees to make requests on the software's intuitive dashboard. The manager will immediately see the absence request and decide whether to approve it or not.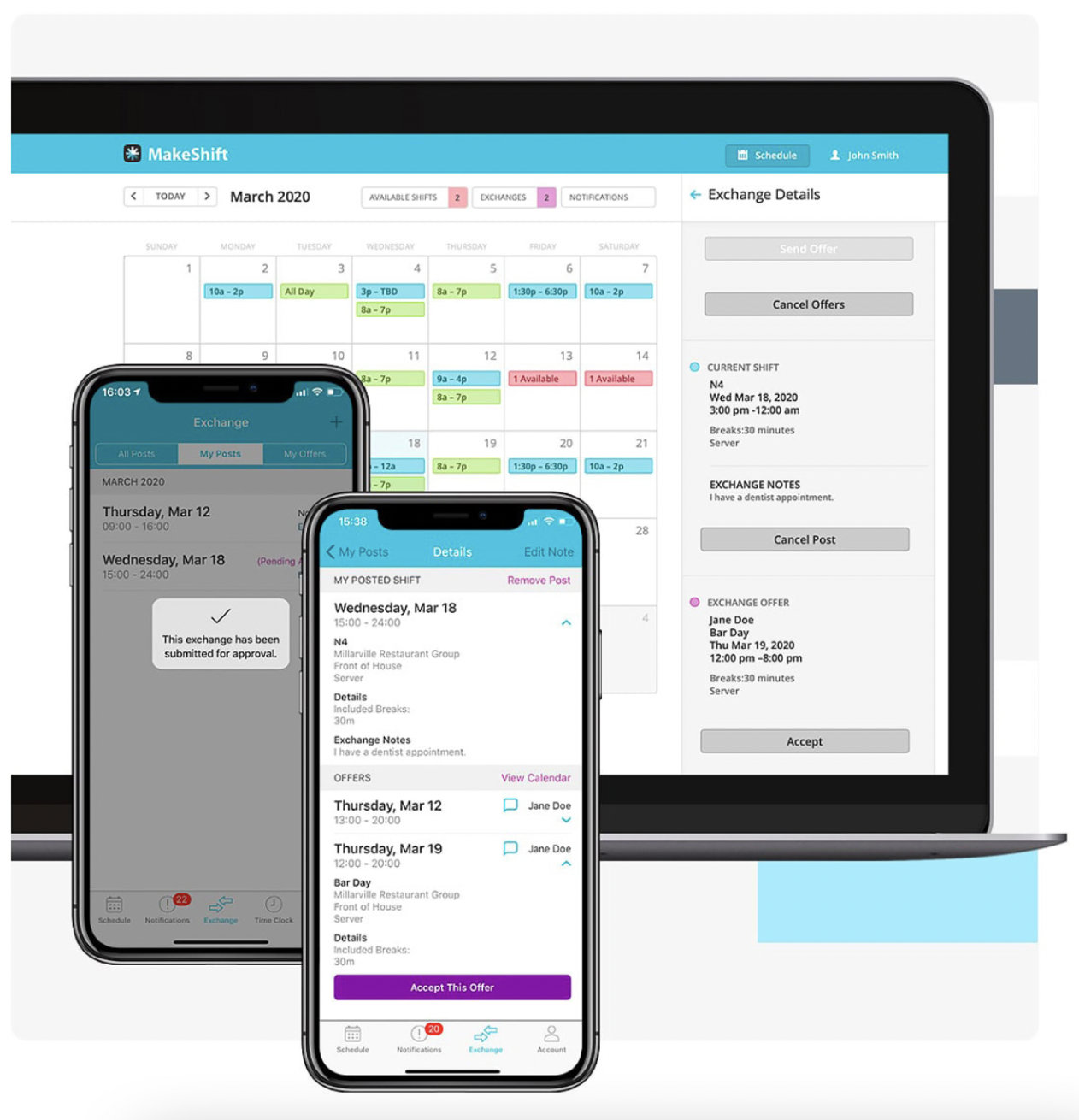 If the scheduling manager approves the absence request, they can quickly notify suitable replacements that a shift is available. This is the essence of taking a People-First approach. A People-First approach is all about putting your workforce first and giving them all the tools they need to make their lives as easy as possible.
Medical staff scheduling software also tracks absenteeism effectively. If you think about it, it's difficult to reduce employee absenteeism if you can't accurately track it in the first place. Medical staff scheduling software allows scheduling managers to see who's taking too many unplanned absences easily.
Then, you can work with the specific employee to understand why they keep missing work and what your organization can do to help them.
Best of all, you can reward employees with an excellent attendance record. Since you can see who's missing shifts and who's filling their work duties consistently, you can build a recognition program that rewards good behavior. This way, your employees are motivated to work their scheduled shifts.
6. Lower Overtime and Reduce Turnover
Another core benefit of medical staff scheduling software is its ability to lower overtime and reduce turnover. Going along with the previous point, frequent absenteeism leads to more overtime as other employees need to cover shifts.
Overtime results in a significant dent in your organization's bottom line, and it's usually the result of poor scheduling. Scheduling software offers built-in fatigue management rules that prevent scheduling managers from scheduling overtime shifts.
For example, you can add built-in overtime prevention rules into the scheduling software.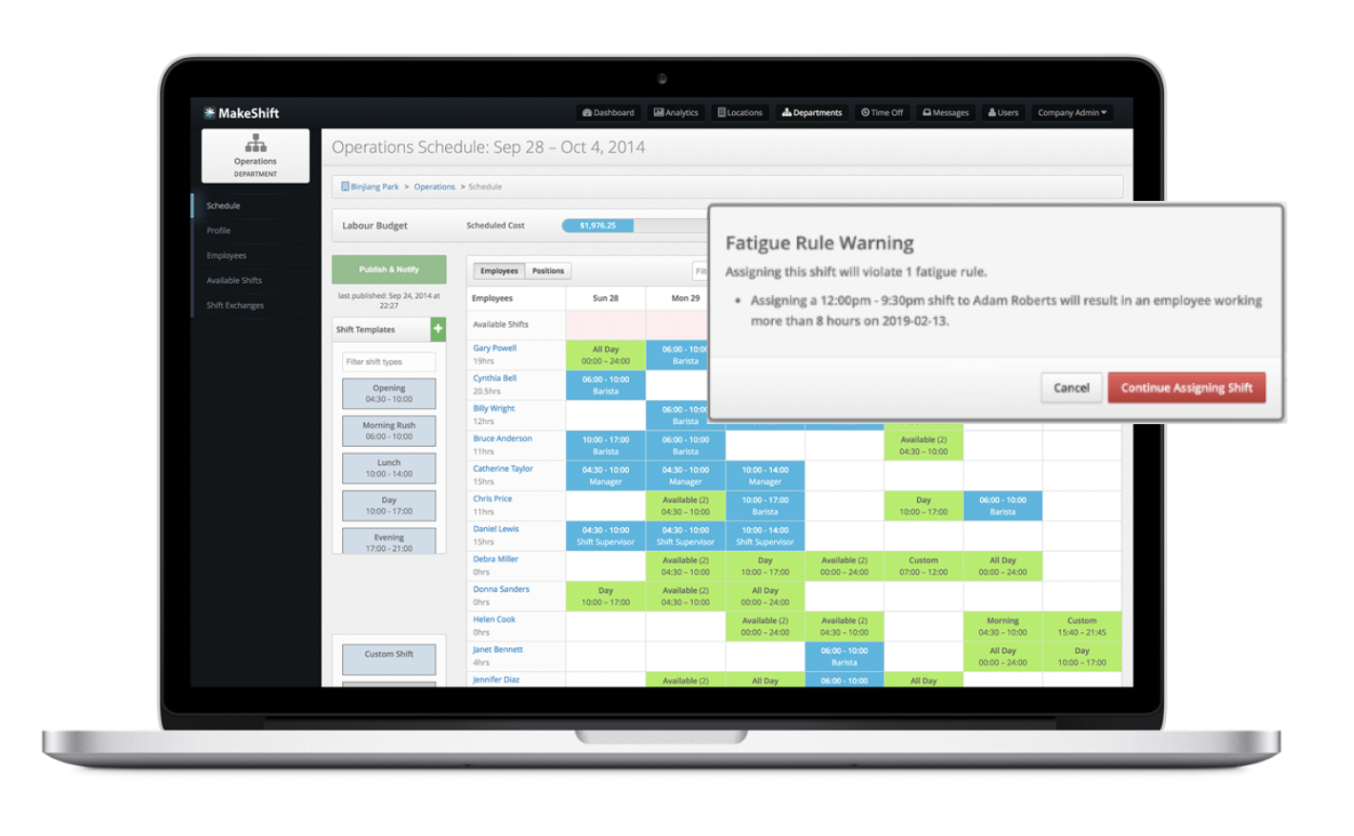 Then, if the scheduling manager accidentally schedules overtime shifts, an alert will appear notifying the manager of the overtime. Therefore, the scheduling manager can make adjustments to avoid scheduling overtime for their staff.
Overworked employees with multiple overtime shifts are prone to leaving your organization and seeking work in a more comfortable environment. Additionally, overtime leads to turnover and immense costs for recruiting and training.

You can drastically reduce overtime, burnout, and turnover by creating effective staff schedules based on your employee's preferences and availability. With a 19.5% staff turnover rate in hospitals in 2020, it's important to keep your employees healthy, comfortable, and performing at their peak performance.
Solve the Complex Puzzle of Medical Staff Scheduling
The key function of staff scheduling software is to solve the complex puzzle of medical staff scheduling. Medical staff scheduling is one of the tough challenges for healthcare organizations.
This is because patient inflow varies daily, and you need a workforce that's always prepared to come in and offer the best care possible to their patients.
To optimize your workforce, medical staff scheduling software solves this puzzle by building schedules based on staff preferences, time off requests, certifications, and patient coverage requirements.
Once the schedule is created, you can deploy it quickly to your workforce by sharing the schedules to your workforce's desktop or mobile app. You can also instantly deliver updated schedules if you make any changes to existing ones.
Use a Dedicated Communication Platform
Medical staff scheduling software offers instant team communication through direct messages, group chats, and company-wide announcements. Instead of your workforce manually emailing each other or using multiple messaging apps, they can use the built-in communication platform on the medical staff scheduling software.
As such, your staff can use the messaging tools as an all-inclusive platform to discuss scheduling changes and other related topics. Best of all, your staff can message each other directly from their mobile devices through the medical staff scheduling software's mobile app.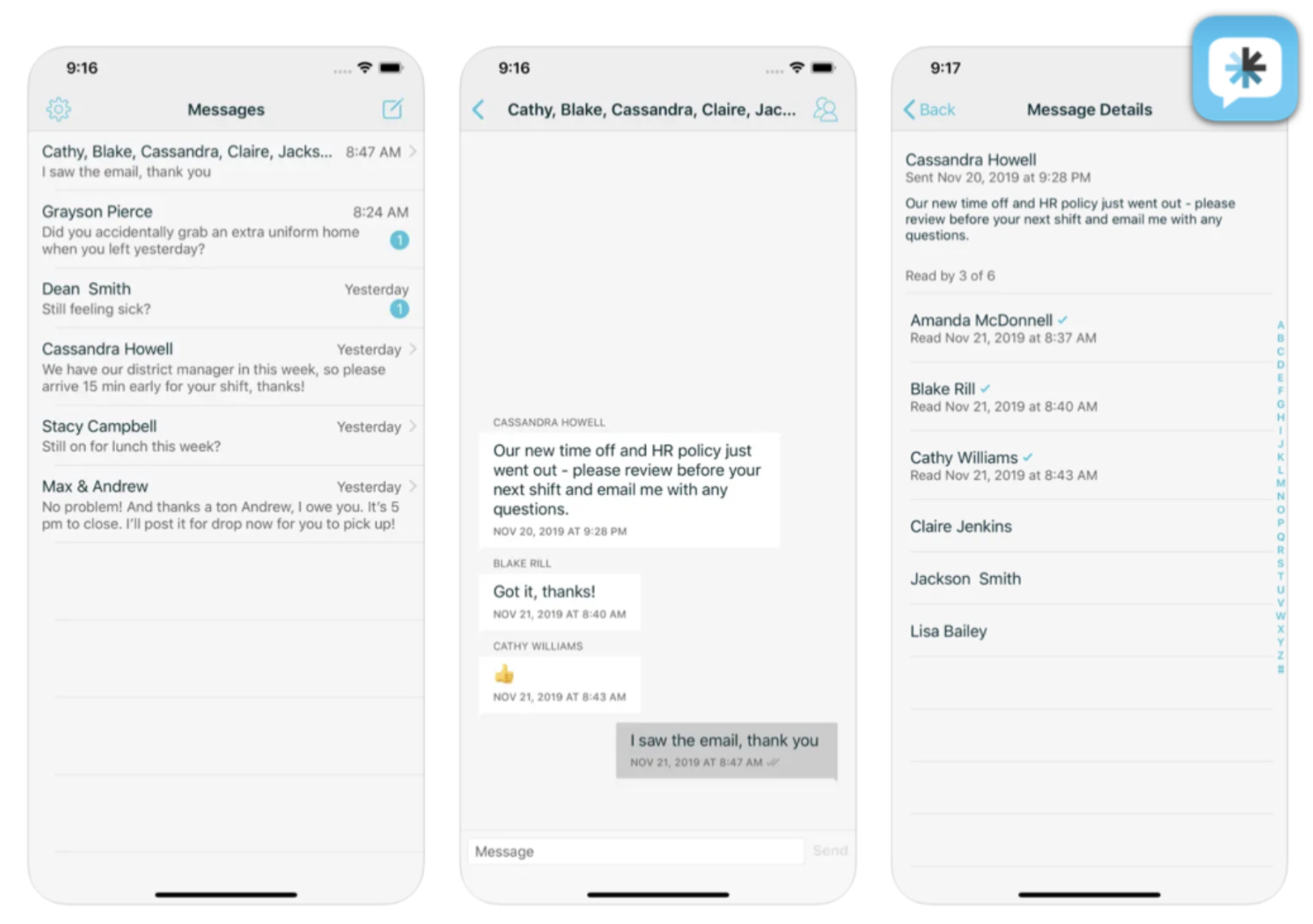 Promote Employee Flexibility and Happiness
As a healthcare organization, you must prioritize employee flexibility and happiness. Your workforce is on the front lines tending to your patients, and needs to be at top performance to offer the best treatment possible. If not, your organization will suffer the consequences of dissatisfied and neglected patients.
Medical staff scheduling software enables autonomy among your workforce by allowing your employees to swap shifts and request time off easily. In addition, the medical staff scheduling software allows employees to quickly post swap shifts to qualified colleagues.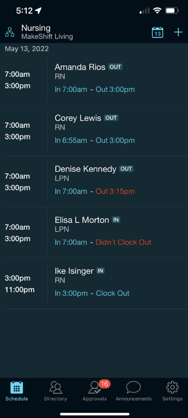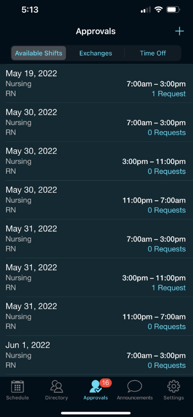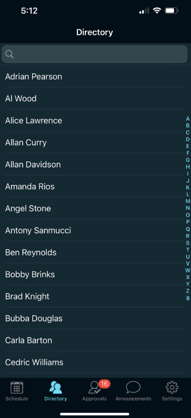 If a colleague is willing to take on the shift, they can offer one of their own shifts as a "trade". If both parties agree to the shift swap, the manager has the final say on approving the agreement.
How to Effectively Use Medical Staff Scheduling Software
The best way to use medical staff scheduling software is to put your staff first by building schedules based on their preferences. Then, you can continue to collect feedback from your employees to see how you can create even better staff schedules.
However, it's also important to use all the tools healthcare staff scheduling software provides. This includes:
Automated team scheduling
Time and attendance tools
The messaging platform
Shift swaps
Time off requests
Geo-fencing
Photo punching
You can empower a united and healthy working environment by providing your workforce with the tools they need to work comfortably and succeed. That way, you can better focus on your main priority, caring for your patients.
Ready to Make the Shift?