In honor of Women's History Month, once a week through March, MakeShift is going to profile women within its customer community, partner network, and staff who are challenging gender biases and paving the way for an equal future for all.
And what better way to kick off this series on International Women's Day than to introduce you to Sally Henderson, Owner and Operator of Evansville Security Services.
In 2010, Sally quit her full-time job, which she held for the past 25 years, as a 911 dispatcher to take over Evansville Security Services (ESS) with her husband.
This is Sally's story.
Eliminating stereotypes in the security sector
MakeShift: Thanks for taking the time to share your story with us today, Sally. The security sector, as we all know, has historically been a very male-dominated industry. What were some of the challenges you faced as you started your business?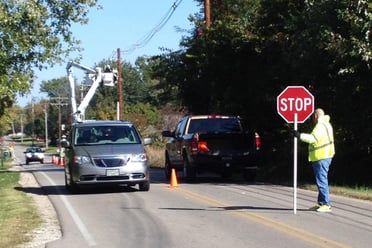 SH: I've been very lucky in so much as being surrounded by some fantastic colleagues, and, as a result, have had great experiences. That said, yes, it can be intimidating - some of the face-to-face interactions can be hard. And there are definitely times when you feel invisible and that your voice isn't being heard. But, we have come a long way. At ESS, we are starting to hire more female managers, so that's exciting!
MakeShift: That's amazing to hear that you are creating more opportunities for women in this space and eliminating gender stereotypes. What was it like starting your own business?
SH: Well, my husband and his former business partner started the company. I was brought over to help on the business side of things. As we slowly grew, I ended up buying out the partner, and as they say, the rest is history.
MakeShift: What are some of the highlights from growing your business?
SH: When we launched traffic control services, I absolutely loved being able to give people work and to see people be proud of the work they do. Everyone at Evansville Security Services gives it their best every single day and that makes me very happy to see. I am also proud of the respectful work environment we worked to create.
Advice to women looking to start a business
MakeShift: Sally, it's international women's day. We know there are a lot of women out there who have great business ideas but are afraid to start. What advice would you give them?
SH: Take the jump! It's terrifying. That's why you have to just dive in. This was the hardest thing for me to do. I stepped away from an amazing job with pay, benefits, and seniority to step into the unknown. It's a scary decision, I know. But, it is worth it.
MakeShift: Would you do anything differently if you could?
SH: Yes, I think Nick and I would have started the business together from Day 1. If you are starting a business with a partner you don't really know and trust, you should perhaps find a different way to do it.
MakeShift: Any other insights you would like to share?
SH: If there's one lesson that I can share with you, it is this: what happens to you is also what makes you who you are today. I don't regret anything I did for even a second. The positives outweigh the negatives. So, take the leap!
"What happens to you is also what makes you who you are today."

Always pursue your goals
MakeShift: Sally, thank you so much for sharing your story with us. Any parting wisdom for anyone that reads this blog today or at any point in the future?
SH: Don't let a lack of college education or a lack of anything really hold you back. Take the leap. I learned on the job. I learned from listening to other business owners. My clients helped me help them. Don't stop pursuing your goals. I don't regret my decisions - running this company and creating a respectful environment was really important for me to do. Take the leap!
---
To learn more about International Women's Day 2022 and the #BreakTheBias challenge visit internationalwomensday.com
Join us next week as we continue to highlight some amazing women who work very hard to #BreakTheBias in their communities, workplaces, and lives.
MakeShift is proud to support women-led businesses with PainFree™ scheduling.
Ready to Make the Shift?